NYC'S NEW HOME TEAM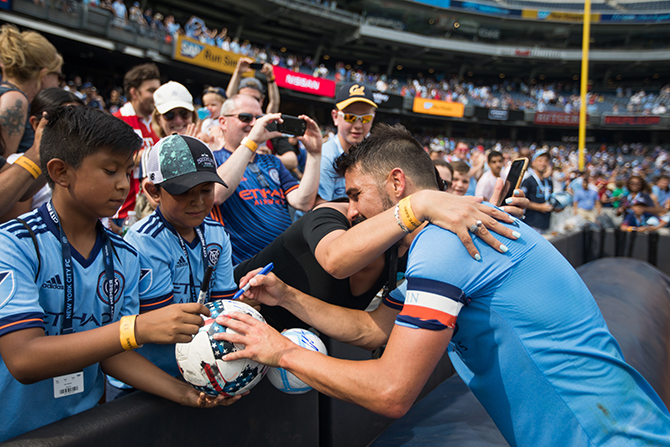 By Clint Brownfield
New Yorkers can rejoice! We're the proud home to New York City Football Club (NYCFC), the only MLS team located within the five boroughs, playing home games at the most famous sports venue in the world—Yankee Stadium. Although avid sports fans in such places as Boston, Baltimore, Chicago, and Pasadena might disagree.
Soccer is the most popular and watched sport in the world. And this form of soccer, played by NYCFC, began as association rules football in the UK in 1863. Those rules are what all Major League Soccer (MLS) teams follow as players vie to represent their respective countries at the FIFA World Cup—played in different countries around the world every four years (the current champion is Germany). The next FIFA World Cup will be hosted by Russia from June 14 to July 15, 2018. Mark your calendars!
It couldn't be easier to attend a match during the soccer season—March to October (longer if the NYCFC makes it to the MLS playoffs). Just hop on the #4 train at Grand Central, and about 20 minutes later you'll be at Yankee Stadium. Along the way, excitement mounts as fans, from little kids to seniors, board the train wearing NYCFC scarves and jersey emblazoned with the names of their favorite teams from around the world. Most will be wearing the city blue NYCFC jersey, decorated with the world Etihad—the team's lead sponsor.
GAME DAY SPECIALS
Grand Hyatt New York is proud to be the official hotel partner of the NYCFC featuring the best weekend deals all year long. At its prime midtown location at 42nd St. and Lexington Avenue the hotel makes it easy to enjoy a match whenever you please.
Grab your friends and stop in at its New York Central restaurant for game day specials. Wear your jersey on game days, and receive one free appetizer. And remember, the hotel is steps away from the #4 subway—just six stops to Yankee Stadium.
For more information on the Grand Hyatt New York, visit newyork.grand.hyatt.com

MEET THE TEAM
NYCFC has 26 players from 15 different countries—an exciting mix of international experience and young rising stars.
Home games are played at the iconic Yankee Stadium. City Football Group (CFG) is the majority owner of the team with New York Yankees as a minority owner. There were 43,502 fans for the Club's inaugural home game March 13, 2015, against New England Revolution at Yankee Stadium defeating the visitors 2-0.
Now, let's meet NYCFC's coach, and its three key players.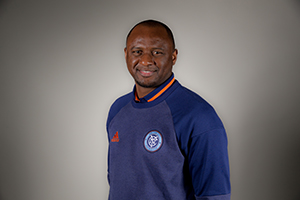 PATRICK VIEIRA
is the Head Coach at NYCFC, taking over the post in January of 2016. Vieira previously served as Head of Manchester City's Elite Development Squad. He also had an impressive 17-year playing career, winning the World Cup in 1998 and also earning 107 caps for France.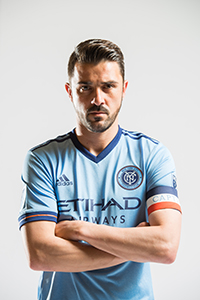 DAVID VILLA
is the Captain and one of the team's three Designated Players. Villa has had an impressive soccer career (World Cup 2010 winner and NYCFC's first signing). Last season, David scored 23 goals with the club, earning him the 2016 Major League Soccer MVP Trophy. This season, he won an ESPY Award for Best MLS Player. David Villa has also appeared at 2015, 2016, and 2017 MLS All Star games.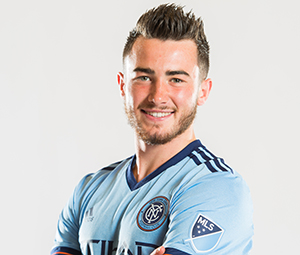 JACK HARRISON
was the first round MLS draft pick in 2016. Only 20 years old, Jack has quickly become a fan favorite. He is a former player for Manhattan Soccer Club, the NYCFC Youth Affiliate.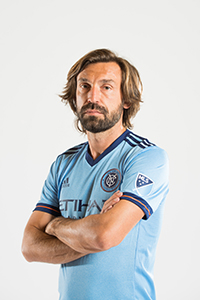 ANDREA PIRLO
is another one of NYCFC's Designated Players. He was acquired from Juventus in 2015, making his debut in the July 26th match in 2015 against Orlando City SC. Pirlo who won a World Cup in 2006 is known worldwide as a deep-lying playmaker in midfield. He is widely regarded as one of the greatest ever exponents of this position, due to his vision, ball control, creativity and passing ability; he is also a free-kick specialist.

NYCFC TIMELINE




2015


MARCH 8th New York City FC's first ever league game against the fellow expansion team, Orlando City.

MARCH 13th New York City Football Club play their inaugural home game against New England Revolution at Yankee Stadium, defeating the visitors 2-0.



---



2016


JANUARY 1st Patrick Vieira is appointed as Head Coach for New York City FC.

JULY 12th In partnership with the Mayor's Fund to Advance NYC, US Soccer Foundation, and Adidas, New York City FC announce New York City Soccer Initiative, bringing 50 new soccer fields to the five boroughs.




OCTOBER 5th New York City FC announce a permanent training facility in Orangeburg, the City Football Academy, New York.



---
2017


FEBRUARY 27th The NYCFC Girls Soccer Academy is announced for U14 – U19 girls, based in Orangeburg.

FEBRUARY 28th New York City FC Designated Player, Maxi Moralez, surprises the "millionth fan" with a customized jersey, celebrating the milestone of a total of 1 million fans attending a home game.

APRIL 16th NYCFC U16s win the Adidas Cup Premier Division, the Club's first major silverware, without conceding a single goal.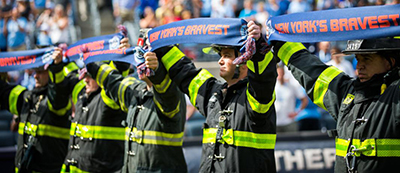 General admission tickets at NYCFC games start around $20 and go up to around $100, with additional hospitality options. The Club has a range of experiences and price points for the diverse needs of New Yorkers, from rowdy seats in the supporters section to premium suites with unlimited food and drinks.
Hats off to the grounds keepers at Yankee Stadium! The Yankees and NYCFC seasons overlap (a lot)—one day there's a baseball diamond and the next day a soccer field magically appears. Amazing! The Boys in Blue play rain or shine, so take a poncho just in case. Games run 90-minutes, so before you know it, you'll be back on the #4 train, grinning from ear to ear after cheering NYCFC on to another victory. We hope to see some of our Boys in Blue playing in Russia next year at the World Cup.
For more information on New York Football Club and ticket availability, visit nycfc.com.