INSIDE PROVIDENCE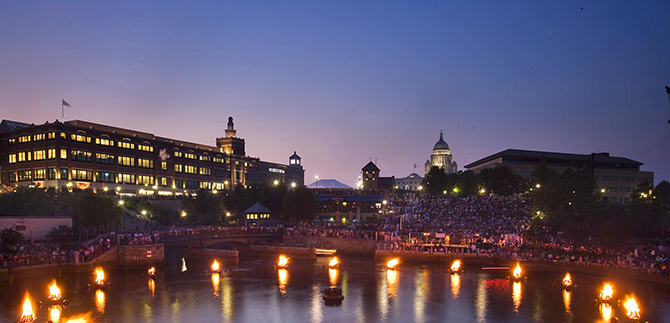 By Gretchen Kelly
When I was a kid (the bespectacled nerdy kind who spent her free time reading paperback versions of the famed horror fiction by my favorite author, H.P. Lovecraft), I spent all my summers on Block Island—a legendary summer destination in Rhode Island. To get there, we took Amtrak to Providence, RI and then a ferry to the island but in all those halcyon childhood summers, all I saw of Providence was the old fashioned railway station and the ferry landing. I had no idea what a weird, wonderful and unique American city I was missing—or that it was the hometown of my favorite author and the fantastic universe of otherworldly creatures he created.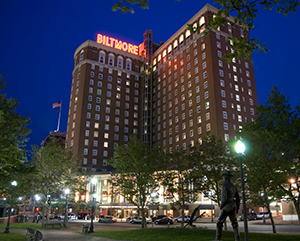 Biltmore Hotel
A SPIRIT IN THE AIR
Providence is as New England and as historic as Boston (we all remember our school lessons on Roger Williams and its founding, don't we?) but it doesn't have Boston's big dig congestion. It's also newly becoming discovered by travelers who are flying in/out of its T.F. Green Airport because it's easier to navigate than Beantown's Logan Airport.
As I found out on a recent weekend trip to this newly named "Creative Capital," Providence is also a thriving haven for artists, culinary wizards, writers and digital mavens. They are finding a home in the city's remarkably preserved downtown—a paradise for architecture lovers and a museum of late 19th century and early 20th-century cityscape. It's also home to a thriving community of folk who proudly herald the city's connections to one of America's best-known writers of "weird tales," my favorite H.P. Lovecraft—the 20th century's answer to Edgar Allan Poe.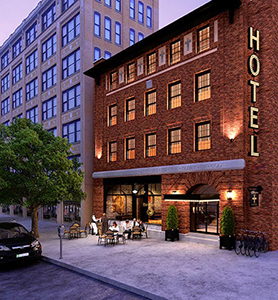 Dean Hotel Providence
I quartered in the centrally located Hilton Providence (hilton.com) a comfortable business hotel with a pool and a great lobby bar, but other great options for stays include the newly re-opened Biltmore Hotel (a remarkably renovated Hilton Curio property) and the chic boutique Dean (thedeanhotel.com) or NYLO Providence (nylohotels.com). One significant advantage of bringing the family here is the city's proximity to Newport and Block Island—both within easy distance for day trips.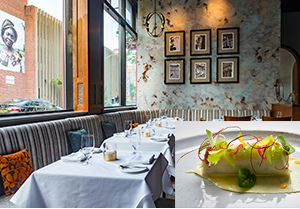 Gracie's Restaurant
My first stop was for drinks at The Dorrance (thedorrance.com) a short walk from my hotel in Providence's perfectly preserved downtown. The grand corner restaurant with floor to ceiling windows is a former bank where Providence's tony crowd came to stash their bucks. Providence was once one of America's richest cities—fueled by a major jewelry industry as well as other manufacturing businesses. While the families who made their money here spent summers at nearby Newport, their flush-with-cash daddies would spend working days here, and come to these gilded banks to check their balances. You can feel the old world money rush here while you sup on freshly caught fish and a cold pinot grigio.
Dinner was another short walk to yet another beautifully preserved interior at Gracie's Restaurant (graciesprov.com) where Connecticut-born Chef Matthew Varga has won the restaurant the coveted AAA Four Diamond Award five years in a row with his seasonally-inspired, proud-to-be-a-New-Englander locally-sourced food.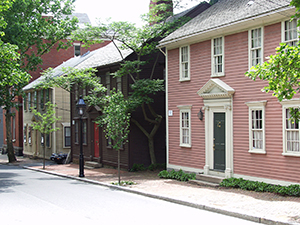 A Step Back in History
MUCH TO DO
The reason for Providence's downtown preservation is a case of the good that can sometimes come from adversity. During the 1970s and 1980s, while cities that were more successful economically toweled their historic downtowns to erect hard steel and glass skyscrapers, Providence was struggling. Its center remained as it had been in the 1900 to 1920s era, and a walk through these streets allowed travelers to see and feel what cities were like in our great-grandparents day—a more human scale that feels luxurious and, at the same time, intimate.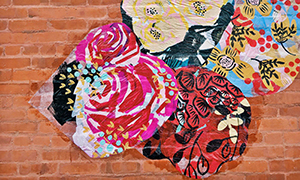 The next few days were taken up by one of Providence's many arts festivals. This one was the PVDFest (pdvfest.com) where we watched acrobats climbing the elegant facades of downtown's buildings, as well as Jessica Lange's dancer daughter Aleksandra "Shura" Baryshnikov doing the pas de deux with another ballerina in the middle of a vehicle-free street, framed by families out for a typical evening.
For me, though, the most memorable part of my Providence weekend was a visit to the city's Arcade—America's first shopping center and as beautiful as London's famed Burlington Arcade—with its arched windowed ceilings and columned facade. Inside, I spent over an hour at the Lovecraft Arts and Sciences Shop (necronomicon-providence.com/store), a haven of books and novelties dedicated to my favorite horror fiction author, H.P. Lovecraft.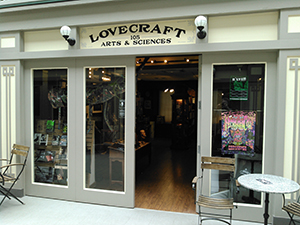 Lovecraft Arts and Sciences Shop
With films, TV adaptations, and fans like the filmmaker, Guillermo del Toro, Lovecraft, who died in 1937, has experienced a huge surge in popularity. Providence, his lifelong hometown, is also host to the biennial Necronomicon Convention—a celebration of all things Lovecraft-related, sponsored by the shop.
Inspired by the shop and its staff who love Lovecraft as much as I do, I made a pilgrimage out to Providence's Swan Point Cemetery, where the cult hero is buried. The 1846 640-acre pastoral internment plot is home to the modest grave that simply states, "I am Providence." The granite stone is festooned with little Cthulu ornaments, the multi-tentacled entities that Lovecraft created and which live on in his readers' imaginations.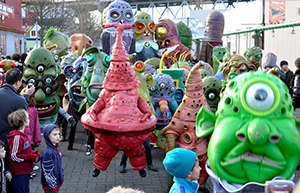 NAZO LAB
OUT OF THIS WORLD
Not to be missed is Providence's NAZO LAB (bignazo.com) where the international performance group of visual artists, puppet performers, and masked musicians "create bizarre and hilarious larger-than-life sized characters, environments, and spectacles," many of them with Lovecraftian creatures with multiple eyes and squid-like appendages.
I visited the NAZO LAB shop in downtown Providence, ensconced in another one of the city's beautiful early 20th-century storefront buildings. When asked if I could look around and take pictures of the larger than life-sized puppets the group was working on for the festival, I was answered with the most creatively Providential statement I could imagine. "Sure, just watch the tentacles."
For more information on Providence, visit goprovidence.com.
---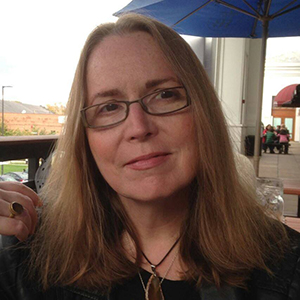 Gretchen Kelly writes on travel and hotels for The New York Post, TravelwithVal.com, Frommers.com, and many other websites and publications. She has appeared on FOX5's Good Day New York, BBC Worldwide News and Bloomberg News. She's been to over 80 countries.