CLASSIC FRENCH MEETS MODERN AMERICAN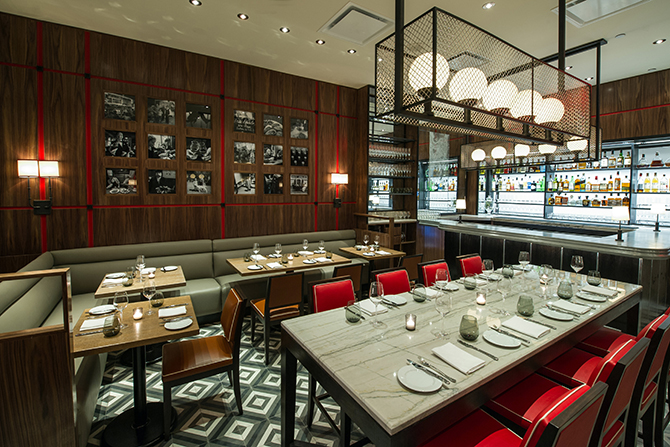 db Bistro Moderne Bar Room ©D. Krieger
By Anne Raso
When Daniel Boulud opens a restaurant, everything must be perfect from the Coq Au Vin to the carpeting—but the 14-year-old db Bistro Moderne at 55 West 44th Street manages to have a relaxed and casual feel despite being a gastronomic legend. Gentle earth-tone walls and light green banquettes accented by modern art and octopus-like ceiling fixtures make for an ultra-chic but relaxing dining atmosphere.
On my recent visit, I had to try the aforementioned Coq Au Vin, which was a large three-piece portion with a dark semi-smoky wine-based sauce, bacon, Chanterelle mushrooms and a generous side of spätzle. Of course, being a meat lover, I also had to try the Iron Steak which was cooked to medium rare perfection and served with arugula, caramelized onion puree, and sauce au poivre.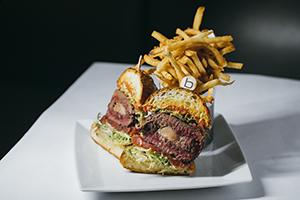 db Bistro Moderne Burger
TOP BURGER IN TOWN
Did I fail to mention that the steak came with the same legendary golden truffle oil fries that you get with the super-famous Original db Burger—a sirloin burger filled with braised short ribs, foie gras, and black truffle served on a parmesan bun? People swear this is the best burger in the city, and executive chef Chris Stam explains why: "The db Burger first became a success because it was the first gourmet burger in NYC. But it also wasn't a gimmick; the recipe is well thought out, based on traditional French flavor pairings and techniques (Boeuf Au Vin Rouge, Tournedos Rossini). It also requires multiple days of careful preparation, so it truly is a luxury item, even beyond the ingredients."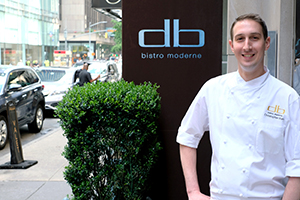 Chef Chris Stam
Chef Stam is a Boston and Martha's Vineyard native who made his big stamp on NYC via his time at the Meatpacking District's Spice Market. Working with Daniel Boulud is what has gotten Stam superstar status, so I had to ask just how hands-on Chef Boulud is day-to-day with db Bistro Moderne. Stam responds, "For a chef juggling the demands of multiple restaurants, Daniel is very involved in the day-to-day business. He meets with all his executive chefs to provide feedback on all seasonal menu changes, and also regularly visits the restaurant to try specials that I have developed. He actually spends a lot of time mentoring the chefs in his restaurants, and one of the things I have learned from him is how to balance innovation and tradition. When you're working with such classic dishes, it's important to be creative, but never at the expense of the quality of the dish or the overall experience of the customer."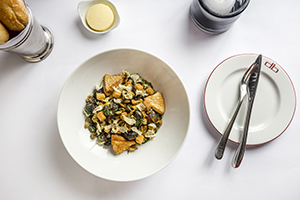 MORE SURPRISES
Not much has been in the media about db Bistro Moderne's wonderful handmade pasta, but I cannot recommend any pasta dish in the city more than the Corn & Ricotta Ravioli which comes in a medium thick cream sauce, embellished with sautéed baby greens and basil. The desserts—especially the memorable Blueberry Pavlova which is topped with a fresh whole blueberry sauce, lemon verbena ice cream and blueberry yogurt sorbet—are what I would describe as "traditional French patisserie-style with a modern American twist."
Fall will be the perfect time for you to visit db Bistro Moderne because Chef Stam promises some inventive new fare. "Fall is about vibrant colors and warm flavors, so I'll be using heartier grains and more butter-based and emulsified sauces. It's a time when we use less seafood and crunchy vegetables and opt for game, offal, beef, and pork. In particular, I'm excited about a sweetbreads dish with pumpkin and mushrooms, as well as a pork belly dish with celeriac and chestnuts."
You don't need to pull on my arm—I'm going back to db Bistro Moderne asap!
For more information on db Bistro Moderne, visit dbbistro.com/nyc.
---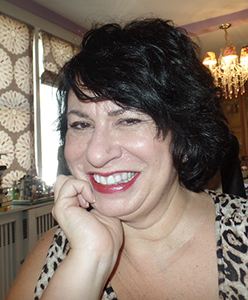 Anne Raso is a New York City-based freelance journalist. She is the former rock columnist for the Sunday New York Daily News and has contributed travel articles to Time Out New York and foxnews.com. Anne currently edits the lifestyle website luxelifenyc.com and contributes to Discovery Girls Magazine.