ALL ROADS LEAD HOME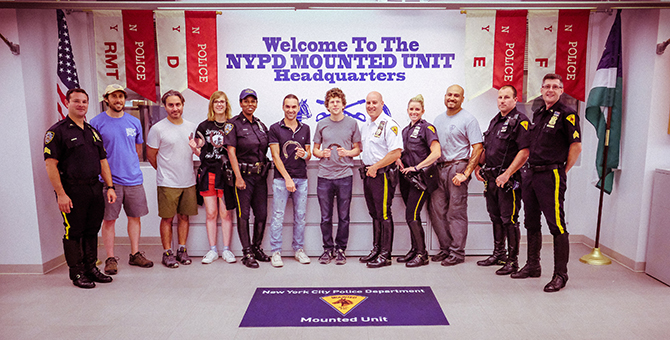 By Lee Gabay | Photography by Mehmet Buyukdag
When Pamela Bond first visited Times Square as a young girl, she was mesmerized by the sight of a policeman on horseback. "I didn't know that there were any horses in the city, and having a cop on top of it made it even more amazing," reminisces Bond. That childhood moment left her awestruck, and she credits it with helping formulate who she would eventually become and what she would do with her life. Today, she proudly sits ten feet high on horseback in the heart of the city, as an officer in the NYPD Mounted Unit.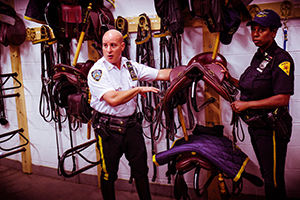 The Mounted Unit is a unique elite division of our city's law enforcement, dating back to the 1860's when many Calvary men returned from the Civil War to the city and joined the police force. The newly hired mounted officers tended to wear their yellow striped military riding pants, which soon became part of the uniform that continues to this day. During New York City's pre-automobile era, the primary purpose of the 600-horse unit was to curtail "reckless galloping"—indiscriminate horse usage attributed to the reliance on horse-pulled wagons, trolleys, and carriages.
Fast forward to 2017 and horseback riding in New York City is relegated to a niche hobby, dwindling the number of horses in the squad to fifty. Possessing the most technologically advanced policing equipment in the world, there are now 35,000 members of the New York City police force. Yet, with all of the modern innovations, nothing can quite accomplish what a set of spurs and a pair of riding boots can. The ten-foot patrolman can see over all pedestrians, handling crowd control and movement better than any other mechanism. They are particularly in demand during parades, protests and demonstrations as the bridle-led equines get to places safely and fast. Massive and occasionally menacing at 1000 pounds, an NYPD horse also gives the public a feeling of safety at large gatherings, also acting as a deterrent to criminals.
"We are very visible and approachable," offers Officer Bond. It's clear that horses and their officers atop tend to give the public a feeling of joy. This positive effect is one of the many intangible dividends paid to both our city's visitors and citizens. Deputy Inspector Barry Gelbman, equine expert and commanding officer of the Mounted Unit, explains this feeling vis-à-vis a Ronald Reagan quote, "There's nothing better for the inside of a man than the outside of a horse."
THE MANE INGREDIENT
Today's mounted unit consists of seventy members of law enforcement. Sergeant Gelbman explains, "We want the best cops, but we look for something even more. We need people with dispositions who can handle the continual public attention while also performing their daily police duties." Police officers with five years of experience apply to the program, and if accepted, they attend a rigorous three-month long boot camp at the Remount Training School for Horsemanship in the Bronx. Here, the trainees are mostly selected for their social skills and learn how to handle horses as they refine (or are taught) their riding skills. Upon graduating from the program, each officer is assigned a horse. Soon after, both human and equine embark on a literal and figurative ride. Similar to her colleagues, Officer Bond is on street patrol five hours per shift and spends the remainder of the time feeding, bathing, grooming, dressing and caring for her horse's well-being.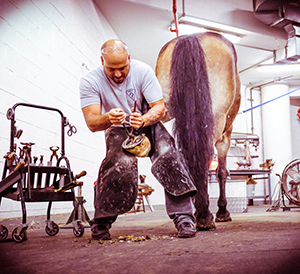 A STABLE ENVIRONMENT
Using a criterion similarly described for their human partners, an NYPD horse is chosen based upon its strength, calm demeanor, ability to mingle with the public, and willingness to be pet. Until recently, the horses were all chestnut-colored Thoroughbred and Quarter horses, but the unit has abolished the military style uniformity to include diverse breeds, hues, and colors. Sergeant Gelbman's "Fantan" and Officer Bond's "Torch" are both Bay Draft Cross Mix breeds. The horses generally come from Pennsylvania Amish country and often have backgrounds pulling plows and carts. On average, a horse puts in 10 years of good service with the NYPD before retiring to a palatial private farm upstate or in New Hampshire. A number of the horses are named after fallen officers, including the recently retired "Russel," named after Detective Russel Timoshenko, who was shot and killed on duty in 2007.
Citywide, four units remain: Troop B in Manhattan, Troop D whose horses work and live out of Pelham Bay Park in the Bronx, Troop F based in Cunningham Park in Queens, and Troop E in Brighton Beach. Manhattan's Troop B stables are situated on the bottom floor of the West Side's luxury Mercedes house residential building. Twenty-seven separate horse stalls provide a healthy setting for the horses, replete with automatic fresh water feeders, two horse showers, and a riding ring. The climate is always kept within seven degrees of the outside temperature to maintain an ideal atmosphere for the horses as they transition in and out throughout the day.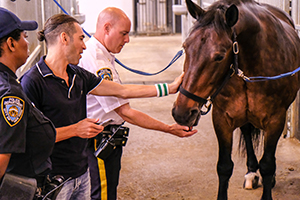 In addition to the horses and police, the Mounted Unit employs twenty civilian specialists. Each handler, artisan, and master craftsman is a vital component to the team, bringing a particular and sometimes rare skill set. Farrier Marcus Martinez shoes horses with tungsten-fortified custom horseshoes to meet the specific foot needs of the animals under his care. A leather worker tacks each saddle and bag to match the individual specifications of horse and rider. The full-time bridle and harness maker further maintains the foundation and legacy started with the Calvary years ago. These artisans have been passing along the knowledge of their tradecraft for generations.
PHOTO FINISH
Pamela Bond's favorite part of her job is saying hello to the people in the neighborhood whom she has gotten to know while riding with "Torch" on their daily beat. "When I'm with him, the city seems so small, and people always smile, wave and take pictures." Part of the mission and core values of the NYPD is a caring partnership with the community they serve. Horses seem to bring out the best in all of us. We all sometimes need to be reminded of our humanity, and in the case of the NYPD Mounted Unit, it takes another species to help us to do so.
---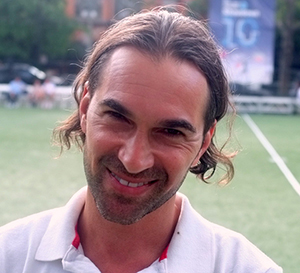 Lee Gabay is a doctor of Urban Education who teaches in Brooklyn, N.Y. He has written about education, incarceration, basketball and sneaker culture since 2006. His first book, I Hope I Don't See You Tomorrow was published in 2016. He lives in the Lower East Side with his wife and daughter.