PAWS DOWN, TAILS UP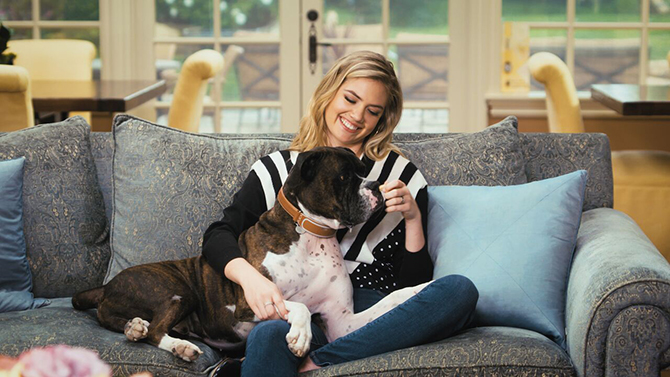 Kate Upton with Harley wearing the Link AKC collar
By Lori Simmons Zelenko and Susan Traub
With tech-obsessed pet parents on the lookout for the latest innovations to improve their lives with their pet, we thought we'd do a round-up of the most useful new ways our pets can live well, stay healthy and be safe.
TRACKING YOUR PET
City or country, any device that helps keep track of your pampered pooch or cared-for kitty is a good thing. What pet parent doesn't want their mind set at ease with an easy to use and efficient means of keeping tabs on their fur baby?
For the dedicated dog owner, among the most practical options is a sophisticated GPS smart collar, especially useful as it lets you not only track a lost dog but also allows you to monitor activity. It also helps you keep a potential pudgy pooch fit, log vet records, receive weather alerts (too hot for Fido? Or too cold for Fifi?) and much more. Looking to take a more informed and active role in managing your dog's well-being? Needing to feel connected to your dog when you're apart from each other? The LINK AKC Collar (linkakc.com) is the go-to choice of Kate Upton (known for her Sports Illustrated covers) and her dog Harley. "Everyone knows I am obsessed with Harley. When we're together, the LINK AKC smart collar allows me to record and share our hikes and other adventures," Kate says. "When Harley can't be by my side, I can still feel connected to him through his smart collar, which tells me his location, environment and activity levels from anywhere right on my phone."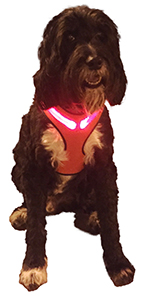 Royal Animals LED Harness
SAFETY FIRST
Do you find yourself walking your dog on city streets or country roads late at night or even at sundown? LED lights—bright and bold—are an excellent way to make sure your dog is in clear view. Royal Animals (royalanimals.com) puts safety first with their LED harness and leash, and they've expanded the collection to include an LED raincoat as well. As always combining fashion forward-style with practicality, Royal Animals has designed chic, accessibly-priced looks that resolve practical concerns. The LED lights are easily visible in the dark making it not only easier for you to see your dog but for other pedestrians and motorists as well to keep an eye out for you and your pet. Some dog owners, particularly in the country, take this a step further and wear LED vests of their own, making sure owner and pet are seen clearly at a distance.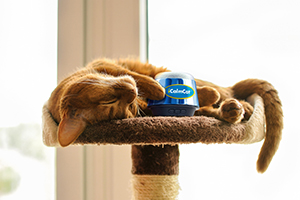 The iCalmPet
MUSIC TO THEIR EARS
Do thunderstorms turn your dog into a nervous wreck? Or is city traffic a trigger? When hiding under the bed or even in the tub just isn't making your pet feel secure there's a solution in iCalmpet (icalmpet.com) which uses the power of sound like a "nutrient for the nervous system." iCalm is music therapy for pets (there's one available for dogs as well). There are music tracks, easy listening you could say, specially created to ease stress for dogs or cats.
It's a portable player that comes with different audio
programs for all stages of your pets life and most environments/situations. This "simple sound" is psycho-acoustically designed to support your pet's compromised nervous system. Under stress, your pet reacts by shutting down, not listening, and not observing. But to get your pet to be calmer as well more responsive, the "nutrients" of sound have proven to be helpful.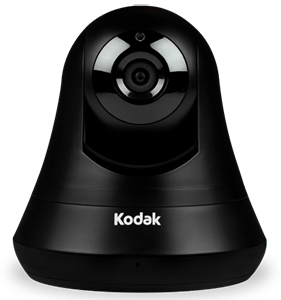 The Kodak Video Monitor
PET-STYLE CAM
Pet parents with separation anxiety of their own may find that what calms them down is being able to watch their pet through what people parents dub a nanny cam (aka pet cam). Helpful for keeping tabs on a new puppy or for monitoring an older dog with health concerns or hey, let's just confess, when you just have to be with your fur baby and are miles (maybe only blocks but it feels far) away. When it comes to pet cams our pick is The Kodak Video Monitor (available at amazon.com) for pets. It gives you a high definition picture, night vision, and through an app, you can talk to your pet and even capture the best moments of the day to see what your pet has been up to while you've been out. So separated or not, you'll relieve your anxiety as a pet parent.
Technology makes our lives with our pets safer, easier, calmer and all in all, more rewarding. Tech is evolving every day at breakneck speed improving and enhancing every aspect of our four-legged friends. Stay tuned to Paws Down, Tails Up for more installments on pets and how we are living smarter with them.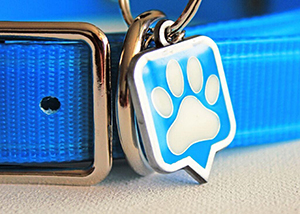 PAWTechnologies
WANDERING ANIMALS
It's a good idea to leash your dog before you open the car door. And, of course, make sure your house cat stays in your home. However, if your pet does take off, there's PAWtechnologies (pawtechnologies.com) to the rescue. Did you know that less than three percent of cats and twenty percent of dogs are ever reunited with their owners? PAWtechnologies functions as a massive word of mouth network by creating a flyer distributed via phone, email, social media and any other viable digital communication method to thousands of pet-centric destinations: local animal clinics, hospitals, rescues, veterinary offices and shelters within a 25-to-50 mile radius of your pet's last known location. For more information and to register your pet, visit their website. Prices vary.
---
Lori Zelenko and Susan Traub have teamed up to reveal exclusive personal insights into the luxe life of pets in New York City and beyond. Each a devoted dog owner as well as an entrepreneur, Lori and Susan are mutually dedicated to improving the well-being of pets. To learn more, email lzelenko@gmail.com. ©2017 Lori Zelenko and Susan Traub, All rights reserved.