ARUBA: A DUTCH TREAT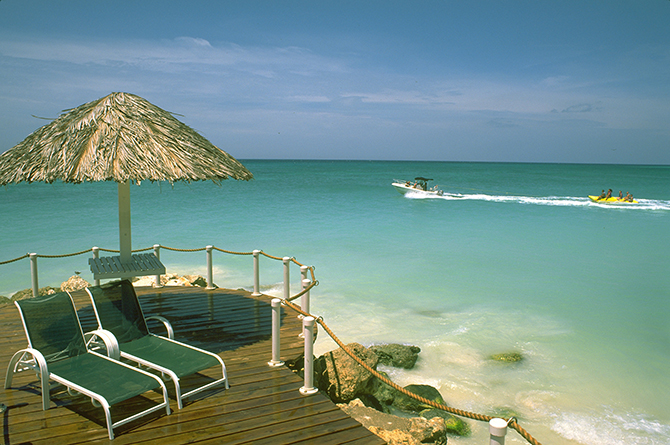 By Patricia Canole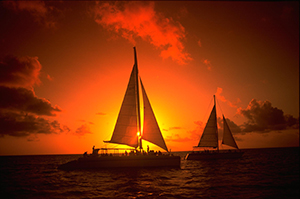 If you're craving a bit of sun-drenched Arizona—but you want this desert to be surrounded by dazzling pale aqua blue waters and some of the Caribbean's best palm-lined beaches—then say "bon bini" to Aruba. That's "welcome" in Papiamento, the local dialect on this nice little Dutch island. Aruba sits a mere 18 miles off the coast of South America, and the primary ingredient in its cosmopolitan stew is mellow Latin spice, mixed with just enough international flavor (casinos, water sports, superb dining) to keep visitors coming back year after year. And if that isn't enough for you, here are more reasons Aruba is irresistible.
IT'S GOT ENDLESS SUNSHINE
The sun comes out on Aruba almost every day of the year. This arid isle gets just 20 inches of rain annually, and since it (along with fellow ABC islands Bonaire and Curaçao) lies below the hurricane belt, it's a safe bet even during storm season. For the best beach bumming, settle in on the leeward coast, where resorts of all sizes hug the golden sands of Palm Beach and Eagle Beach. Kick off your shoes and soak up the intense rays this super-sunny spot is known for.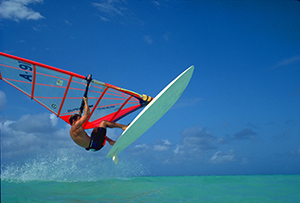 IT'S SPORTY
There's nothing wrong with becoming one with a comfy chaise, but if you are of the ambitious sort, Aruba excels in active pursuits. Constant trade winds make the island a top spot for sailing, parasailing, and windsurfing. You can also commandeer a Jet Ski and skim over the aquamarine sea or slide into the soothing 82-degree water and snorkel among the colorful tropical fish that dart in and out of the shipwrecks off the coast.
IT'S SOCIAL
When the sun goes down, most visitors stroll from one resort to another, checking out the revolving array of nightclub theme nights, Vegas-style floor shows, and beachside barbecues. Another after-dark option: Test your luck at one of Aruba's lavish casinos, located in the top resorts in the charming capital, Oranjestad. Partying the night away is as easy as jumping aboard one of Aruba's colorful buses for a wild tour of a local hangout, discos, and dives. Two to try: try the wacky, whimsical Kukoo Kumuku, an all-inclusive dinner, bar-hopping night out with door-to-door service provided on a colorful bus. Or try the open-air Fiesta Hopper with its onboard dance lessons—maracas and margaritas included!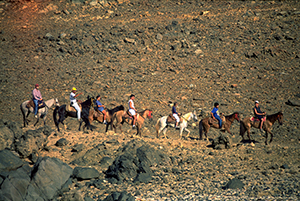 IT HAS A WILD SIDE
When it's time to do some serious exploring, rent a car or hook up with a four-by-four safari and head across Aruba's hauntingly beautiful cactus- and boulder-strewn canucu, or countryside, to the rugged windward coast. Here, crashing waves have carved small, secluded coves into the rocky shore, including, one enclosed by a large natural stone bridge. Standing together with the sea spray cooling your skin, you'll realize that Aruba truly is different—awesome. Be sure to tour the incredible "The Tunnel of Love" cave; it does have a heart-shaped entrance. You'll be inspired. And leave the map behind. Instead, follow the natural road signs of Aruba's distinctive divi-divi trees. (Bent by the wind, they'll always point you back to the leeward coast where first-class comforts await.) Of course, you'll want to visit the Casibari Rock Formations, huge boulders created by prehistoric volcanic activity. Climb the steep stone steps to the summit for a view from the island's highest point, Hooiberg (Haystack Hill). A twisting road leads to the charming Alto Vista Chapel, built in the 18th century by Spanish missionaries. And don't forget to snap a photo of Aruba's most famous landmark, the Natural Bridge, a 100-foot-long formation of coral limestone.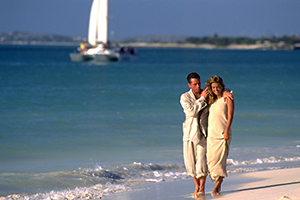 Then it's back to your resort for a relaxing nap before you're ready to hit the town again for a night of fun. On Aruba, you really can have it all!
For more information on Aruba, visit aruba.com.