SKI EAST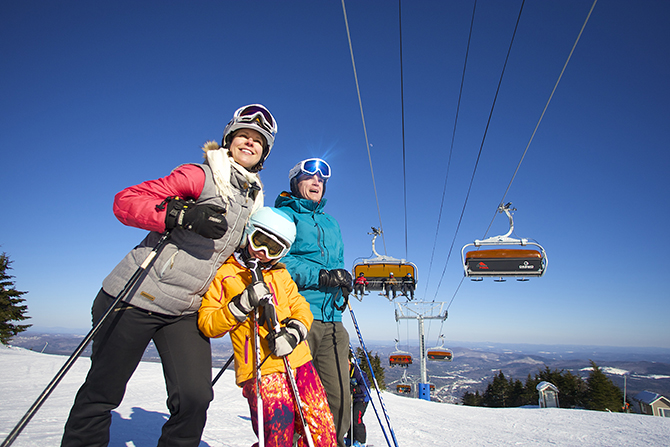 By Patricia Canole
Skiing and snowboarding on the East Coast are a bit different than in the west. Although elevations may be lower, there are plenty of white-knuckle challenges, with plenty of challenging trails.
VERMONT
It's the king of New England skiing, with more major ski resorts than any other Eastern state. There are a few ways to make the most of a ski getaway here. For starters, with so many resorts in such a small state, it's very easy to ski more than one in a single trip. And nearby resorts offer interchangeable lift tickets. Also, to get the most bang for your buck, go where the skiing best suits your ability. Southern Vermont areas (Okemo) lean toward intermediate cruising terrain, while northern resorts (Stowe) tend to offer more to advanced and expert skiers. In the middle is Killington, the biggest of all, with plenty to interest skiers of every ability.
For more information on Ski Vermont, visit skivermont.com.
---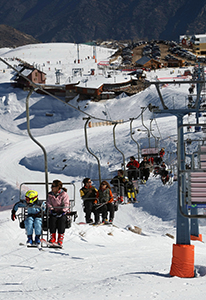 Okemo
Vertical Rise: 2,200 feet
Acres of Terrain: 667
Well-traveled skiers will enjoy the excellent grooming and quality of the white stuff which has made this south-central a favorite. High-powered snow guns cover 96 percent of trails that span the resort's five mountains—with terrain equally divided among novice, intermediate and advanced levels. There's something for everyone (including acrobatic boarders, who can perform tricks on six terrain parks and a 500-foot-long super pipe). And those looking for more of a cardio-workout should include a few hours on the extensive network of sweat-inducing trails, manicured especially for Nordic skiing and snowshoeing.
---
Stowe
Vertical Rise: 2,360 feet
Acres of Terrain: 485
Don't let the luxury hotels and vacation homes distract you—this mountain is no joke. Located on the face of Vermont's highest summit, Mount Mansfield, Stowe has some of the most challenging runs on the East Coast. While the most famous trails are the legendary Front Four—National, Liftline, Goat, and Starr—Stowe also has access to some of the best-unmarked tree skiing in the east. Stowe is as close to a traditional European resort as it gets in the eastern United States.
---
Killington
Vertical Rise: 3,050 feet
Acres of Terrain: 1,509
This sprawling property offers snow-packed trails that weave around the Green Mountains and promise the most thrilling downhill skiing this side of the Mississippi. Dubbed the "Beast of the East" it lives up to its name: It's the biggest resort covering seven mountains and an excellent variety of terrain. Probably a good reason Killington attracts large numbers of devoted skiers who keep it as lively after hours as they do during the day. It also demonstrates that the beast is still a real beauty of a mountain. Beginners can trail off on Pico Peak and Rams Head Mountain, while speed demons rip down Killington Peak.
---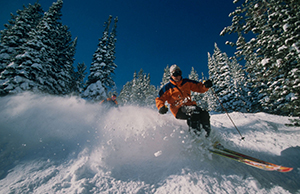 NEW YORK
New York has its distinctive style. Rather than sleepy New England towns, you'll find a lively crowd on—and off—the slopes. Reigning supreme here is Whiteface Mountain and Gore Mountain both set in Adirondack State Park. The park is big and steep (if not more significant and more precipitous) as many mountains in Vermont or the rest of New England. Few East Coast resorts can match Whiteface's big-mountain challenge, and none can match its tradition: After all, Lake Placid hosted the Winter Olympics twice—in 1932 and 1980.
For more information on Ski New York State, visit iskiny.com.
---
Whiteface Mountain
Vertical Rise: 3,430 feet
Acres of Terrain: 288
In the town of Lake Placid, you'll find the towering Whiteface Mountain. Whiteface has two significant advantages over other areas: the most prominent vertical drop in the Northeast and its proximity to Lake Placid, which offers many winter activities. Whiteface will especially please both expert and intermediate skiers looking for long trails and gorgeous views of the Adirondacks. Less experienced skiers have access to Runner Up and Silver, closer to the base. Families can also try out their skills at bobsledding in the town of Lake Placid.
---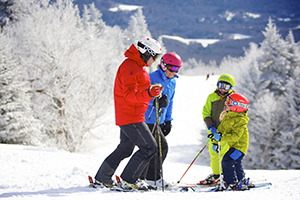 Gore Mountain
Vertical Rise: 2,537 feet
Acres of Terrain: 446
This small ski area has a loyal following of families who return year after year—most probably because it's relatively uncrowded. Besides, the comfortable layout, with all trails leading back to a medium size base lodge, it is good for parents who might worry about losing their kids. The area encompasses four different mountains in the Adirondacks: Gore, Little Gore, Burnt Ridge, and Bear Mountain. Nearly half the trails are intermediate, and 10 percent are suitable for beginners. In addition to alpine skiing, Gore Mountain also offers cross-country and snowshoe trails located at North Creek Ski Bowl.
---
Hunter Mountain
Vertical Rise: 1,600 feet
Acres of Terrain: 240
Hunter Mountain, located in the Catskills, is the largest mountain in the southern New York State area--a convenient two-hour drive from New York City. The resort offers arguably the best skiing south of Vermont and is a worthy destination for skiers of all abilities. Hunter's beginner terrain centers on Hunter One, the smallest of three mountains. For the intermediate, there's the longest run, Belt Parkway. And for advanced and expert skiers, there's black and double black terrain on Hunter West. The Empire Terrain Park offers freestyle skiers and snowboarders plenty of jumps, while a nine-lane snow-tube park is fun for families or the young at heart.
---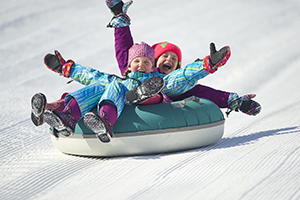 PENNSYLVANIA
It's time to shift your winter into high gear and plan your incredible Pennsylvania ski vacation to where else but the Poconos. With a history dating back to 1946 when the mountains welcomed the first commercial ski area in Pennsylvania and perfected the art of snowmaking, the Poconos have become a bona fide ski destination. Today, the Poconos have it all—beginner slopes to the double black diamonds and terrain parks to test your skills. Get out and experience the exhilaration when your skis start sliding down a Pocono slope.
For more information on the Pocono Mountains, visit poconomountains.com.
---
Shawnee Mountain
Located in Pennsylvania on the Delaware River, the Shawnee Mountain Ski Area is nestled in the Poconos Mountains. Best of all, it's just a two-hour drive from NYC, and once you've arrived, you will be a "world away" from the hustle and bustle. The mountain features 23 trails and two terrain parks, as well as a snow-tubing park. If you're not quite ready to hit the slopes or some of the more difficult trails, nearly one-quarter of the total runs at the Shawnee Mountain Ski Area are beginner runs. While the trails can get crowded from time to time, a high-speed quad chairlift helps to keep the lines moving.
---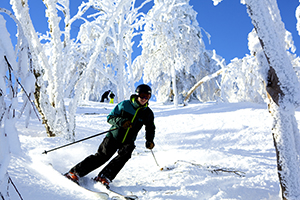 Camelback Mountain
Vertical Rise, 2,133 feet
Acres of Terrain: 160
If you ski just one place in Pennsylvania, Camelback must be it. Most resorts along this gentle mountain range in Northeastern Pennsylvania describe runs as "great for beginners" or "family friendly." Camelback is indeed that, but it also has trails that appeal to expert skiers. It can even make a high volume of snow and has two terrain parks and two half-pipes. For non-skiers, the sizeable snow-tubing park is a pleasing alternative.
The ski day at Camelback is long—starting as early as 7:30 AM (for pass holders) and going as late as 10 PM, with every trail capable of being lit. And it's less than 90 miles from New York City.
The resort's base lodge is a great place to get your après ski started. Friday through Sunday live bands play crowd-pleasing covers for the happy masses downing the macro-brews on tap.
Of course, as we all know there are two types of people in this world: those who ski, and those who don't. If you fall into the latter camp and have never vacationed at a ski lodge, then you've been missing out. Camelback Mountain Resort affords non-ski activities including zip lining over snow-covered mountains and treetops. For kids, there's always Aquatopia Indoor Water Park with fun rides and slides. And for those who just want to kick back and relax, there's Serenity Spa.
For more information on Camelback Mountain, visit skicamelback.com; for information on Camelback Mountain Resort, visit camelbackresort.com
---
AH SCHUSS—A GUIDE TO SKI LINGO
Alpine Skiing Another way of saying downhill skiing.
Après Ski After-skiing social activities.
Base Amount of packed snow reported by ski areas.
Chute Steep and narrow run usually flanked by rocks or trees.
Cruiser Long, smooth, bump-free run on packed powder.
Face Usually a steep, open section of a trail down the fall line.
Half Pipe Half-cylindrical form (like a tube cut in half lengthwise) designed exclusively for snowboarders, who execute tricks off its edges.
Powder Dry, fresh, light snow. Preferred by powder hounds, but often the bane of less experienced skiers because it requires a more advanced technique than does skiing in regular snow.
Slalom Form of racing in which a skier attempts to negotiate a course of staggered, closely set gates using short radial turns.