NYC HOLIDAY GUIDE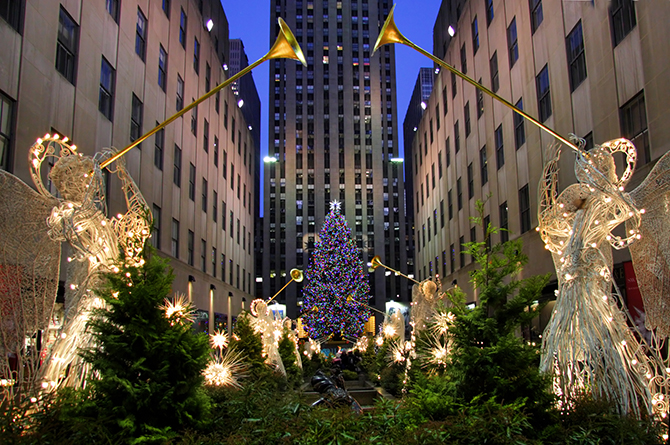 By Patricia Canole
It's the most wonderful time of the year! Just a few weeks after Halloween wraps up, the city and the best New York attractions turn into an illuminated wonderland. From the Macy's Thanksgiving Day Parade, lighting the Tree at Rockefeller Center to watching all the animated figures in the Holiday Windows, it's a month-long fairyland of magic. Even the most jaded New Yorker has to admit that it's a spectacular sight. Let's take a tour of a New York-style Holiday Season!
---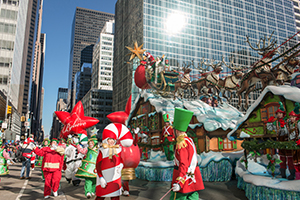 MACY'S THANKSGIVING DAY PARADE
On Thursday, November 23th the 91st Annual Macy's Thanksgiving Day Parade will parade down Central Park West and 77th Street to Columbus Circle along Central Park South to Sixth Avenue. From there it will follow Sixth Avenue to 34th Street and along 34th Street to Herald Square. More than 8,000 people take part in the parade, including clowns, balloon handlers, and marching bands, while many more line the streets along the parade route to see it in person. The parade has been an annual tradition and it has been getting bigger and better every year. Get ready for giant character balloons, floats, cheerleaders/dancers, marching bands, celebrities—and Santa Claus! Don't Miss: One of the most anticipated events of the Macy's Thanksgiving Day Parade occurs the night before. The Balloon Inflation allows you to get up close and personal to watch technicians inflating nearly 25 parade balloons from 3 to 10 pm. The excitement begins at the American Museum of National History (just off Central Park West between 77th and 81st Sts.) where the entire family can see the balloons come to life (macys.com/social/parade).
---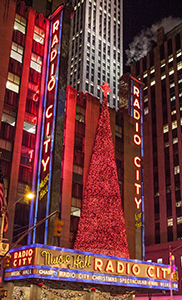 RADIO CITY MUSIC HALL CHRISTMAS SPECTACULAR
Radio City Music Hall is most famous as the home of the legendary Rockettes and their high-stepping Christmas Spectacular which has been entertaining us since 1933. This year's show—which runs from November 10, 2017 through January 1, 2018—won't disappoint. You'll see lots of favorites along with the Rockettes, as well as some special effects technology and updated choreography. Not to be overlooked is the return of the live animals in the "Living Nativity" and the Nutcracker scene (rockettes.com).
---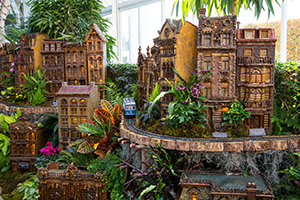 NEW YORK BOTANICAL GARDEN HOLIDAY TRAIN SHOW
Model trains navigate crafted miniatures of New York City's environment all made from seeds, bark, leaves, and twigs. The Statue of Liberty and the Brooklyn Bridge are just a few of the 150 landmarks that form a fantastically rendered city landscape, serviced by a robust half-mile of the track, all nestled under the glass ceilings of the historic Enid A. Haupt Conservatory. This year the train show runs from November 22, 2017 to January 15, 2018 and showcases Manhattan's skyscrapers with new replicas of the Empire State Building, Chrysler Building, 30 Rockefeller Center and St. Bartholomew's Church (nybg.org/whats-on).
---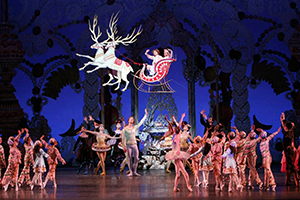 NEW YORK CITY BALLET: THE NUTCRACKER
The New York City Ballet's production of George Balanchine's The Nutcracker is at the heart of New York City's holiday season, and this year marks the 63rd annual performance. Whether a family tradition or a once-in-a-lifetime visit, your experience of this glittering classic ballet will stay with you forever. Young and young-at-heart will be transported to a magical place filled with adorable children, marching toy soldiers, mischievous mice, waltzing snowflakes, and some of the most breathtaking costumes ever seen. The most famous example is the massive Christmas tree that grows to 40 feet evoking audible gasps from the audience every time. David H. Koch Theater, Lincoln Center (nycballet.com).
---
HOLIDAY TREES
The Tree at Rockefeller Center is hands down the iconic Christmas image and continues to attract visitors every holiday season. However, there are more trees to check out including the unique Origami Tree at the American Museum of Natural History and lots more.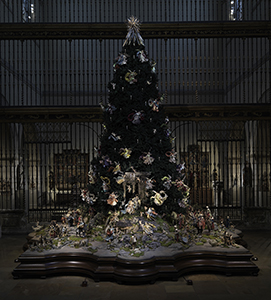 ROCKEFELLER CENTER CHRISTMAS TREE
It's the most celebrated of holiday trees and a classic destination for holiday visitors and residents alike. The 85th annual tree lighting will be November 29, 2017 (rockefellercenter.com/holidays).
HOLIDAY TREE AT BRYANT PARK
The tree at Bryant Park Winter Village is decorated with over 30,000 LED lights and 3,000 custom ornaments. The annual tree lighting ceremony will be on December 2, 2017. Visitors can enjoy free ice skating at Winter Village as well as holiday shopping (wintervillage.org).
ORIGAMI CHRISTMAS TREE AT AMERICAN MUSEUM OF NATURAL HISTORY
For over 30 years the AMNH has celebrated the joyous with its 13-foot Origami Tree. The museum draws inspiration from its exhibits for the 1,000 folded-paper works, constructed by volunteers throughout the year. On display beginning November 20, 2017 (amnh.com).
CHRISTMAS TREE AND NEAPOLITAN CRECHE AT THE MET FIFTH AVENUE
The Met continues its holiday tradition with the presentation of its Christmas tree: a brightly lit, twenty-foot blue Norwegian Spruce featuring 18th-century Neapolitan angels and cherubs gracing its boughs. At the base of the tree are the crèche figures flanking the Nativity scene. On display beginning November 21, 2017 (metmuseum.org).
LINCOLN SQUARE CHRISTMAS TREE
On Monday, November 27, 2017, the 18th Annual Winter's Eve at Lincoln Square—New York's largest holiday festival will begin with the tree lighting ceremony. The highly anticipated event promises a lively lineup of legendary performers, musicians, dancers, street entertainment and more to ring in the holiday season and light up the Upper West Side (winterseve.nyc).
---
HOLIDAY SHOPPING
From November through the end of December you'll find the best that New York City has to offer—unique gift items including jewelry, clothing, home goods, arts, crafts, antiques, electronics, and so much more.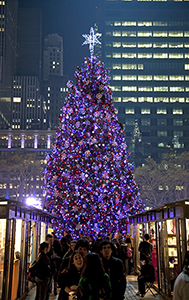 HOLIDAY SHOPS AT BRYANT PARK'S WINTER VILLAGE
The Holiday Shops include more than 100 boutique-like kiosks offering lovely gift ideas from jewelry, decorative goods, local foods, and much more--for all ages. The Holiday Shops are housed in Bryant Park's custom-designed kiosks (closes January 3, 2018; wintervillage.org).
GRAND CENTRAL HOLIDAY FAIR
Holiday Fair is the only one held indoors. This year, the Fair will fill Vanderbilt Hall with vendors offering an incredible array of holiday gifts. Clothing for adults and children, handbags, hand-crafted jewelry and accessories for men and women top the list (closes December 24, 2017; grandcentralterminal.com).
UNION SQUARE HOLIDAY MARKET
Over 100 merchants are on hand to bring you unique gifts. Hand-blown glass housewares; handmade leather goods; bags and accessories; and a good variety of handmade jewelry are just some of the items available. As in years past, there will also be nibbles and noshes throughout the market (closes January 2, 2018; urbanspacenyc.com).
COLUMBUS CIRCLE HOLIDAY MARKET
This market is considered by many as one of the most elegant places for holiday shopping. Conveniently located near the entrance to Central Park, at 59th Street, shoppers enjoy walking around discovering one-of-a-kind items including art and jewelry, from local designers (closes January 2, 2018; urbanspacenyc.com).
---
HOLIDAY WINDOWS
A visit to New York City during the holiday season wouldn't be complete without a view of the city's department store windows.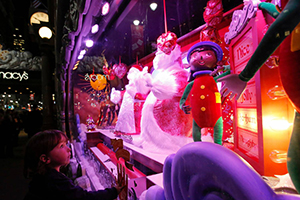 Barneys New York - If you're shopping along Madison Avenue, Barneys windows are a must-see. Every year they show hip and stylish displays, accented with a dose of fun (Madison Ave. at East 61st St.).
Bergdorf Goodman - Holiday windows feature high-fashion and authentic antiques: each a work of art. Put this one on your list of must-dos (Fifth Ave. at West 58th St.).
Bloomingdale's - The holiday window displays are playful and on display before Black Friday so holiday shoppers can enjoy them throughout the season (Lexington Ave. at East 59th St.).
Lord & Taylor - Every year this store features classic holiday window displays which are unveiled in late November. The colorful displays feature imagery and mechanical movements that make them both traditional and enjoyable for families (Fifth Ave. at West 38th St).
Macy's - Here windows depict animated scenes of New York. In years past, Miracle on 34th Street and a Charlie Brown Christmas have created a stir on 34th Street (Broadway at West 34th St).
Saks Fifth Avenue - The holiday window displays feature funny animations. Conveniently located Saks Fifth Avenue's windows are located across from the Rockefeller Center Promenade. Don't miss: Saks also produces a beautiful Winter Palace Light Show on the facade of the building during evening hours (Fifth Ave. at East 49th St).