INSIDER'S GUIDE TO SCOTLAND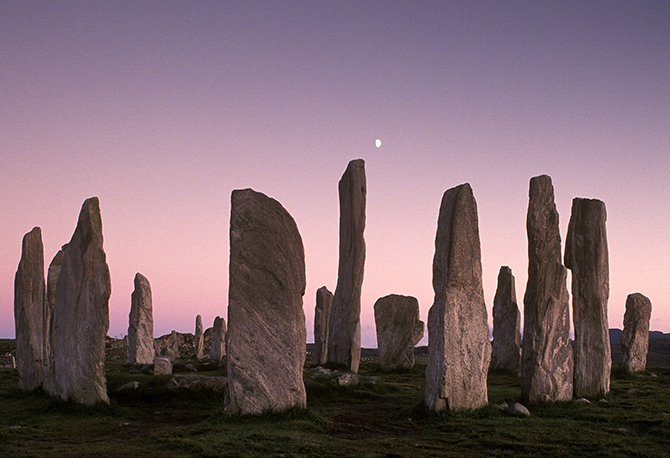 By Ruth J. Katz
Most people in Scotland drink whisky like lemonade," uttered one of my classmates at a Scotch-tasting/blending class some years ago. He was from the Island of Aran and his comment was meant to underscore that in this, the nation of hundreds of Scotches, any respectable native can determine the nuanced flavors among these Celtic nectars. With every trip, I try to further my own education.
There is majestic scenery to drink in, also—Nikon-perfect vistas abound everywhere: craggy mountains, lollygagging rivers, frothy waterfalls, fairytale-like woodlands, wild and untamed sandy seascapes, verdant copses, lavender and mauve moors. Not to mention, the Highland "coo" (cow) with its shaggy, russet coat. Scotland is also home to hundreds and hundreds of castles, enveloped in lore and legend; some are in ruins, some are four-star auberges. Luxurious hunting lodges and hotels captivate and coddle and on this trip, I road-tested many; most are members of the Luxury Scotland group, with its very high standards for fine quality and cosseting service. (see sidebar).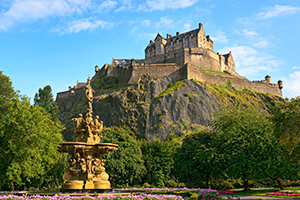 Edinburgh Castle
THE JOURNEY BEGINS
I started in Edinburgh, a charming, architecturally appealing city and the second-most visited destination in the UK after London. Its "new" town was built in 1767, and is chockablock with picturesque Medieval and Georgian structures, and some striking 21st-century edifices, like the new (and controversial) Parliament building. Along the north side of Princes Street, the main thoroughfare, are local stores like the esteemed Jenner's; opposite is the bucolic Princes Street Gardens, with its lush expanse, punctuated by the two-hundred-foot high monument to Sir Walter Scott, the National Gallery of Scotland (with magnificent Impressionist and Old Masters), and the Royal Scottish Academy.
For shopping, visit quaint Victoria Street in the Grassmarket area of Old Town, with picture-postcard-looking shops. Brand-conscious shoppers will gravitate to George Street, while touristy shops line the traffic-free Royal Mile, stretching from Edinburgh Castle to the Palace of Holyroodhouse, where the Queen stays when she visits. Do not skip the fortress-like Castle, if only to coo over the cemetery for soldiers' dogs and the famous Stone of Destiny.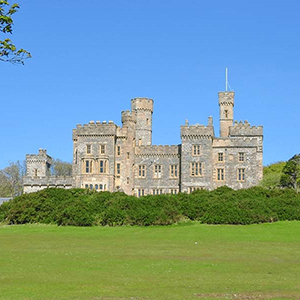 Lews Castle ©Luxury Scotland
ROYALTY & CASTLES
I headed to Edinburgh's port of Leith, where the Royal Yacht Britannia is berthed. She was home to Her Majesty the Queen and the royal family for more than 40 years, logging in more than a million miles around the world. Launched in 1953, she has hosted countless state affairs and honeymoons. Today, she is a popular attraction, with a very fine self-guided audio tour. (Hidden around the ship are small, stuffed Corgi dogs!) Docked nearby is the Fingal, a former Northern Lighthouse Board ship. Retired and refurbished to the tune of £ 3.5 million, she is slated to open this spring as a luxury hotel.
Leaving Edinburgh, I ventured north to Kinross House Estate and Spa, dubbed, a "gentleman's seat," and available for rent-lock, stock, and barrel. Designed by Sir William Bruce, it was constructed in 1685, and is regarded as the most important neo-classical Palladian mansion in Scotland. With 100 acres of formal gardens, pastureland, and woodlands, it sits on the western shores of Loch Leven, with a view of the 11th century castle where Mary Queen of Scots was imprisoned. The magnificent main mansion and coach house can sleep 48; the former coal bin has been converted to accommodate an elevator and there is a stylish whisky "library."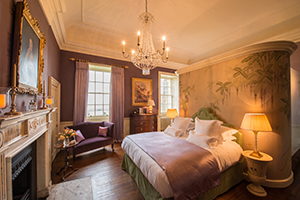 Kinross House Estate ©Luxury Scotland
Continuing north, I discovered the amazing House of Bruar, a retail campus reminiscent of Woodbury Commons, but with the luxe of Harrod's. On the 11-acre site are all manner of specialty, clothing, and gourmet shops (an entire department for fishing lure and flies) that dig deep into each merchandise category; for example, Wellies in nearly a dozen Crayola colors! Dozens of flavors of preserves, including bramble and apple, raspberry and Prosecco, gooseberry and elderflower, line the pantry. Another must-see is Tomatin Distillery where I enjoyed the best—and I mean it!—distillery tour I have ever experienced. Ask to taste the 18-year-old, single-malt, aged first in Oloroso sherry casks and then in American bourbon barrels.
I overnighted at the Rocpool Reserve Hotel and Chez Roux Restaurant. French-born Albert Roux, OBE, is one of the UK's most pre-eminent chefs; he and brother Michel operated Le Gavroche, the first restaurant in the UK to be awarded three Michelin stars. This hotel is worth a stopover. The next day, I visited the majestic Alladale Wilderness Reserve, over 23,000 privately-owned acres in the Caledonian Forest, currently being restored to its natural state with extensive planting and the reintroduction of once-native wildlife. That night, I stayed at the inviting Inver Lodge, which is home to yet another top-flight Chez Roux eatery. It was as if Central Casting had sent a cadre of archetypal British actors, looking the part of fisherman and hunters. And right on cue, sleeping contentedly by his master's feet, adjacent to the fireplace, was an exhausted golden retriever, who had been working all day.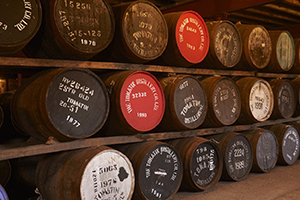 Tomatin Distillery
ISLAND HOPPING
From here, I headed to the Outer Hebrides, a two-and-a-half hour boat trip from Ullapool. In all of the Hebrides there are some 20,000 residents. Lewis Island (the southern section is called Harris) is home to half that number, with 80 percent of that population in Stornoway, the island "metropolis." Keep in mind there are nearly as many lochs (6,000) in the Outer Hebrides as there are residents!
Sights include the Standing Stones of Callanish, on the rugged west coast. Some five thousand years old (and excavated in the early '80s), the main cruciform shape is formed by some 50 massive stones, with an inner circle of 13 stones. On Harris, do not miss going to the Harris Tweed shops, where you can learn about genuine Harris Tweed, regulated by the Harris Tweed Authority. For other local crafts, visit Talla na Mara, a community arts and entertainment center. Across the road are rugged, picturesque beaches—Luskentyre and Horgabost, to name but two—which are considered among the most beautiful in the UK.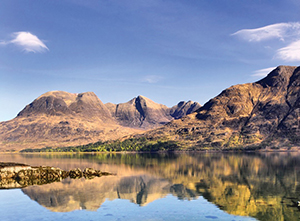 Torridan ©Luxury Scotland
Back on the mainland, my last stop was another wilderness site, The Torridon, set on nearly 60 acres of parkland, near Achnasheen, and perched on the edge of a loch. An absolutely stunning hotel, each room is furnished individually (with a Highland cow stuffed-animal on each bed). The 13th-century castle, Eilean Donan, one of Scotland's most iconic (and a scene-stealer in the film Made of Honor), is nearby and worth an outing.
No matter where you head in fair Scotland, you'll likely be greeted with ceud mile failte (a hundred thousand welcomes); and when you're ready to leave, you'll hear "haste ye back," to this hospitable, warm, and fascinating country. I am already planning my next jaunt—after all, besides Scotch, there is golf, shortbread, tartans, and so much more.
For more information on Scotland, visit luxuryscotland.co.uk and visitscotland.com. Fly to/from Edinburgh on American Airlines (aa.com) in Business Class with its excellent service; cabins are equipped with flat beds and iPads, pre-loaded with countless films.
SCOTLAND'S BEST STAYS
I selected most of my lodgings from Luxury Scotland's portfolio of 34 hotel properties, assuring impeccable service and comfort. In Edinburgh, I stayed at the Glasshouse Hotel (theglasshousehotel.co.uk), a modern, 77-room property, with a crenelated tower and Gothic-style arch windows. Once a church, the hotel's rooms are named for Scotch whiskies. Expect careful service and excellent breakfast fare (included), and be sure to visit the "secret" rooftop garden with jaw-dropping vistas. I also stayed at the Sheraton Grand Hotel & Spa (sheratonedinburgh.co.uk), with the One Spa, a revelation with its Hamman, aroma grotto, hydro pool, and rock sauna; even the guest rooms' showers have colored red and blue lights, extending that spa-like feeling. The Sheraton is likely the only hotel in Scotland with its very own tartan, under the auspices of the Scottish Register of Tartans. I took a meal at the exquisite Balmoral Hotel, a Rocco Forte property (roccofortehotels.com), dining in the more casual bistro, Hadrian's, where traditional cuisine has a distinct Scottish flavor.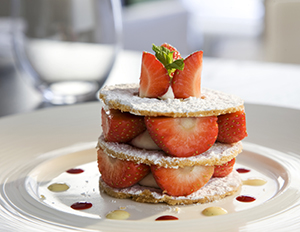 Dessert at Rocpool Reserve Hotel ©Luxury Scotland
On the road, Rocpool Reserve Hotel and Chez Roux Restaurant (rocpool.com) is a jewel in the middle of Inverness, as is the Inver Lodge and Chez Roux (inverlodge.com) in the Northern Highlands. The cuisine at both is assuredly Scottish but prepared with French flair. Rocpool is not too far from Loch Ness and atmospheric Culloden, while Inver Lodge is in the middle of an area well-known for its plentiful salmon and trout, and it attracts serious outdoorsmen; indoors, the hotel offers a regulation-size snooker table.
Lews Castle (lews-castle.co.uk), part of Natural Retreats, is a magnificent Orcadian castle, completely renovated with 23 self-catering rooms that can be configured into diverse suite arrangements. The kitchens and living rooms are capacious and modern, and the staff will stock the fridge with all the basics before your arrival. Overlooking charming Stornoway harbor, the castle also features a museum highlighting local history. (There is an on-premises coffee shop for light fare, and if you care to venture out to dine, Digby Chick in town has toothsome cuisine.) We supped one night in a private dining room at the castle and had a culinary treat. The following night, we were invited to join the locals for a black-tie ceilidh (Scottish Gaelic, pronounced kay-lee), which means a big social hoo-ha, involving "Scotch whisky, kilts, fiddlers, and dancing," as a Scottish friend in America informed me.
At The Torridon (thetorridon.com) there are guided nature hikes, archery, kayaking, rock climbing, clay-shooting, and countless other outdoor sports, along with gin- and Scotch-tastings; the restaurant proffers four-star cuisine and service. (The property also has more modest lodging, The Inn, a short walk from the main hotel.)
Luxury Scotland also has non-member partners, including Glasgow-based Little's Chauffeur Drive (littles.co.uk) with its fleet of claret-colored prestige vehicles and street-savvy, dependable drivers—my fail-safe method for hopscotching around Scotland
---
The author of five books, Ruth J. Katz served as style editor of Promenade magazine. She has written extensively for both The New York Times and New York magazine, has served as an editor at numerous magazines, and appeared weekly on Fox TV as the consumer services expert. © 2018 Ruth J. Katz. All Rights Reserved.