ROMANCING THE CARIBBEAN
By Jenny Peters
It was a rough 2017 hurricane season for a lot of the islands in the Caribbean, but the good news this year is that many hard-hit places have bounced back. The islands are ready for visitors who are winter-weary and long for a bit of warmth and a lot of fun.
February is the perfect month to make your flight to where sun, warm waters and a bit of Calypso music await; scoop up your Valentine, too, and make a romantic journey out of it. There's plenty to see and do aboard one of the large cruise ships, which are all sailing once again to the Caribbean, making fascinating stops along the way.
Our choice was the Princess Cruises Crown Princess ocean liner from Fort Lauderdale (just a three-hour flight from NYC) to the Eastern Caribbean. We were distinctly pleased to see recovery at every stop along the eight-day trip. In fact, you can follow this same itinerary on the March 3, 2018 cruise. Of course, there are other Princess Cruise ships which depart for the Caribbean throughout the spring and summer. Take one of these trips to discover why the Caribbean remains the world's most popular region for cruise vacations.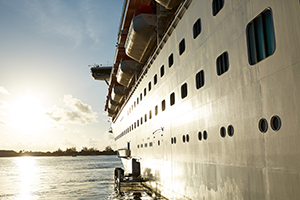 Crown Princess in the Caribbean
ABOARD THE SHIP
There's much for lovers (and others) to experience aboard a Princess ship: the cruise to the Eastern Caribbean includes a few full days at sea, giving you plenty of time to check things out. Of course, you can simply book a balcony room and while away the day watching the water and relaxing. But with a luxurious full-service spa onboard, perhaps a couple's massage or a chocolate body wrap ought to go on the agenda, too?
Naturally, there are plenty of events scheduled all day and all night on the cruise, ranging from exercise classes (yoga, Zumba, etc.) to movies, seminars, music and live entertainment shows (check out the magic show if it is offered). And, of course, there's food galore from 24-hour room service to the elegant, not-to-be-missed Chef's Table. Book this limited offering in advance. You'll visit the ship's galley for Champagne and appetizers, see the kitchens where the chefs prepare thousands of meals, then go on to a dining room meal that features numerous courses of sublime tastes.
We loved the ship's newest concept, a wine blending experience offered in conjunction with Silverado Vineyards. Taking four of the famed Napa Valley winery's best reds, a wine expert guides you through mixing the varietals until you've blended wine that's perfect for your palate.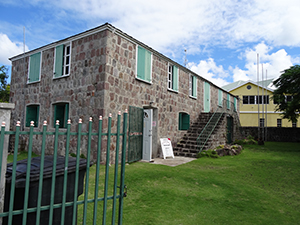 Nevis birthplace of Hamilton
©Jenny Peters
ST. KITTS AND NEVIS
The islands of St. Kitts and Nevis, the first stop on our cruise, looked fantastic, sunny and gorgeous—and seemingly unharmed. The two islands are one country, a sovereign state that is still part of the British Commonwealth, both claimed by Columbus for the Spanish and settled by both the British and French by the 1600s. Today St. Kitts is known for its annual music festival and Nevis for being the 1757 birthplace of Alexander Hamilton, which draws lots of tourists to his small brick house on that lovely island. On our ship excursion, visits on Nevis included his modest home as well as the St. Thomas Lowland Church, built in 1643, with a cemetery overlooking the sea and St. Kitts. It's a beautiful burial spot with an astounding view. Down on Pinney's Beach, we tasted some spicy jerk chicken at Lime Beach Bar and swam in the warm, azure water.
The Brimstone Hill Fortress on St. Kitts is a UNESCO World Heritage site, representing one of the oldest and best-preserved forts in the Americas and is also well-worth a visit. There's the Clay Villa Plantation House to see, too, built in 1763 and never worked by slaves; and the Romney Manor ruins, a sugar plantation that once was. And while there was hurricane damage on both islands, the country's revenues are rooted in tourism, which makes it essential for visitors to return, both here and to the other islands of the Caribbean.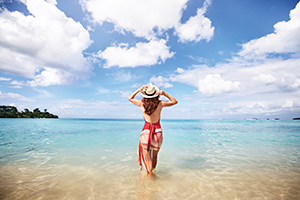 Antigua beach
ANTIGUA
Arriving at Antigua, it's easy to see why everyone from Eric Clapton to Oprah Winfrey has owned estates here. This massive island is stunning, with lovely coves tucked in all around the coastline, each holding a prettier beach than the last. The island has 365 beaches (one for each day of the year), believe it or not. Taking the Princess Cruises' six-hour excursion that featured a zippy catamaran ride, plenty of time to enjoy one of those beautiful beaches—or a chance to stay on the boat and do flips, dives and jumps off the side into deep water—is a total blast. Finish off the afternoon with a lobster and Champagne lunch grilled up right on the catamaran.
And while its sister island Barbuda still needs time to recover—90 percent of the structures on that Island were damaged by Hurricane Irma—most residents are safe on Antigua, where the rum punch is flowing, the steel drums are jamming, and the seafood is grilling. Even if you don't go by cruise ship, Antigua is one of the jewels of the Eastern Caribbean and should be on your list of places that just might define the word "paradise."
ST. THOMAS, U.S. VIRGIN ISLANDS
In St. Thomas, we discovered two different results from the hurricane. Scuba diving under the clear blue waters at two various dive sites revealed some damage to the corals; fish and other sea creatures were slowly returning. Sea turtles were already back, especially at the wreck we dove, which has served as an artificial reef for more than 50 years. Barracuda glittered as they ambled past and a large stingray rose out of its nap from the sea floor, camouflaged with sand until it began flapping its fins and rose up to meander away, a gorgeous sight to see.
On land, there were telltale signs of hurricane damage, as one of the Princess Cruises' exclusive Animal Planet recommended tours traveled to the top of the island, where vistas of land and water showed some of the hurricane's wrath still in evidence. But despite that damage, there were still places to marvel from Mountain Top, the island's highest peak, to the Kongens Quarter, where plenty of shops offered local goods, music and homemade foods to sample.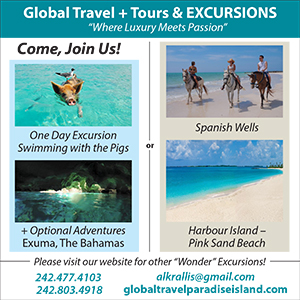 GRAND TURK
Grand Turk, part of the beautiful Turks and Caicos island chain, was the last stop on our cruise, and again it offered a bit of yin and yang. Under the water, the usually vibrant corals found here were somewhat muted, suffering from sand churned and deposited atop the delicate structures. But the island itself was thriving, abuzz with the visitors streaming off the cruise ships, many who chose to just settle into the beachfront cabanas and lounge chairs set outside Margaritaville, an outpost of Jimmy Buffett's famous tropical chain just steps from the dock. We suggest taking a glass-bottom kayaking trip into the nearby mangroves to get up close to the birds and other creatures that call Grand Turk home. It's a gorgeous way to complete a visit to the still-vibrant Caribbean that is hoping visitors from New York and beyond come to call.
For more information on Princess Cruises, visit princess.com.