ON STAGE
By Lori Zelenko
With February's round-up of Broadway shows we're honoring the American Spirit. From Jimmy Buffet's celebration of life as one long sun-drenched vacation in the Florida Keys to John Lithgow's one man show sharing memories of his life as he grew up traveling across America, enthralled by his storytelling father to the American archetypes populating City Center's Hey Look Me Over…there's an American dream for everyone. Read on, there are stories to tell of musicals to hear.
---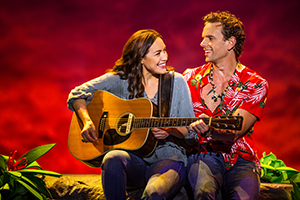 ESCAPE TO MARGARITAVILLE
The Marquis Theatre
Who doesn't want to Escape to Margaritaville? "Parrotheads" and "Parakeets" will love this tropical musical comedy getaway which features Jimmy Buffett classics, including "Come Monday," "Volcano," "Cheeseburger in Paradise," and many more not to mention new, original songs. Even if just for a few hours, you can escape the urban grind where an icy cold beer is your top priority. This musical comedy will have you singing just about dancing to favorite Buffet classic tunes, abandoning all to enjoy gleefully, goofily "wasting away again in Margaritaville."
Margaritaville lives in the imagination as a place where the sun is hot, the water's warm and the frozen concoctions never run out. Welcome to Margaritaville, Island paradise; keep compassion, tolerance, and personal honesty close at hand as you accept the invitation to kick back and enjoy the best of Jimmy Buffet.
Escape To Margaritaville is more than a musical—it's a way of life. With a youthful and vibrant cast led by Paul Alexander Nolan and Alison Luff, the show is written by Emmy Award winner Greg Garcia (My Name is Earl, Raising Hope) and Emmy nominee Mike O'Malley (Survivor's Remorse, Shameless) and directed by Tony Award winner Christopher Ashley (Come From Away, Memphis).
---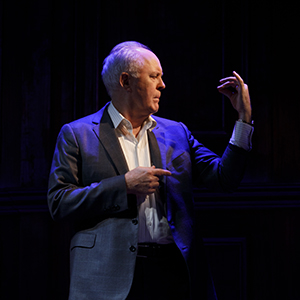 JOHN LITHGOW: STORIES BY HEART
Roundabout Theatre
It's an intimate and mellow evening we spend with Tony and Emmy Award winner John Lithgow as he reveals enthralling tales his father told him as a child that carry poignant memories as an adult. He's an actor who transforms himself with effortless charm, we've embraced him as an alien (3rd Rock from the Sun), a gossip columnist (The Sweet Smell of Success), Winston Churchill (The Crown), and even the beguiled diplomat in the original production of M. Butterfly; it's no stretch of the imagination to find him enthralling as the characters in the stories he tells in his solo show.
With both humor and heart, Lithgow reaches into a treasure chest of family memories to share with us classic short stories by Ring Lardner and P. G. Wodehouse. Creating characters who become complicit in their own narratives, Lithgow elevates the magic of storytelling, complete with such imaginative sound effects (actor-created) that we are on the edge of our seats like breathless children immersed in the tale. Interspersed with performances are personal recollections making the evening that much more personal and enjoyable, we see a performer and get to know the actor.
---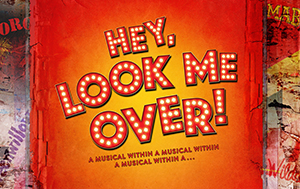 HEY, LOOK ME OVER!
New York City Center
Curtains up! Light the lights! This February there's a new musical about old musicals (hits from the 1960s) full of overtures, finales, and the numbers that come between them! Vanessa Williams and Bebe Neuwirth are among the stellar cast of the City Center Encores! production of Hey, Look Me Over! (February 7th thru 11th), kicking off the 25th City Center season of the beloved, Tony honored series responsible for bringing classic American musicals back to life.
Bob Martin, as his cherished Man in Chair character from The Drowsy Chaperone, plays an opinionated Encores! subscriber who leads the audience on a guided (and sometimes mis-guided) tour of his favorite scenes and songs from musicals he's always wanted to see at City Center. Keep an ear tuned for popular tunes from shows including All American, George M!, Greenwillow, Jamaica, Mack & Mabel, Milk and Honey, Sail Away, and Wildcat. It's a welcome opportunity to hear in one show the work of some of our favorite musical theater writers and composers Harold Arlen, Mel Brooks, George M. Cohan, Cy Coleman, Noel Coward, E.Y. Harburg, Jerry Herman, Frank Loesser, and Charles Strouse; the list of amazing talents goes on. You'll have to see the show to discover all.
''Looking at these shows, you get to thinking about how they touch on so many American archetypes,'' says Encores! artistic director Jack Viertel. ''Wildcat is about entrepreneurial people—digging for oil and becoming wealthy in the process. All American is about immigration, Mack & Mabel is about Hollywood, and Greenwillow is about wanderlust. These all feel like American themes. We didn't assemble them for this reason but there's this kind of American panoply going on in this show.''
---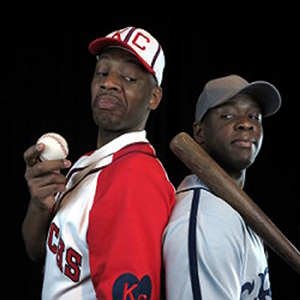 JOSH: THE BLACK BABE RUTH
Theater for the New City/Cino Theater
In honor of Black History Month, Theater for the New City will re-mount the powerful story of Josh: The Black Babe Ruth (February 8th thru 25th). The play dramatizes the life, loves and ultimately the tragic decline of Josh Gibson, who was perhaps the greatest slugger of the Negro leagues and pursued Major League ambitions despite family obligations, personal vices, and institutional racism. The play offers an intimate look into mid-century sports, society, and politics with a soundtrack of pre and post WWII era music.
Dave Roberts dominates in the leading role, Josh, with Daniel Danielson as fellow baseball player Satchel Paige. The production co-stars Daphne Danielle as Josh's wife, Hattie, and Charletta Rozell as Grace, Josh's mistress. With Bette Howard directing, the play shows Gibson struggling heroically to make it into the Big Leagues with emotional support from his good friend, the legendary pitcher Satchel Paige, and from the two women who are rivals for his heart—his common law wife and his mistress. Despite his majestic on-field performance, there are immovable obstacles, including resistance to black players by Major League club owners and Gibson's own personal demons, which suffocate his chances.
---
Lori Simmons Zelenko grew up in NYC skipping school to go to an afternoon of theater so it's no wonder that she's dedicated to telling the stories of Broadway to the New York Lifestyles audience. With an eye towards pop culture, she seeks to bring a point of view that's fresh and fun. She is also a brand storyteller creating compelling marketing communications campaigns for start-ups and established brands. Her website is
lsz-communications.com.