WELCOME TO THE PARTY!
Allison Jean White, Brenda Meaney, Hayley Mills, Gina Costigan, and Klea Blackhurst ©Jeremy Daniel
By Patricia Canole
You're invited to a party that's full of surprises. Here's your chance to sit back, enjoy, and watch as plans are toppled when a young woman's mother brings her own food to her daughter's party—and also the right person to be her new best friend. That's when they all put on their party faces, and the fun begins: Facades crack, secrets spill—and the laughter roars as their revelry leads to revelations. Welcome to Party Face, the new comedy by Isobel Mahon and directed by Amanda Bearse, which runs until April 8th at New York City Center—Stage II.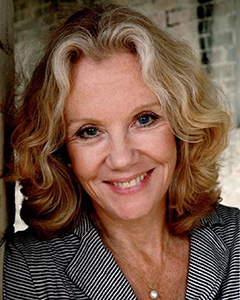 Hayley Mills
In the lead role is acclaimed Academy Award winner Hayley Mills—who is joined by the talents of Klea Blackhurst, Gina Costigan, Brenda Meaney and Allison Jean White. As we all know, Hayley is the child of theater royalty with a long list of credits that include The King and I and an Off-Broadway appearance in Noël Coward's Suite in Two Keys. Among her other theater credits are Ladies in Lavender, Pride and Prejudice, and Dial M for Murder.
Hayley's career has spanned six decades and has garnered the actress with many awards and industry recognition. She has the distinction of having won the last Juvenile Academy Award (in 1961 for Pollyanna) before AMPAS retired the tiny Oscar. Other notable starring roles include her dual portrayal as "Susan" and "Sharon" in The Parent Trap (Golden Globe nomination) and its three sequels, Tiger Bay (BAFTA Award), Whistle Down the Wind (BAFTA nomination), That Darn Cat! and The Trouble With Angels. On TV, Mills appeared in the series Wild at Heart, Good Morning, Miss Bliss and Midsomer Murders.
New York Lifestyles recently caught up with Hayley Mills during rehearsals for Party Face. Her exuberance on stage is something to behold—and a good reason to put Party Face on your to-do list.
Who have been the greatest influences on your life?
My parents, Walt Disney, and my two amazing sons Crispian and Jason.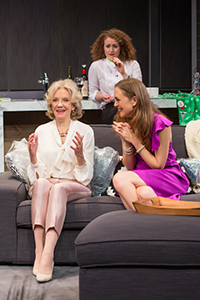 Hayley Mills, Brenda Meaney, and Allison Jean White ©Jeremy Daniel
How did your childhood affect the person that you are today?
Since I started working at 12, it's really difficult to know how different things might have been. But, since I was born into a family where my father was an actor, and my mother was an actress and a writer, chances are I would become either one or the other.
What advice would you offer your teenage self?
Think long and hard before you do anything—but trust your instincts.
Who has made a difference in your life?
My darling partner of 20 years, Firdous Bamji—my love and my rock.
As a child, what did you want to be when you grew up?
Before I started acting at a young age, I saw myself having lots of horses and lots of children.
Who are your heroes?
My sister Juliet and my brother Jonathan.
What would your friends say are your greatest qualities?
I hope they would say that they felt that I was there for them.
What do you consider your greatest achievement? Doing King and I for two years knowing I can't really sing. And that all of these years, I'm still working and finding myself Off-Broadway in this wonderful play! And, most important, that my beloved children are still talking to me.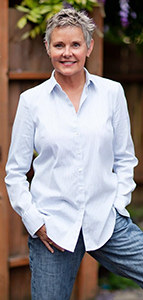 AMANDA BEARSE
Director
Upon graduation from The Neighborhood Playhouse, Amanda began her acting career on All My Children. Soon after she was cast in the cult horror film Fright Night opposite Chris Sarandon and Roddy McDowall. Following that, another cult classic came her way in the role of Marcy D'Arcy on the hit sitcom, Married...With Children, where she directed numerous episodes during the final six seasons.
Twenty-five years and over a hundred sitcom episodes later, including shows such as Dharma & Greg, Reba, George Lopez, and Mad TV. Amanda remains behind the camera directing and producing, most recently the web series, Skirtchasers starring Barry Bostwick and Meredith Baxter. Theatrically, Amanda has directed Beth Henley's Crimes of The Heart, Horton Foote's Blind Date and new works such as Meet & Greet among others.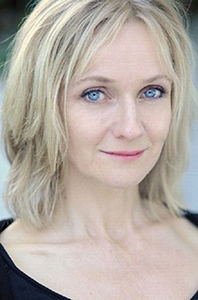 ISOBEL MAHON
Playwright
Isobel began her career in her native Ireland as an actress winning Best Newcomer to the Irish Theatre for Semi-Private at The Gate Theatre in Dublin. She went on to work steadily in TV and theater, including the portrayal of Michelle in the RTE series Glenroe for 16 years. Finally succumbing to a lifelong ambition to write, her first stage play So Long, Sleeping Beauty in 2003. Her other plays include The Rules, Billy the Boat Loves Angelina and Box of Frogs. She is currently working on a horror film script, Bogman.