BROOKLYN'S BEST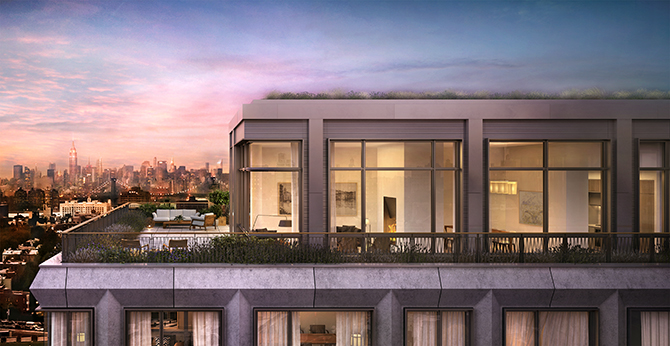 550 Vanderbilt ©VUW Studio
By Daniel J. Bollinger
Catch the subway to Brooklyn, where you'll find two developments which are almost 75 percent sold. One is in Prospect Heights located at 550 Vanderbilt and the other, in Fort Greene, a twin building development at 171 South Portland and 164 South Oxford, better known as Oxford/Portland. Both addresses have great locations, thoughtful layouts, beautiful design details, and plenty of views.
LOCATION
550 Vanderbilt
This could be the best location in all of Brooklyn. A block from Barclays Center in the new Pacific Park neighborhood, this place is hard to beat. If you prefer to be in the center of the "action" then 550 Vanderbilt is your choice.
Oxford/Portland
This development encompasses two of the quietest streets in Fort Greene. A few blocks in one direction is Fort Greene Park, and in the opposite direction, you'll find the center of Downtown Brooklyn. If you prefer to live on a quiet tree-lined brownstone block, then Oxford/Portland is for you.
LAYOUTS
The most popular type of design in today's new development is the open kitchen/living/dining room layout. Both developments have these kinds of plans in their units. There is plenty of natural light with almost floor to ceiling windows in 550 Vanderbilt and plenty of windows in Oxford/Portland units. High ceilings are another attraction in both developments with 550Vanderbilt featuring ceilings 10'6" and higher and Oxford/Portland featuring some soaring 14' ceiling heights in penthouses; one penthouse even boasts a 20' ceiling height in the kitchen.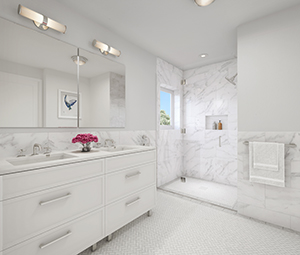 Oxford/Portland
DESIGN DETAILS
550 Vanderbilt
Most notable about 550Vanderbilt are the impressive kitchens and baths. The kitchens have lovely warm hues with not only integrated cabinetry but overhead cabinets to maximize storage and space. Featuring an all Miele appliance package that vents out with Grohe fixtures. The master baths also have warm brown hues with Carrera marble. Large wet rooms with subway-tiled walls and a lovely linen closet are standard. Secondary bathrooms have lighter wood tones with sizeable gray tiling. Every bath in each unit features a different design. The steel sinks in the powder rooms elicit a design detail mention. Wet rooms in some units have impressive niches. They are penny tiled with a stainless steel border. It draws the eye. Other baths have a marble wainscoting design with subway tiles above it. The rich brown hues of the medicine cabinets and vanities are also impressive. Some medicine cabinets have a nice open shelf too.
Oxford/Portland
These twin sister condos offer some remarkable kitchen and bathroom designs including Bosch and Bertazzoni appliances. Counter space features beautifully striped Montclair Danby marble. Dornbracht fixtures come standard with fully integrated cabinetry in these classic white kitchens. The baths have Waterworks fixtures with great niche factors. Many bedrooms have en-suite baths. There are some windowed bathrooms and all match the kitchens with a classic white design. Since the twin development butts up against each other, this gives the ground floor units ample private outdoor space.
PENTHOUSES
Oxford/Portland
The duplex penthouse, at 171 South Portland, has an upstairs master bedroom with a terrace. The master bath in this unit has a huge wet room. This unit also has a balcony directly off of the kitchen and a private roof terrace.
The penthouse at 164 Oxford features three terraces in total: one off the master bedroom, one off the kitchen, and a large balcony running the length of the entire apartment. The porthole windows are an excellent design detail given the 14' ceiling heights.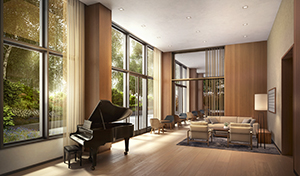 550 Vanderbilt ©VUW Studio
AMENITIES
550 Vanderbilt This significant 278 unit ground-up development provides an excellent amenity package. Not only does it have the standard children's playroom, concierge services, bike storage, and rooftop deck but it also has a sizeable 3,500+ square-foot gym. There is also a resident lounge with two full kitchens, a beautiful library with a fireplace, an outdoor area, a direct connection to the coming eight-acre Pacific Park greenspace, and more. One of the design details that make some of these amenities so impressive are soaring 18+' ceiling heights. There is also a third party parking garage within Pacific Park.
Oxford/Portland
This boutique development consists of only sixteen units comprising both buildings. It has devoted all the space to the beautiful units and does not offer anything in terms of amenities.
RECAP
550 Vanderbilt
The joint venture Greenland Forest City Partners and CookFox Architects can be thanked for giving 550 Vanderbilt such beauty within the newly developed Pacific Park. From the buildings' façade to the interiors and the amenities this development is reshaping the face of a New Brooklyn rising.
For more information on 550 Vanderbilt, visit 550vanderbilt.com.
Oxford/Portland
East River Partners and Barry Rice Architects have teamed up to bring a genuinely thoughtful twin sister condo offering with immaculate interiors that scores high marks in location, building, layouts, and design details. A fantastic opportunity to call Fort Greene your home on two of the most beautiful, quiet, tree-lined streets in Brooklyn.
For more information on Oxford/Portland, visit oxfordportland.com.