NEW YORK CELEBRITY CHEF CHARLIE PALMER
Cooking Is Not His Only Passion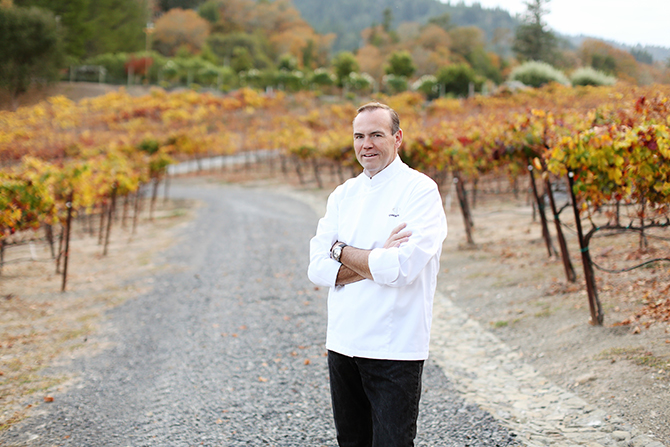 By Ellis Nassour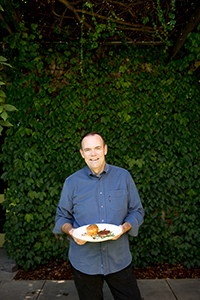 ©Paige Green
Celebrity chef, Charlie Palmer, is a restaurateur, hotel owner, and cookbook author and is so out there that he must have cloned himself. Otherwise, it would be impossible to be, as he describes himself, "chief cook and bottle washer" of seven restaurants in New York City, including Aureole, the Michelin-starred flagship of his eatery empire in Times Square (celebrating 30 years this November). Then, of course, there are two venues in Las Vegas, two in Napa, and one each in Washington DC, Sonoma, and Reno. And did we mention vintner?
If only that would be possible," he says with a wry smile. Shooting down that rumor, Palmer, 58 and a towering 6'4" describes his routine as one week in New York, one week in D.C. and then one week alternating between the others, and a week to enjoy life. Sadly, the latter hasn't always been possible. "It helps that I love what I do and that I have the most understanding wife in the world."
A TEAM EFFORT
It will come as no surprise that Palmer is very hands-on at each one. "However," he states, "running a chain of restaurants isn't a one-man operation. It's collaboration with my individual executive chefs and staff.
We can spend millions building restaurants with beautiful dining rooms and state-of-the-art kitchens, but it's all about the people on the team."
Besides that coveted Michelin star, Palmer has been honored twice by the James Beard Foundation, including being named New York's Best Chef (1997). He was one of 16 chefs honored in PBS' 1993 series, Cooking with Master Chefs, hosted by Julia Child, and is featured in the cookbook from the series. He's written or co-written six cookbooks, the latest of which is 2015's Charlie Palmer's American Fare: Everyday Recipes from my Kitchen to Yours.
Looking back, he realizes he's been a risk taker. At 27, in the midst of the worst economy in a quarter century, he fulfilled his dream to own a restaurant. In 1988, he created Aureole in a five-story East 61st Street townhouse (a one-time home to Orson Welles). Tranquil on the exterior, but "in the kitchen, we had no boundaries. Anybody that came up with an idea, we'd try it. Some were amazing; others, made me wonder what the hell I was doing. My dad used to say, 'Be smart about what you do.' I finally realized that taking a breath, thinking, analyzing, and researching is the way to longevity."
This new outlook paid off. Aureole made Forbes' luminous list of New York's 20 four-star restaurants; later, to Business Insider's list of 15 Highest Paid Chefs in America. Then, in 2009, Palmer stunned the world of gourmet cuisine when he put the townhouse up for sale and moved to a spacious, state-of-the-art restaurant smack-dab in Times Square on West 42nd Street. "I made the decision against all advice and odds," he admits. "I was called crazy, told over and over it's not going to work. Even I grew to wonder if it would."
CHANGE IS GOOD
Of course, TriBeca, SoHo, and the Lower East Side were booming. But he was offered an arrangement with the Durst Organization to relaunch in the spectacular Bank of America Tower/One Bryant Park (between Sixth and Seventh Avenues). He saw Times Square as the heartbeat of the city. "Big changes were afoot; and, since we've opened, things around us have changed for the better." One change was the gutting of the interior of the landmarked Beaux-Arts Knickerbocker Hotel, built in 1906 by John Jacob Astor IV (residents included Ziegfeld showgirls, Caruso, and George M. Cohan). It reopened in 2015 as Times Square's premier luxury hotel.
"Aureole is just across the street, so we were at the top of the list to create a restaurant there, Charlie Palmer at the Knick," relates Palmer. He added new twists to his acclaimed cuisine "to create honest American cuisine" in an open kitchen. "We kept pace with trends and on the huge mansard roof opened a bar and lounge overlooking the New Year's ball drop and lights of Broadway."
A far cry from where Charlie Palmer was born in upstate Smyrna, NY. He described his dad as "a jack of all trades. He was a plumber, an electrician, the go-to guy when anything went wrong." His parents had a household appliance store. It was a large family: two older half-brothers and an older brother—all married with families. In fact, he says, "My oldest brother has been in the lumber business all his life. I worked in the lumber yard in summer. That was a career possibility."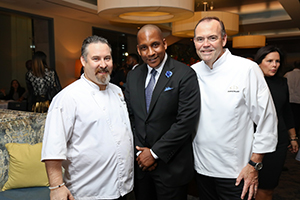 Mike Ellis, GM Michael Irving,
Charlie Palmer ©Tony Powell
THE PASSION BEGINS At 15, he got a job scrubbing pots and pans in the restaurant of the historic Dutch-Colonial Colgate Inn in Hamilton. Palmer says that "amid expert chefs and scrubbing pots and pans is where my passion for food began." There, and at the home of family friend Sharon Crane, a home economics teacher at his high school. "My parents kept late hours at the store, so meal times were a bit hectic," he relates. "I was invited to Sharon's, and she was always busy baking—especially her famous gingersnap cookies." She made the most fantastic dishes, quite different from what I was used to. Sharon became like an aunt. I watched, observed, soaked it all in, assisted. She opened my eyes to the possibility of a career as a chef. She just turned 84 and is still amazing." (Sharon Crane's gingersnaps are a turn-down amenity for guests at Palmer's Archer Hotel in Napa.)
Right out of high school, Palmer was accepted at the C.I.A. "I was the black sheep of the family," he laughs. "My first year at the C.I.A., I knew I was on the right path. That didn't go over so well with my parents and half-brother Leslie. They thought I was nuts." Upon graduation, he headed to New York City. Among his early influences were Leon Dahnens (C.I.A.), Buzzy O'Keeffe (River Café), and Jean-Jacques Rachou (La Côte Basque).
That path led to meeting the former prima ballerina, Lisa Villarini, who had retired from the American Ballet Theater and working as the dining room manager at Lafayette where Jean-Georges (Vongerichten) was chef. Palmer couldn't help but become inebriated by the exotic and aromatic flavors coming from the kitchen. Palmer and Lisa married and they celebrated their 25th wedding anniversary last month. They have four boys: Cortland, graduated from the Walter A. Haas School of Business at Berkeley and is a New York banker. Randall, a graduate of NYU Tisch, is an L.A.-based screenwriter and author. Reed, graduates this year from the C.I.A.and has been accepted at Cornell, and Eric is studying film at NYU.
THE MAN & HIS FOOD We wondered, of course, what types of food this celebrity chef enjoys most. Surprisingly, it's a simple menu: In winter, his tastes turn to "slow-braised meats and heart-warming types of food," such as polentas, and soups." As the temperature changes, he likes lighter dishes. "But I love a good burger, and eggs, bacon, and cheese. I could eat that every day!" Back when the couple's children were at home, he regularly fired up the grill for big family meals. When he and Lisa are in New York, Palmer says he doesn't cook as much. "There are too many excellent food options."
He turned away from classical French when he was drawn early-on to the concept of farm-to-table, "which started with the idealistic approach of local, artisanal-raised produce, poultry, meats, and game and how things are raised and cultivated. Everything's farm-to-table—no matter what part of the world. In a good way, it put chefs in a position of that's where quality begins."
From the time the Palmers married, says Chef Palmer, "We were planners, filled with dreams and ambition." After opening his fourth restaurant here, they decided, "in ten years, as much as we love New York, we're going to live part-time somewhere else. "At that point, we had the ability to think big. Of course, we didn't know we were going to have four kids…"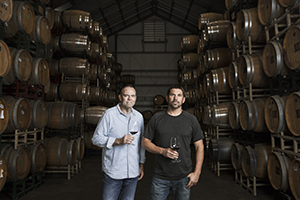 Charlie Palmer and business partner,
Clay Mauritson
VINEYARDS & WINE From his early days at the River Café, Palmer had been interested in wine—"more so than most chefs." When winemakers visited, he was anxious to spend time with them "because I wanted to learn." He developed relationships with wine experts. "When we initiated our 10-year plan, we looked seriously at California wine country. We were drawn to Sonoma County and Healdsburg, a great little town with a quaint town square, and a nice place to raise a family."
Part of the appeal was the Russian River and the multi-generational community of grape growers. Since he grew up in a farming community, Palmer says it was part of his DNA. One of his dreams was to grow grapes. The couple built a home just outside the town center, where they planted a vineyard, now 12 years old, and produced Pinot Noir "in the greatest Pinot Noir-growing region in California." With Bay area people traveling to wine country weekends or having second homes there, "we decided to not only make a second home but the location would be ideal for a restaurant. The next step was to build a hotel, the Healdsburg Inn on the Plaza.
Chef Palmer is, time and time again, asked, "What's the next thing in modern-day cuisine?" He believes it's cyclical, "like the economy, like the seasons. It's a matter of the more we read, the more our tastes change and the more we, as chefs, become educated about the world food scene." Which explains why he feels wine has become a considerable part of dining. "Besides our small vineyard, I'm in partnership with Clay Mauritson at Mauritson/Charlie Clay Wines." He's a third-generation grape grower. His father and brothers own hundreds of acres of vineyards and farm thousands more for others. He has become the first in his family to make wine. In addition to their Russian Valley Pinot Noir (2015), they have just shipped a new Chardonnay to the Palmer restaurants "It's phenomenal," he boasts. "It's lightly oaked, so it is a big departure from the California Chardonnays people have loved for the last 20 years."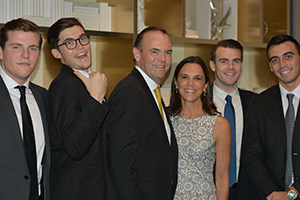 Charlie and family
ATTENTION TO DETAIL
Chef Palmer explains that the one constant that will always be in place in the restaurant business "is that the way we become better cooks is dependent on the very finest ingredients. That's the standard that will never change. Everything has got to be fresh, well-sourced. In the kitchen, we apply the cooking techniques and do the embellishments. If we don't mess it up in the kitchen, it's going to be fantastic. As simplistic as that sounds, it's the goal. The more I've been in the food world, I've learned that to cook at a high level it's about technique and how we treat the ingredients. It's all about attention to detail."
Finding the right people to partner with, those that are passionate about what they do, is hard. "We've been fortunate to find them and to be able to spend the time to grow them. When you find raw talent, you invest in them. That takes time and patience. It's something we've been good at and what we can always be better at." It also helps he has a connection at the C.I.A. and as he says, "one of the world's best hunting grounds for discovering talent." Palmer has a special pride in the venerable Hyde Park institution. He's on the Board of Trustees and was its chairman for some years.
A HEALTHIER MENU
Palmer consults with his chefs on cutting salt and butter and being creative with gluten-free choices. "At what I call my Modern American Steak Houses, it's no longer just about red meat. In our Washington restaurant, we sell 50 percent less red meat and much more seafood and pasta. The secret is developing flavors without a lot of additives. It's a much different world than when I started at La Côte Basque."
"In the modern world we live in," he points out, "everyone's a critic. You have to pay more attention. However, when people become educated about food, dining, and wine, it's better for us [chefs] because we've invested our lives. Palmer says that everything he and his teams do must be at a high level. "Customers have an expectation of value for the price."
In the end, it's really all about good food, the best wines, and exceptional service. Charlie Palmer certainly has accomplished that along with winning the hearts of his many New York fans.
THE CP NYC EMPIRE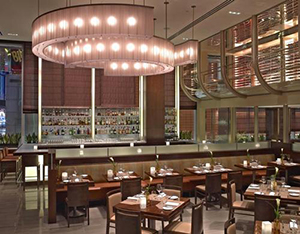 AUREOLE LIBERTY ROOM One Bryant Park 135 West 42nd Street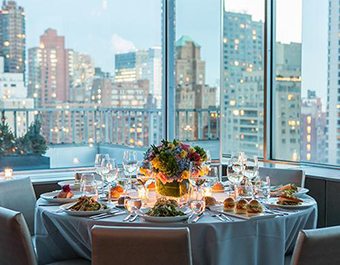 UPPER STORY BY CHARLIE PALMER 979 Third Avenue at the D&D Building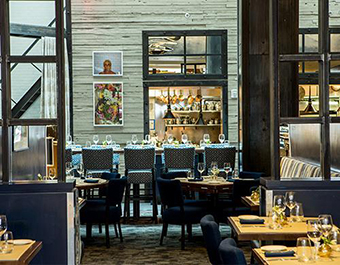 CHARLIE PALMER STEAK 47 West 38th Street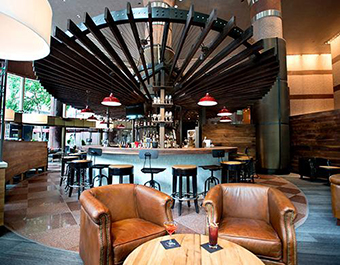 CRIMSON & RYE 198 East 54th Street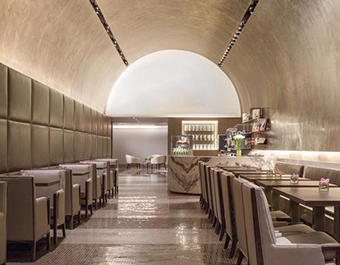 JAKE'S @ THE KNICK 6 Times Square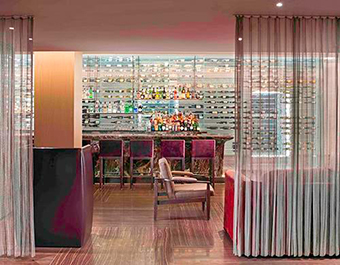 CHARLIE PALMER AT THE KNICK 6 Times Square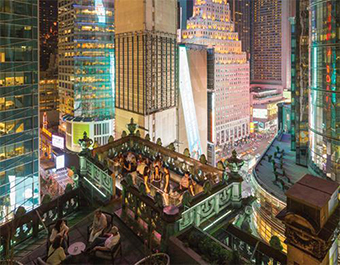 ST. CLOUD 6 Times Square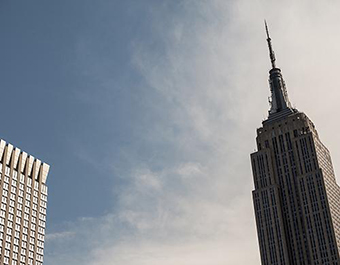 SPYGLASS ROOFTOP BAR Archer Hotel New York 47 West 38th Street