SPA SCENE
SMASHING STRESS WITH A DOSE OF "ALLURE"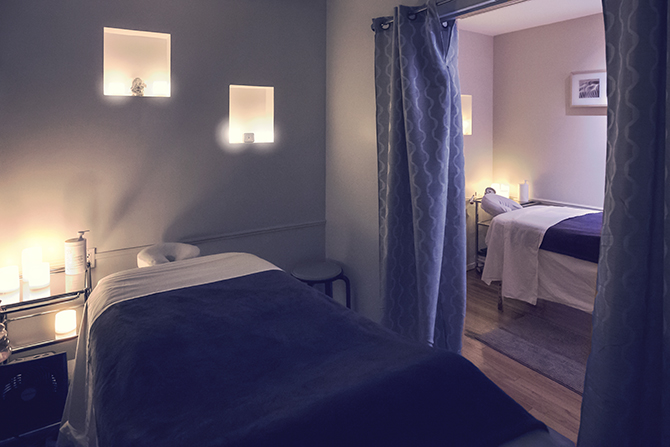 By Griffin Miller
It's not always the most chi-chi backdrop that shines brightest when it comes to day spas in the City that Never Sleeps. Just ask anyone that's happened upon a coveted—or unique--treatment in cozy, charming, froufrou-free surroundings.
Case in point: Lana Bargraser, owner/founder of Allure Day Spa & Hair Design on East 55th Street, has made a substantial dent in corrective and luxury facials courtesy of esthetician Marta. She's also built up a dedicated clientele for massages, scrubs, waxing, electrolysis, airbrush tanning, ear candling and hair services—from mainstream to cutting edge, like Balayage coloring technique and a straightening system known as Hair Botox. And everything is customizable. "I work with my team to design new treatments," says Bargraser, adding that 2018 marks Allure's 25th anniversary. "It looks like we're here to stay," she adds.
CARE & EXPERTISE
As for the space, Bargraser has created a bustling backdrop that welcomes visitors without overpowering them: no overlapping scents, one too many throw pillows, or the kind of dim lighting that has you bumping into walls. As for the Spa's storefront entrance—well, it's somewhat misleading. As you enter, you're facing a wide downward staircase and immense floor-to-ceiling mirror. Once downstairs the atmosphere is laid-back, with a lounge dominated by a long, comfortable sofa. Not surprisingly, it's the go-to spot for tea, cookies, and consultations with Bargraser's knowledgeable staff.
Since (at least theoretically, in the realm of spa services), scrubs are the new black, I dove body-first into Allure's most popular one—their Coconut Milk Body Glow. With an ingredient roster of coconut milk, Dead Sea salt and essential oils, this particular offering could not have been more enticing. That is until Bargraser pointed out that, not only is this blend a natural exfoliator, it also moisturizes, jettisons pore buildup, is free of chemicals, dyes, toxins, and other nasty things, and—the clincher—was never, ever, tested on animals.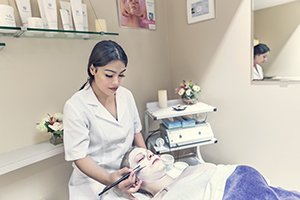 FEELING SERENE
So there I was, stretched out on a massage table wearing only a "spa thong" and an expression of absolute surrender. Scrub with a massage chaser (actually the massage was more or less the delivery system), this single treatment—at the hands of Marta, who may be Allure's facial wonder woman, but proved equally impressive in the scrub sector.
Adjacent to the scrub room (calming candlelight and New Age music) was a shower (pristine and contemporary) that could compete with any cable home improvement show. Stepping out was a sacrifice (I confess to lingering an extra five minutes or so), but the upshot was a super posh bathrobe hanging in wait.
Creamy skin… muscles soothed… stress at bay… a mug of green tea warming my newly minted hands, I sink into the lounge swaddled in terrycloth before dressing and the inevitable climb to the street above. When I do, glancing over my shoulder into the giant looking glass, I catch a glimmer of serenity.
Until next time…
For more information on Allure Day Spa & Hair Design (139 East 55th Street), visit allurespa.com.