ON THE BIG SCREEN
By Jenny Peters
ACTION-PACKED ADVENTURES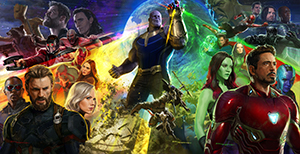 AVENGERS: INFINITY WAR
Rated PG
Marvel comic and movie fans—including the millions who rejoiced in the release of Black Panther—will be thrilled that yet another installment of The Avengers cinema series arrives in theaters this month. And yes, T'Challa/Black Panther (Chadwick Boseman) is part of the heroic team, who not very surprisingly must save both earth and the universe from an evil despot (played by Josh Brolin) who is out to control the galaxy. If the previous Avengers flicks are any indication, expect plenty of special effects and a collection of your other favorite superheroes—Thor, Iron Man, Black Widow, Spider-Man, Ant-Man, Hulk, Dr. Strange, Hawkeye, Falcon, War Machine, Loki—up on the big screen. You get the idea; everyone is in this one.
---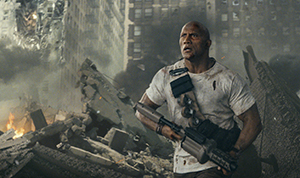 RAMPAGE
Rated PG-13
Dwayne "The Rock" Johnson may be the hardest-working man in show business today with three movies already scheduled for release in 2018. In Rampage, he stars as a primatologist (ape expert) who raises a white gorilla from birth. When a genetic experiment goes terribly wrong, the gorilla mutates into a giant monster and the race is on to stop him—and others like him—from wreaking havoc on human civilization. Think King Kong on steroids in this cinematic adaptation of the video games of the same name. Jeffrey Dean Morgan, Malin Akerman, and Joe Manganiello co-star.
---
DARK DRAMAS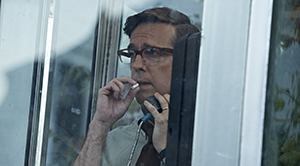 CHAPPAQUIDDICK
Rated PG-13
Jason Clarke stars as Edward "Teddy" Kennedy in this intense exploration of the worst day of his life, that moment in 1969 when his car plunged off a bridge in Chappaquiddick, Massachusetts. The accident killed 28-year-old Mary Jo Kopechne (Kate Mara), a single woman who had been at a party with the 37-year-old Kennedy, who was married with three children at the time. The story was a sensation, for Kennedy had apparently left Kopechne to drown in the car as he swam to safety. Directed by John Curran, Chappaquiddick tells not only the tale of the accident but of the political repercussions that resulted for decades to follow.
---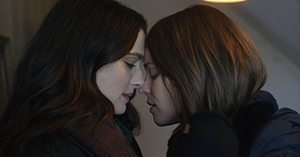 DISOBEDIENCE
Rated R
Academy Award-winner Rachel Weisz stars with Academy Award-nominee Rachel McAdams in Disobedience, the modern story of two girls raised as Orthodox Jews in London who leave that conservative world behind them as adults, when they discover a passionate love together. Their same-sex union is an affront to the society they were raised in; as the story unfolds, we find out just what this disobedience to the cultural norms of their community will cost them both. Based on the popular novel by Naomi Alderman, Disobedience is directed by Sebastian Lelio, whose A Fantastic Woman recently took home the 2018 Best Foreign Film Academy Award.
---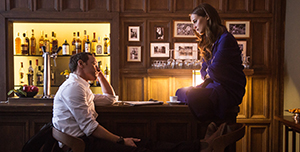 SUBMERGENCE
Not yet rated
Alicia Vikander and James McAvoy are star-crossed lovers in this romantic drama that spans the globe. He's being held hostage in Africa; she's heading to the bottom of the ocean in a submarine off the coast of Greenland. Both are remembering the encounter they had during a seaside vacation in France. With direction by the enigmatic German filmmaker Wim Wenders (Wings of Desire), Submergence is a film that is certain to leave you with as many questions as answers as the credits roll.
---
KOOKY COMEDIES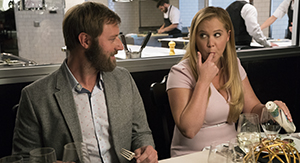 I FEEL PRETTY
Not yet rated
Amy Schumer takes the lead in this raucous comedy about an insecure woman who suddenly gains confidence in her looks, which leads to all sorts of interesting situations. It's a good thing she's found her mojo, as the story surrounds her with some of the world's most-beautiful women, including Naomi Campbell, Lauren Hutton, Michelle Williams, Busy Philipps and Emily Ratajkowski. Schumer didn't pen this script, but she's hoping her fans of Trainwreck will still stampede into theaters to see her latest starring vehicle.
---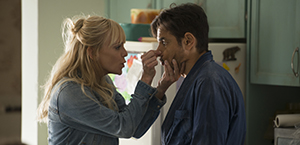 OVERBOARD
Rated PG-13
In Hollywood, everything old is new again, which explains this re-do of Overboard, the 1987 comedy that starred Goldie Hawn and Kurt Russell. This time around, Anna Faris and Eugenio Derbez (from How To Be A Latin Lover) play the pair, with roles reversed from the original flick. He's a spoiled millionaire; she's an overworked single mother. When fate brings them together, both find a new lease on life, as this romantic comedy tries to set off the same sparks as the original.
---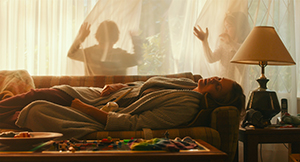 TULLY
Rated R
From the winning writing-directing duo that brought the world Juno in 2007 (and garnered four Oscar nominations in the process, including a Best Original Screenplay win for Diablo Cody) comes Tully, a comedy about an overwrought mother and her new nanny. Jason Reitman directed and Cody wrote the script for this wry family comedy that puts Charlize Theron in the stressful position of having a newborn, along with two other young children. But when Tully, the night nanny played by Mackenzie Davis (Blade Runner 2049), comes along, there just might be a way to survive the perils of motherhood.