THE ESSENTIAL GUIDE TO
SUMMER IN THE HAMPTONS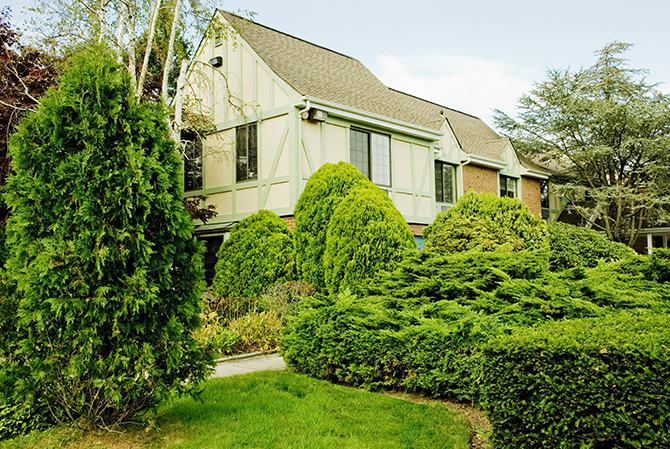 Southampton Inn
By Norah Bradford
SOUTHAMPTON
The first of the South Fork Hamptons, it's the closest geographically from New York on the I-495 or Long Island Rail Road. Settlers from Massachusetts arrived to establish the Town of Southampton in 1640 after the purchase of the land from Shinnecock Indians. Did you know that Southampton is also the birthplace of Jacqueline Kennedy Onassis?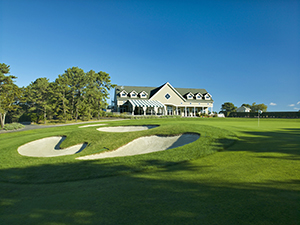 Hampton Hills ©J.Krtajicek
STAY at the idyllic Southampton Inn set amongst acres of manicured lawns and gardens in the heart of the Village of Southampton. The Inn provides a year-round escape for visitors from all over the world. The winner of numerous awards, including "Best Breakfast," "Best Hotel," and "Best Wedding Location". This summer, experience the all-new restaurant Claude's 18. Info: southamptoninn.com.
DINE at Union Cantina, owned by Southampton Social Club's Ian Duke and David Hilty, who have teamed up with award-winning Executive Chef Scott Kampf to create this innovative modern Mexican eatery. Chef Kampf, who has been featured on the legendary TV show Iron Chefs of America, brings his dedication to the classic farm-to-table cooking style for delicious new menu. Info: unioncantina.net.
SHOP at the Christopher Fischer Cashmere boutique for something to keep the chill at bay on cool days by the beach or the breezy Hamptons evenings. Info: chrisopherfischer.com.
SEE the US Open golf tournament to be held at Shinnecock Hills Golf Club from June 11th – 17th. The US Open is one of the four "majors"—the globally recognized championships every golfer strives to play in and to try and win. Why not sharpen your own chances of participating with a membership at nearby Hampton Hills Golf & Country Club? Info: usopen.com; hamptonhills.com.
DO indulge in philanthropy and give to the Wildlife Rescue Center of the Hamptons which takes care of injured animals and attend their annual Get Wild! Event on June 23rd. Info: wildliferescuecenter.org.
WHAT TO READ
Once New York Lifestyles Magazine has been exhausted on your trip to the Hamptons, there are a number of seasonal publications providing news, information, and even more tips. Here, two interesting additions to your summer reading;
• The Independent newspaper is being relaunched by Ron Perelman to provide weekly updates on the summer season.
• Dan's Papers remains one of the stalwart suppliers of commentary and humor to keep smiles wide during the season.
---
BRIDGEHAMPTON
Between Southampton and East Hampton and close to Sag Harbor, Bridgehampton, whose name is an improvement on the original Bullhead was actually re-named for the bridge built across Sagg Pond by the early settlers linking Sagaponack and Mecox.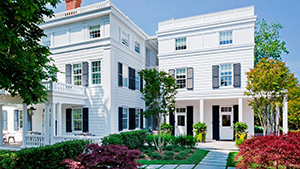 Topping Rose
STAY at Topping Rose House in either the house, the studio, or the cottages where a variety of different aesthetic can be enjoyed with elegance and attention to detail. Each room is anchored by uniquely designed rugs from Madeline Weinrib. Frette linens and luxurious bath amenities add to that luxe-cozy experience. Info: toppingrosehouse.com.
DINE at the Bridgehampton outpost of Bobby Van's Central Park South. Originally renowned as the gathering place for such literary giants as James Jones and John Knowles, it is even rumored that Truman Capote finished his novel In Cold Blood in the original Bobby Van's. www.bobbyvans.com.
SHOP at the Comerford Collection. Founded by textile designer and illustrator Karen Comerford her store aims to be like a laboratory for interior design, furnishings and fabrics. Info: comerfordcollection.com.
DO attend this year's Hamptons Happening from the Samuel Waxman Cancer Research Foundation being held on the grounds of Ken & Maria Fishel's Hamptons estate. This year's 14th annual event honors Chef Matt Lambert of the Musket Room and Ramy Brook Sharp of Ramy Brook. Info: waxmancancer.org.
---
CHOICE TABLES
One of the social joys of the Hamptons is to sit al fresco and dine while people watching and of course, being seen yourself. A few dining establishments have that all critical location… location… location.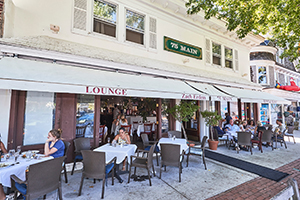 75 Main
SOUTHAMPTON
75 Main Zac Erdem revitalized this Southampton Main Street restaurant and turned the tables outside his restaurant into the valuable social real estate in Southampton today. Info: 75main.com.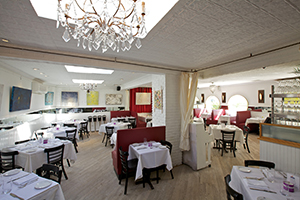 Pierre's
BRIDGEHAMPTON
Pierre's Bridgehampton: Pierre's Pierre Webber, a fifth-generation baker made his home here creating Pierre's as a blend of St. Tropez and St. Barth's in a Hamptons setting. Info: pierresbridgehampton.com.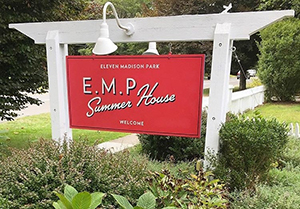 Eleven Madison Park
EAST HAMPTON
EMP (Eleven Madison Park) Summer House Back for a unexpected second season EMP's team will be returning after running their first Winter House in Aspen Colorado. Info: empsummerhouse.com.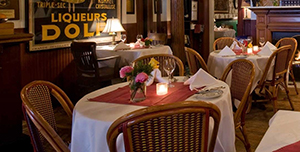 The American Hotel
SAG HARBOR
The American Hotel Celebrity magnet with the few tables facing onto the street to be seen while enjoying Chef Jonathan Parker's cuisine. Info: theamericanhotel.com.
---
EAST HAMPTON
Holding the distinction as the first English settlement in the State of New York, East Hampton for a short period was its own colony, separate from New York or Connecticut between 1648 and the end of the War of Independence.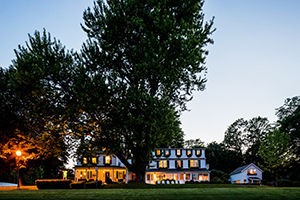 Maidstone Hotel
STAY at the Scandinavian influenced Maidstone Hotel and relax in one of their cozy rooms or themed cottages: Carl von Linne, Alfred Nobel or Kurbits. The team completed a total renovation in 2017 of the property which first opened in the 1920s as the Maidstone Arms. Visit off season in October to see the Hamptons International Film Festival in full-flow. Info: themaidstone.com.
DINE for a quintessential Hamptons experience by reserving a table at Nick & Toni's. From the warmth of the welcome from the reception team at the Tuscan farmhouse-style setting through the dishes cooked in a wood burning oven and extensive drinks program, they create an energy and ambience all of its own. Info: nickandtonis.com.
SHOP at iconic Round Swamp Farm to purchase some of the very best ingredients from the land, sea, or bakery. Behind the country store is a 16-acre farm which has been run by the same family for 9 generations and designated a National Bicentennial Farm by the NY State Agriculture Society. Try the cakes and pies or one of Lisa's Cinnamon Rolls. Info: roundswampfarm.com.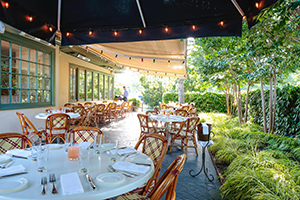 Nick & Tonis
SEE the windmills—Hook Mill, Pantigo Mill and Gardiners Mill—which were once essential to grinding grain, sawing wood. and pumping water. The mills were originally constructed in the early 19th century and present a fascinating insight into the ingenuity of our ancestors and a reminder of how far we have come in terms of developing technology Info: easthampton.com.
DO visit the Wolffer Estate—one of the best known wineries on the East End. During the summer you can visit the Wolffer Estate Wine Stand and enjoy the product amidst the vineyards while listening to live music from 5 pm until sunset. New this year is Wolffer pink gin (only available at the estate—making another reason to drop by). Info: wolffer.com.
GETTING THERE
PLANES Go to Blade for a waterplane or helicopter ride to slash the commute time this summer. Info: flyblade.com
TRAINS Take the Long Island Rail Road from NYC to Long Island. Keep an eye out in the timetable for the Cannonball—the express train with the least number of stops—to ensure the longest amount of fun during your Hamptons visit. Info: mta.info/lirr.
AUTOMOBILE Make sure your GPS and traffic avoidance apps are up-to-date. The popularity of the Hamptons coupled with the geographic constraints of the island make getting around a priority. Info: 511ny.org.
---
SAG HARBOR
A former whaling community and first official port on entering the United States. Today, instead of whales you'll see gleaming white yachts berthed closed to the town. During the War of 1812 Sag Harbor was the frontline for the British efforts to regain the Colonies.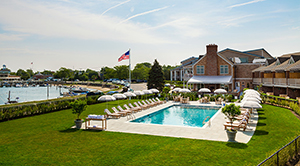 Barons Cove
STAY at Baron's Cove and take in the waterfront resort experience at what was named the Number 5 hotel in New York last year. Baron Cove's all-American restaurant serves all day and you can even recharge your Tesla outside for the return journey home (that is, if you want to leave!). Info: baronscove.com.
DINE at Le Bilboquet, sister to New York City social hot-spot. Now back for its second season, the discrete garden gate entrance on the side will probably be one of the hardest to get into again. Enjoy a range of elegantly prepared dishes or catch up with society around the horseshoe shaped bar while taking in the people watching and of course, the yachts. Info: lebilboquetny.com.
SHOP at Copious Row to experience the unique mix of women's accessories, fine and fashion jewelry and ready-to-wear clothing. From established designers to new talent such as Alberta Ferretti to YGGY Copious Row will have something to add to your summer fashion statement. Info: coupiousrow.com.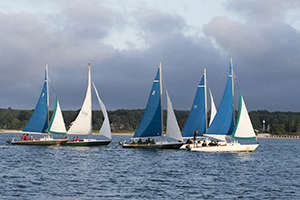 Sail Sag Harbor
SEE something art-worthy at the Bay Street Theater. A not-for-profit 299 seat professional theater on the Long Wharf, it was founded by Sybil Christopher, Emma Walton Hamilton and Stephen Hamilton in 1991. This summer on July 7th is the 27th Annual Gala to raise funds and have an opportunity to mingle with the stars. Info: baystreet.org.
DO charter a yacht or rent a boat to experience the waters around Sag Harbor. Sag Harbor Sailing offers not just charters but also instruction in elements of the curriculum created by the American Sailing Association. Info: sailsagharbor.com.
REAL ESTATE
If a visit is not enough perhaps you will want to rent or even lay down roots in the Hamptons on a more permanent basis. Visitors with aspirations for a longer summer in the Hamptons typically rent either on a monthly basis or for the summer season from Memorial Day to Labor Day. Some sublet a room for weekends (a.k.a. the infamous "share"). Those seeking to sign a lease or rent a room though should read the rules as they differ in each of the towns comprising the Hamptons. With this in mind here are some of the people you should have on speed-dial to make your home in the Hamptons.
Brown Harris Stevens Laura M Wynne (bhshamptons.com)
Corcoran Gary dePersia (corcoran.com)
Douglas Elliman Erica Grossman (elliman.com)
Sotheby's International Realty Harald Grant (sothebyshomes.com)
Bespoke Real Estate Zachary & Cody Vichinsky (bespokerealestate.com)
---
MONTAUK
Although the Montaukket Indian tribe have long departed due to smallpox brought by European settlers, their name remains as the hamlet of Montauk. Famed for its fishing, Montauk claims to have more records in the sport of saltwater fishing than any other place.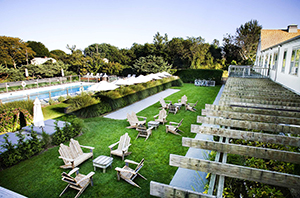 Sole East
STAY at Sole East Resort to experience luxury and the Montauk vibe with a dash of St. Tropez around the pool. The hotel is a renovated American Tudor property with some sixty rooms. Pillow top mattresses feel light and fluffy combined with 300 thread count Italian linens. Rooms also include flat-screen HDTV's and complimentary Wi-Fi. The property contains a wood burning firepit, hammocks and outdoor seating on 2.5 acres of landscaped gardens. Info: soleeast.com.
DINE in style at the Clam and Chowder House at Salivar's Dock. A twenty year-old family run haunt which serves fresh and local seafood delivered by commercial fishing boats at Westlake Marina. The menu is far wider than you would imagine given the name and encompasses a wide selection of sushi and sashimi, salads, entrees and hearty platters. Info: clamandchowderhouse.com.
SHOP NIBI MTK who specialize in East Coast surf area fashion swimwear. Founder Kristin Sheeler was formerly a designer and vintage buyer for Ralph Lauren. NIBI MTK will also make you feel good by donating $1 from each bathing suit sale to WaterAid. Info: nibimtk.com.
SEE the oldest cattle ranch in America—not in Texas—but rather Deep Hollow Ranch in Montauk. In the summer, kids and adults learn how to ride a pony and enjoy treks along the beaches of the East End. Owners Patrick and Cate Keogh have been joined by their children in running this unique trailblazing ranch. Info: deephallowranch.com.
DO experience East Coast surfing at Ditch Plains beach. The beach has a cliff face at its western end, outdoor showers, restrooms and lifeguards during the season. For more experienced surfers Turtle Cove, just west of Montauk Lighthouse on the Atlantic Ocean side is a challenge. Be on guard for rocks and rips.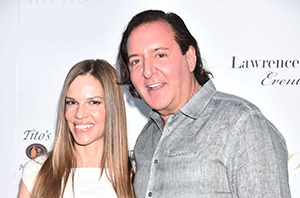 Hilary Swank and Lawrence Scott
HELPING HANDS
Lawrence Scott/Lawrence Scott Events
"It has to be a Larry Party!" In a league of his own, Lawrence Scott creates unique experiences with his team and can be found at some of the most exclusive soirees in the Hamptons including the Southampton Hospital Foundation and the Hamptons 40th Anniversary celebrations. Info: lawrencescottevents.com.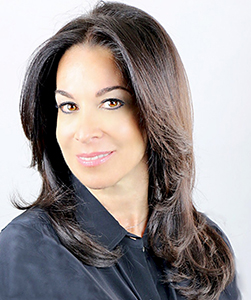 Betsy Cox
Betsy Cox/Blackbook "Your own little black book for the Hamptons—and everywhere else," says Betsy Cox. Her veteran lifestyle management business with a network of contacts provides high-level services and the best that life has to offer. Info: blackbooknewyork.com.