JACKIE ROGERS CLASSIC STYLES WITH A MODERN TWIST
By Elizabeth Darwen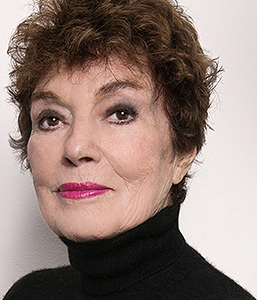 Jackie Rogers
Meet Jackie Rogers whose designs are coveted by all women of style. However, her real claim to fame is quite unique. She is the only living fashion designer who personally learned from the legendary Coco Chanel and continues her craft of creating couture fashions.
The designer continually surprises and inspires with her collections which feature bold designs and distinctive fabric selections. Rogers explained that her creations are influenced by her friendships with some of the world's most notable names as well as her world travels. What you may not know, though, is that Rogers has lived a life full of inspiration: From a big-band singer to Hollywood starlet, a denizen of Rome's la dolce vita in the company of princes and magnates, a muse for Federico Fellini, Coco Chanel's favored mannequin and international model.
SOPHISTICATED STYLE
During those years as a runway model for renowned couturiers including Simonetta and Fabiani, she catapulted onto the silver screen co-starring with Marcello Mastroianni in the Fellini cult classic film 8 ½. However most impressive of all was her time working at the House of Chanel, where she absorbed the style and techniques of her mentor. Said Rogers, "It was the greatest experience of my life. I never realized what an effect she had on me." The designer continues to this day using the same techniques she perfected while honing her talents at Chanel Paris.
Her talent has endured over the years. She has dressed some of the most recognized women in entertainment, politics, and finance, and her prestigious client list includes icons like Jackie Onassis. The designer utilizes materials to create unique, timeless fashions. From blouses to pants to beautiful gowns, each piece is handcrafted in New York to ensure the highest standard of quality. The beauty and craftsmanship of a signature Jackie Rogers' creation is unmistakable.
CLASSIC DESIGNS
It is her zest for life that gives Jackie Rogers her excellent sense of style, which translates into collections that make a statement of complete sophistication. Her classic designs are customized to the body, creating a beautifully structured line often paired with a bold and modern twist.
It's a fact that Rogers has often been referred as America's own Coco Chanel. But the designer also points out that she does not believe in fashion but rather style. This motto is reflected throughout her collections, which are made with the timeless elegance that is the signature of the Jackie Rogers brand.
For more information on Jackie Rogers, visit jackierogers.com.