NEW ORLEANS PASS A GOOD TIME IN THE BIG EASY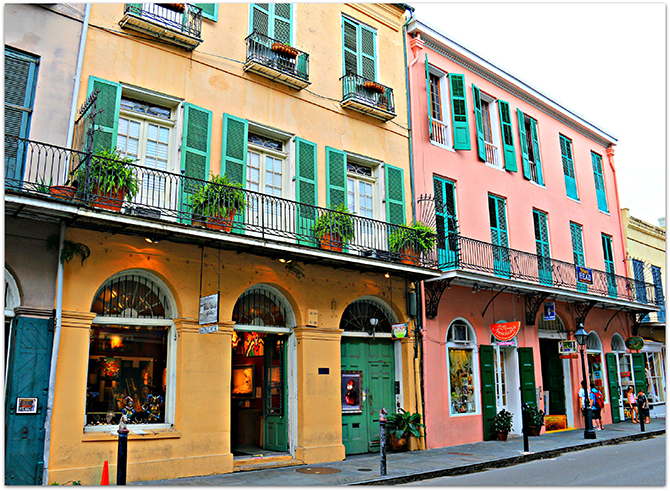 By Griffin Miller
In my last few Sunday hours in New Orleans, I did what most people do at the start of their visit. I stopped by the legendary Café Du Monde for café au lait and a beignet (my first ever, I'm embarrassed to admit), after which I took a lazy stroll through the French Quarter. It was early spring, so the weather was to savor: cool mornings and evenings; T-shirt afternoons. And though I knew carry-ons and airports loomed, I defied the inevitable and did what I'd been doing for days: laissez les bon temps rouler (let the good times roll).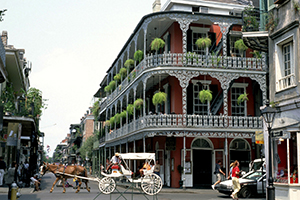 French Quarter
This was a quasi-quiet time in a visit that reflected the city's electric bustle of people, sights, jazz, and food. With a reputation as foodie heaven, eateries in New Orleans serve up everything from Creole to contemporary, simple to elaborate, in spaces ranging from intimate to open table. Culinary paths get crossed. Sleek new restaurants offer ethnic wonders. But you haven't gone all out New Orleans without sampling Jambalaya, Gumbo, Po-Boys, and Bananas Foster—the latter the crème de la decadent specialty dessert at Brennan's—a celebrated multi-room "grand dame" and a definite must.
And while we're on the subject of iconic dining experiences, a reservation for an extended luncheon (three hours is not a stretch), at Galatoire's is a coup and a half. No shorts or T-shirts here; men in jackets are the norm in this Bourbon Street legacy founded by French restaurateur Jean Galatoire in 1905. (Reserve well in advance and be sure to try the Oysters Rockefeller!)
CULTURE, HISTORY & MORE
As for the today of New Orleans—a phoenix of regeneration following Hurricane Katrina—you'll find much to explore among the city's vast cultural offerings, marked by beautiful (and occasionally bizarre) art venues, all of them vital to its eclectic allure. The Arts District teems impressive galleries and museums (including the National WWII Museum and Mardi Gras World), while the French Quarter houses the city's Historic Voodoo Museum.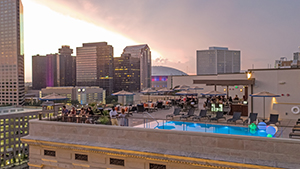 Rooftop Sunset at NOPSI Hotelrant
While you're exploring French Quarter, will you also find souvenir shops and wannabe galleries along Royal Street, and hole-in-the-wall bars on Bourbon Street? Yes. And they blend in timelessly with dimly lit shops selling vintage clothing and artisan whatnots as well as the area's classic hotels with elegant 19th-century facades secreting tree-filled courtyards or, in the case of Hotel Monteleone, a circus-centric 25-seat revolving Carousel Bar.
On Bourbon Street day or night, you can quaff away at Lafitte's Blacksmith Shop Bar (built during the 1720s it's considered one of the city's oldest structures). And for those with a wild nocturnal bent, Bourbon's colorful nightlife experience is non-negotiable. (I suggest hitting the area at dusk and taking in as much music and ambiance as possible—just be prepared to let your hair down and your jazz freak fly.
NEW POSSIBILITIES
Along with its pedigree and reputation, New Orleans continues to evolve—a fact not lost on the creative forces behind the luxury NOPSI Hotel. Opened last year, the 128-foot high hotel is impressive on many counts, including its unique architectural heritage. To start with, its name. Originally the headquarters for the city's former utility company and transit operator, New Orleans Public Service Inc. (NOPSI), the building was scrupulously brought into the 21st century with a watchful eye on preserving its historic landmark status and keeping it front and center on the National Register of Historic Places.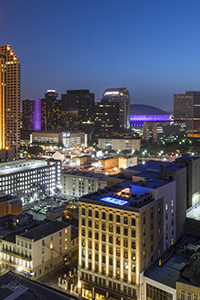 NOPSI Exterior
The hotel's distinctive origin is also observed in naming the hotel's comfortably laid-back lobby bar (Undercurrent), it's stunning rooftop pool and bar (Above the Grid), and it's charming restaurant boasting a most excellent "regionally inspired" menu. In addition, there's a private dining area (PS Reserve).
Some of the building's original architectural beauty is obvious on the outside: iron railings, striking façade, stone panels, while the lobby showcases the care taken in other renovations like the arches, columns, terrazzo flooring, brass grills and vaulted ceilings. But for a full appreciation of the before-and-after of NOPSI, I recommend checking out the killer four thousand square foot Dryades Ballroom. This is because, along with its exposed brick walls, 30-foot high ceilings, and jaw-dropping windows—the entire ballroom is a fantastic piece of retro art.
NOPSI's 217 guestrooms—76 of which are suites—are clearly designed to deliver comfort (so much so that getting out of bed is a challenge) and sophistication (every element, from lighting to layout to artistic design, merits five stars).
Finally, the hotel's location. Perfect. Within walking distance of the French Quarter, the Warehouse (Arts) District and iconic streetcars. In addition, major visitor attractions like the Mercedes-Benz Superdome and the city's enchanting Garden District—an area noted for its stunning mansions and ancient oak trees—are nearby.
For more information on the NOPSI Hotel—a member of Salamander Hotels & Resorts—visit nopsihotel.com.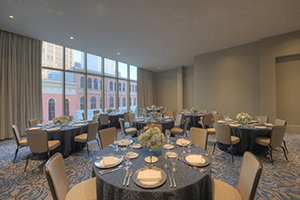 NOPSI Power Suite Reserve
FOUR NAWLINS' FACTOIDS
Beignet: A Louisiana pastry/doughnut: square, deep-fried, and slathered in powdered sugar.
The Big Easy: A nickname said to come from gossip columnist Betty Guillaud in the 1970s, when she compared life in New York City (aka The Big Apple) to that of life in New Orleans.
Gris gris (gree gree): A Voodoo good luck charm (a good thing to know when visiting the Voodoo Museum gift shop!)
Laissez les bon temps rouler: "Let the good times roll" is not just fun to say, it's also New Orleans' motto.