OHEKA CASTLE ESCAPE TO LONG ISLAND'S GOLD COAST
By Clint Brownfield
Historically, New Yorkers' love affair with living in the city has been punctuated with the desire to simply get out of town once in a while. In fact, the word vacation itself stems from the 1800s, when rich families would 'vacate' the city during the hot summer months and move up to their lavish 'camps' in the Adirondacks in upstate New York. Vacate would become vacating and would eventually evolve into vacation and vacationing.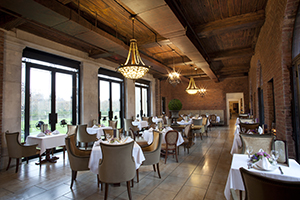 Sitting Room
During that era, the super wealthy would build spectacular "cottages" in Newport, Rhode Island, and many would amass property on Long Island where they would build incredible estates during America's Gilded Age and on into the early 20th century. Substantial household staffs would travel with these members of the one percent and join other staffers in the various camps, cottages, and estates their employers decided to visit.
As times changed and household help was more and more difficult to obtain, many of these vestiges of the Gilded Age vanished. Enter: Oheka Castle, America's second largest home—only Biltmore in Asheville, NC is slightly bigger. Overlooking Cold Spring Harbor in Huntington, Long Island, Oheka Castle lives on today as a hotel/resort and wedding and special events venue.
LONG ISLAND'S HIGH POINT
Oheka is an acronym for the name Otto Hermann Kahn, a wealthy New Yorker, who established this estate along Long Island's North Shore. If you've ever noticed the mascot/logo of the game Monopoly—a natty man with a top hat nicknamed Mr. Moneybags—well, that's Otto Hermann Kahn, a German immigrant, who amassed a fortune as a banker via such clients as the Union Pacific Railroad.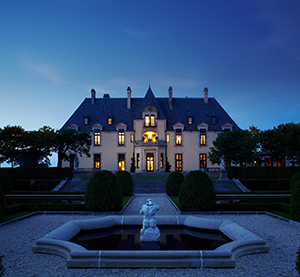 Before the main chateau-like house was built, acres of dirt were hauled up to the site, ultimately creating Long Island's highest point. It was on top of this "mountain" in 1919 that Oheka was built on 443 acres and remains to this day—literally looking down on a perfectly framed view of Cold Spring Harbor. The Olmsted Brothers, sons of Frederick Olmsted who, among other things co-designed New York's Central Park, designed the grounds. Kahn would once again have a place in the country where he could escape the confines of his townhouse in Manhattan, which is now the site of Convent of the Sacred Heart the private all-girl school at 5th Avenue and 91st St.
The mansion was the site of fun parties and celebrations during the Roaring Twenties, where flappers and the Marx Brothers might be seen cavorting on one floor while Enrico Caruso himself could be heard entertaining guests in the music room. If the word Gatsby-esque comes to mind, it's because this mansion and its gala soirees is believed by many, to be the inspiration for F. Scott Fitzgerald's The Great Gatsby.
PROUD PAST, BRIGHT FUTURE
Oheka continued in this fashion for several years, but after Kahn's death in 1934 the main house and grounds entered a spiral that eventually rendered it uninhabitable. That is until 1984 when Long Island developer, Gary Melius, purchased the structure and its surrounding 23 acres and would bring it back to its original and current splendor. That process still holds the record for the most massive private restoration project in U.S. history.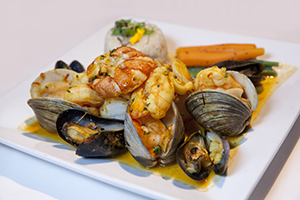 Today overnight guests can live like royalty in its 32 magnificent rooms and suites all furnished in a manner befitting its French chateau-style design. Guests can glide through public spaces on their way to the Castle's restaurant and bar which are open daily. Top shelf potent potables are served at the bar in addition to specialty cocktails such as a fabulous blend of Pisco, elderflower liqueur, and pureed fresh strawberries. Executive chef Frank Monahan and executive pastry chef, Daniel Andreotti provide diners with an array of entrée choices that include aged prime beef, local seafood, as well as Long Island Duck. For dessert, the Bananas Foster Cream Pie or Apple Tart will cap off what will undoubtedly be a memorable meal for years to come. Many couples return year after year to celebrate their anniversaries at Oheka Castle.
You don't have to be an overnight guest at the Castle to dine in the restaurant, but reservations are recommended since the mansion is frequently bought out as a venue for some of the most spectacular weddings and special events held in recent history. Oheka Castle is also a proud member of Historic Hotels of America. Guided tours of Oheka Castle are offered to guests and non-guests alike for $25; reservations are required.
For more information on Oheka Castle, visit oheka.com.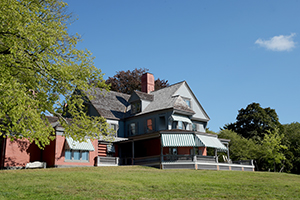 Sagamore Hill
GOLD COAST TREASURES
Just a few miles from Cold Spring Harbor is Oyster Bay, home to another remaining vestige of life in the heyday of Long Island's Gold Coast. Here you'll find Sagamore Hill, home of Theodore Roosevelt, 26th President of the United States. Roosevelt and his family lived in this Queen Anne-style mansion from 1885 until his death in 1919—the year Oheka, just a few miles away, would be completed. During Roosevelt's time in office, his Summer White House was the focus of international attention.
Today, Sagamore Hill is an official National Historic Site operated by the National Parks Service and, like Oheka, is open year round. Tours of the house are offered, but reservations are required. There is no fee to enter the Sagamore Hill grounds or Old Orchard Museum where visitors explore the natural surroundings and become inspired by the legacy of one of America's most popular presidents. The admission fee for the Theodore Roosevelt Home is $10 for adults; children 15 and under are free.
For more information on Sagamore Hill, visit nps.gov/sahi/index.htm.