BASEBALL GOT YOUR HEART?
THESE NYC HOTELS HIT A SWEET SPOT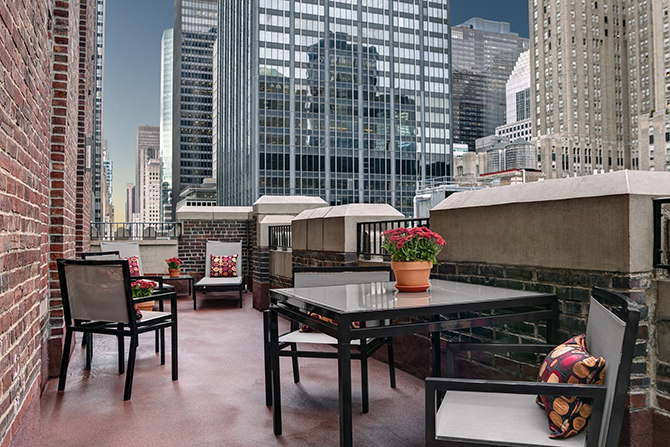 Centerfield Suite Balcony Lexington Hotel
By Laurie Bain Wilson
Passionate baseball fans eat, drink and sleep baseball. But winter is tough. As Hall of Famer Roger Hornsby famously said, "People ask me what I do in winter when there's no baseball. I'll tell you what I do. I stare out the window and wait for spring." Well, spring is here and, thank the gods, so is baseball season.
New York has a storied baseball past, thanks in part to larger-than-life New York Yankees legends Babe Ruth and Joe DiMaggio. Make these spots your home base, and you can sleep in the same suite where DiMaggio and Marilyn Monroe once lived. Or, in the hotel where Babe Ruth frequently stayed. And, we'll also share a hotel where one of baseball's most pivotal meetings in baseball took place. Let's check in and channel history.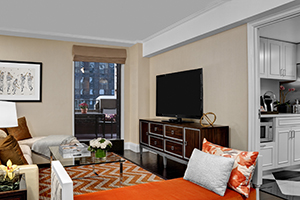 Centerfield Suite Lexington Hotel
THE LEXINGTON HOTEL NYC
This smart, stylish, Jazz Age-inspired hotel is home to several specialty suites, including an Ernest Hemingway Suite and an Ella Fitzgerald Suite. But baseball players will want to book the spacious one-bedroom Centerfield Suite that was once home to Joe DiMaggio and Marilyn Monroe during their marriage. Monroe lived in this suite for many years, and then with DiMaggio during their brief six-month union in the 1950s.
The hotel's VIP Elite Loyalty Manager Irina will make sure you feel elite in this apartment-like suite. And there are so many tasteful tributes to DiMaggio here, you'll find yourself humming, "Where have you gone, Joe DiMaggio, a nation turns its lonely eyes to you…" more than once.
The 600-square-foot space on the 18th floor is a fantasy of all things baseball. An enormous colorful mural of Yankee Stadium hangs in the marble entry foyer, and portraits of Monroe and DiMaggio hang on the walls. The living/dining room is outfitted with retro furniture and décor including memorabilia that give a shout out to both celebs, as well as a 55-inch HDTV. A collection of books about Joe DiMaggio, and the Yankees is displayed in the living room's bookcase, and you'll find memorabilia including baseballs and photos of the famous couple in silver frames at every turn. The spacious bathroom features a soaking tub, Kohler shower heads and jets and PURE bath amenities that Monroe would no doubt fall in love with. And, there's a kitchenette, with a full-size refrigerator and freezer, microwave and Keurig coffeemaker.
The suite's grand slam—the lovely, private, sprawling 200-square-foot terrace, with lounge chairs, a table and chairs for dining and attractive views of the neighborhood.
Location, location, location. The hotel is located three blocks from Grand Central Station where you can catch the subway to Yankee Stadium. Book the hotel's Home Run package and you'll get a Yankees hat, a box of Cracker Jacks, soda and round-trip MetroCards for transportation to and from the game. The package runs through September 30th.
For more information on The Lexington Hotel NYC—part of the Marriott Autograph Collection—visit lexingtonhotelnyc.com.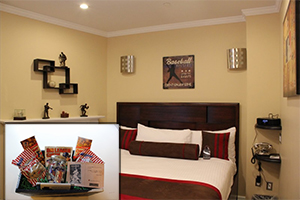 Hotel Belleclaire
HOTEL BELLECLAIRE
This Upper West Side Beaux Art hotel on West 77th Street has good bones. Dating to the early 1900s, the hotel was the talk of the town as a flashy, glamorous spot to stay.
The hotel has a love affair with Babe Ruth, who was a frequent guest. Book the Babe Ruth Suite and you'll spend the night with nostalgic reminders of the King of Swing. You'll be welcomed with a baseball-themed crate filled with game-day snacks like Cracker Jacks, Big League Chew and pretzels. Sit in the bay view window that overlooks Broadway. There's baseball-themed art hanging on the walls, and baseball player statues sit on shelves. The one-bedroom suite's living room is separated by a sliding glass door from the bedroom, in which there's an original fireplace. Settle in on the couch in the living room, put your feet up on the steam trunk and watch a Yankees game—you'll feel like you're watching it with Ruth.
For more information on Hotel Belleclaire—a member of the Triumph Hotels—visit hotelbelleclaire.com.
KNICKERBOCKER HOTEL
Babe Ruth fans, as well as loyals of the New York Yankees, will especially love and appreciate this luxury hotel that commands Times Square on the corner of 42nd Street. Boston Red Sox fans, maybe not so much.
In 1919, Red Sox owner Harry Frazee, a frequent guest at the hotel, met with the team's manager in the café at this hotel to inform him that he was selling the Red Sox's star Babe Ruth to—wait for it—the New York Yankees.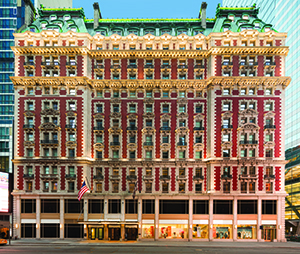 Knickerbocker Exterior
Built in 1906 by John Jacob Astor IV, the Knickerbocker was the spot in New York City to see and be seen—until Prohibition checked in and the hotel closed, and eventually converted into offices. The 330 room and suite hotel has another fame to claim—the Knickerbocker is believed to the birthplace of the martini.
While the infamous or famous café (depending on which team you root for) is no longer, you can dine at the hotel's Charlie Palmer at the Knick, a restaurant celebrated for its quality steaks, which the Babe surely would give a nod of approval. We're also guessing that the Babe, who lived life to the fullest, would also be a regular at Club Macanudo, the hotel's rooftop cigar lounge, as well as the indoor/outdoor St. Cloud rooftop bar, where he'd surely throw back a brew—or two. Or, maybe one of the hotel's signature Knickerbocker martinis.
For more information on The Knickerbocker Hotel, visit theknickerbocker.com.