AKA UNITED NATIONS
A STYLISH EXTENDED STAY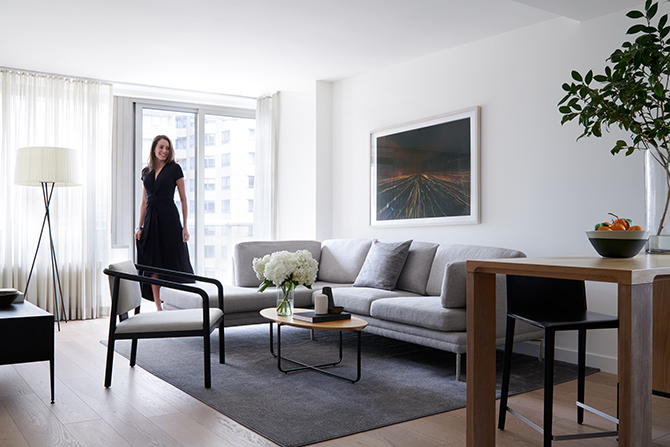 By Daniel J. Bollinger
AKA United Nations is an extended stay hotel located at 234 East 46th Street in midtown Manhattan. After undergoing a complete renovation in 2015, the serviced residences currently features sophisticated fully furnished one bedrooms and premium suites. In addition, AKA features business, wellness, and lifestyle amenities. As their website states, AKA balances the style and hospitality of an intimate hotel with the space and comfort of a fully appointed luxury condominium.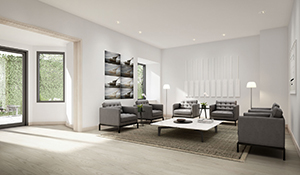 SUITES
There are 95 one-bedroom suites at AKA United Nations all roughly 700 square feet. Designed by Edward Asfour of Asfour Guzy Architects, the suites have a Scandinavian feel with clean lines and a fresh look. The suites feature what you would expect in a luxury condominium and most units offer a private balcony to enjoy the city views. The full kitchens feature stainless steel appliances, granite countertops and walnut cabinets as well as utensils and dinnerware service for four. If there is anything that you need to prepare your favorite international meal, just ask the staff who do their best to accommodate. The baths have floor-to-ceiling Carrara marbled walls including the wet room with Waterworks nickel fixtures. The double-mirrored medicine cabinet is a beautiful design detail.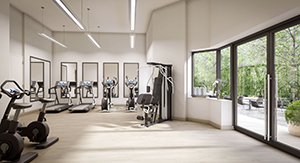 AMENITIES
The amenities include a communal workspace with USB ports and outlets, a private computer room with printer, and an indoor lounge with complimentary drinks (tea, coffee) for all residents. There is a gym featuring Technogym machines as well as a laundry room. An outstanding highlight is their Zen Garden - a beautifully designed outdoor space with a green wall surrounding the entire area providing tables and chairs with plenty of flora/fauna around. The outdoor fire pit makes for a peaceful setting and an excellent way to wind down after a long day.
RECAP
AKA United Nations succeeds in its quest to combine condo-style living areas with furniture and fixtures, spacious bedrooms, and ample closet space. It's easy to feel at home during your long-term stay. The staff's excellent service is readily available and they will accommodate requests to make your stay more comfortable. Stays require a 30 day minimum; however, most guests stay for longer. If you are visiting NYC for an extended period or just looking for a temporary place to stay in midtown east, I would recommend AKA United Nations.
For more information on AKA United Nations, visit stayaka.com/aka-united-nations.