PERRINE
WHERE FIFTH AVENUE CHIC GETS SPICED UP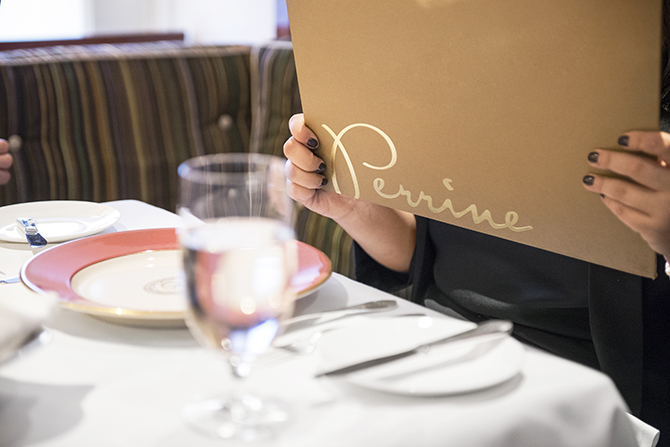 By Anne Raso
There is not a lot left to say about the legendary Pierre Hotel on Fifth Avenue—the fact that it never goes out of style says everything that you need to know. The sumptuous food at Perrine is fitting for such a landmark. Executive Chef Ashfer Biju—who spent seven years working for island resorts prior to helping launch numerous restaurants—takes classic French and American dishes and gives them an exciting twist.
The Perrine menu features everything from substantial steaks and seafood platter to Biju's masterful re-workings of dishes commemorating famous days in history that were served at The Pierre way back when! A great example of this is the lunch menu's Coronation Chicken Salad has been lightened up by Biju switching the mayo to a combo of yogurt and green apple. (I probably could eat this beautifully light creation for lunch every day and never get bored!)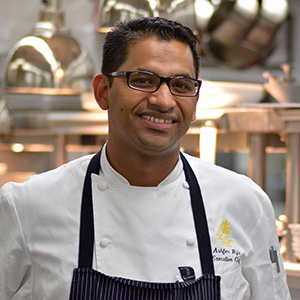 Chef Ashfer Biju
A NOD TO THE PAST
Chef Biju discusses bringing the past and present together: "My team and I envisioned the cuisine of Perrine as a combination of classics presented with a modern flair using fresh, seasonal ingredients. We looked at classics from three sources: World Classics, NYC Classics, and Pierre Classics. We had access to several old menus of The Pierre, starting from our 1930 opening menu created by legendary French Chef Auguste Escoffier. We approached these dishes with the intention of recreating them with seasonal fare while also keeping the flavor profiles authentic. We were also very fortunate to inherit some classic recipes that didn't require much change concerning preparation, just a matter of tweaking how they're presented."
The Perrine staff is attentive, and the cream-colored walls are lined with a great variety of 20th-century art that makes them worth perusing after dining. Adjacent to the restaurant is the legendary Rotunda with its famous dream-like hand-painted murals that pay tribute to Versailles (this is the most colorful and delicious spot to grab Afternoon Tea in all of Manhattan).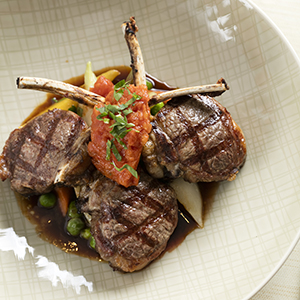 Grilled Lamb Chops
On my visit, I had to try the filet mignon (perfectly medium rare just as I requested) and the short ribs (which is one of Biju's signature dishes and arguably the best in the country). As expected, Perrine's sides menu goes way past Pommes Frites although those are quite lovely here. The Braised Tuscan Kale (with charred sweet onions) is remarkably golden and crispy, and it will keep you from saying anything negative about kale ever again! The Asparagus Parmesan with caper lemon dressing is tender and citrusy. The Glazed Carrots with lime, orange, and chilies is simple but will knock the taste buds out of your mouth! Biju's a master of soups, and the Spring Leeks & Sunchokes Soup is already a staple on the menu because so many "ladies who lunch" request it.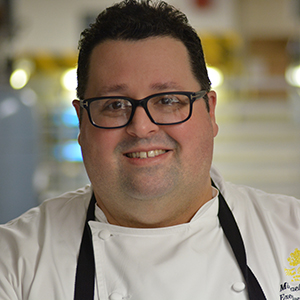 Chef Michael Mignano
SWEET SENSATIONS
Perrine is on the cutting edge when it comes to desserts—that's because award-winning Executive Pastry Chef Michael Mignano is in a league all his own. As the co-author (with Michael Zebrowski) of the bestselling book The Pastry Chef's Little Black Book, there's nothing he can't do with some flour, fruit, and sugar! He invented the Candy Bar, a beautiful, nutty dark chocolate dessert inspired by his favorite episode of Seinfeld when Elaine's eccentric boss Mr. Pitt eats a candy bar with a knife and fork. Says the affable pastry chef, "I needed to create a luxury version of a candy bar. So back in 2005, while commuting on the train from Penn Station to Babylon, I sketched this amazing concoction. The best part is that it is eaten with a knife and fork on a plate. I did an upscale version of a Snickers bar, swapping out peanuts for macadamia nuts and cashews and using a 70 percent single origin chocolate instead of milk chocolate." By the way, be sure to have Mignano's Crème Bruleé (there's no finer version anywhere).
Chef Biju promises excellent things at Perrine for the Spring/Summer menu. He reveals to New York Lifestyles, "We just launched our spring menu with plenty of new seasonal offerings, and it includes a few of my favorite dishes—the Morel Mushroom & Leak Flatbread, Sugar Snap Peas with Red Pepper Sauce and Grilled Octopus with Kale Salad & Apricot Chutney. As always, our focus will be on working with our farm partners in Upstate New York to bring the freshest seasonal ingredients to Perrine's table. For summer, I am really looking forward to using one of my seasonal favorites—Heirloom Tomatoes—in many forms. Our Eggplant Lentil Salad will make a return and local Sea Bass and Fluke will lead the fish department!"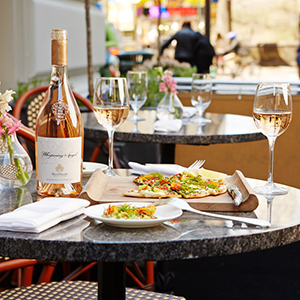 Rosé Terrace
FOR EVERY SEASON
Executive Pastry Chef Mignano adds, "Rhubarb is the first telltale sign of spring; we have a great Rhubarb and Strawberry Pie for two that we just added to the menu. The balance of the tart rhubarb and sweet strawberries with a hint of citrus zest is the perfect spring dessert!"
We are sure that your mouth is watering just reading about those farm and fresh sea dishes! Be sure to check out the Mother's Day lunch and dinner menu that features Chef Bijou and his kitchen staff pulling out recipes created by their moms—including Josephine Mignano's Strawberry Shortcake.
During summer months, be sure to try the casual Rosé Terrace (the entrance is on East 61st Street) and enjoy breakfast, lunch or dinner; it's pet friendly.
For more information on Perrine, visit perrinenyc.com. Reservations are recommended; dress is casual chic.