THE COOLEST COOLER—EVER!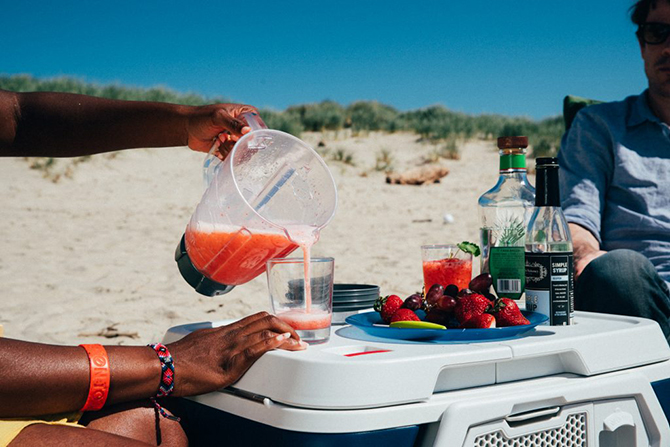 By Patricia Canole
Outdoor living (think: beach or pool) just got a little easier. We all know the fundamentals: Get as much as possible into the cooler and hope for the best. Water, soft drinks, beer, and food are not only more enjoyable—but healthful, too.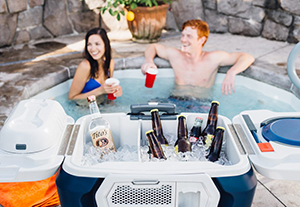 But as we all know, not all coolers were made to last more than a season. If you're in the market for purchasing one—good luck! Have you looked online or box store lately? There are hundreds of coolers in a rainbow of colors.
Fortunately, I've found the perfect solution. It's called the Coolest Cooler, which not only keeps food and drink cooled for hours—but has some other impressive features, too.
How would you like to have a built-in blender that can crush ice for frosty, slushy drinks? What about a USB port to recharge your phone? Would you want detachable speakers that work on your Smartphone? Sound cool? It's just the beginning. The Coolest doesn't stop there. There's the unique bottle opener, the cutting board that doubles as a partition within the cooler, and even built-in LED lights.
LET THE GOOD TIMES ROLL
If you're in the market for a cooler for the beach or later as part of your football tailgate party, here is a go-to list of Coolest Cooler innovative features:
• Built-in Blender The rechargeable blender crushes ice and makes at least 20 pitchers worth of the slushy stuff.
• Bluetooth Speakers Without speakers well, it's not a party. Coolest comes with a speaker, and you can pair it with another speaker 30 feet away to create sonic splendor.
• USB Charger A built-in USB, to recharge your phone, camera, speakers anywhere.
• LED Lid Light For all those night owls out there, push the button and let there be light!
• Party Essentials Plates, sharp knife, corkscrew make life so much easier.
• Built-in Bottle Opener There's also a magnet to catch the caps.
• Tie-Down Bungee Cord/Rubberized Wheels Makes it all that much better.
For more information on the Coolest Cooler, visit coolest.com.