ON THE BIG SCREEN
By Jenny Peters
---
EARLY SUMMER BLOCKBUSTERS
---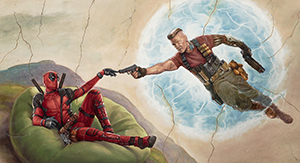 DEADPOOL 2
Not yet rated
It just doesn't stop for Marvel comic and movie fans, as every month another superhero swoops onto the big screen. A surefire early summer blockbuster is Deadpool 2, as Ryan Reynolds returns as the titular mercenary with some unique healing powers and a mouth full of wisecracks. Everyone from Josh Brolin, Bill Skarsgard and T. J. Miller to Leslie Uggams and Morena Baccarin join him in this sequel to the hit 2016 flick, this time directed by David Leitch (Atomic Blonde, John Wick). If Leitch can match the irreverent tone of the original Tim Miller movie, Deadpool 2 is sure to be one of 2018's biggest hits.
---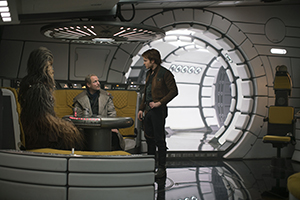 SOLO: A STAR WARS STORY
Not yet rated
Ready for an origin story that opens up a whole new world of Star Wars sci-fi imaginings? Then Solo: A Star Wars Story is the film to see in May. With 28-year-old Alden Ehrenreich (Rules Don't Apply, Hail, Caesar!) starring as a young Han Solo in this action-adventure and direction from Oscar-winner Ron Howard, this foray into the beginnings of the reluctant hero cannot help but be a fun ride. Add in a young Chewbacca and a youthful Lando Calrissian (Donald Glover), as well as characters played by Thandie Newton, Emilia Clarke, Woody Harrelson, Paul Bettany and Jon Favreau, and it might as well be a license to print money all summer.
---
CRACK-YOU-UP COMEDIES
---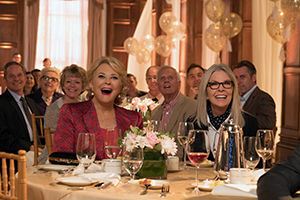 BOOK CLUB
Not yet rated
What's a woman of a certain age to do once she reads 50 Shades of Grey? That's the comic conceit behind Book Club, the new movie that matches up four female legends of the silver screen. With Jane Fonda, Diane Keaton, Candice Bergen, and Mary Steenburgen as the foursome who decide to read the racy novel in their monthly book club, there's bound to be some laughs (and perhaps some actual bondage, too). The men in the comedy will delight, too—favorites like Andy Garcia, Craig T. Nelson, Don Johnson, Ed Begley, Jr., Richard Dreyfuss and Wallace Shawn—making this a comedy that Baby Boomers (and even their kids) ought to love.
---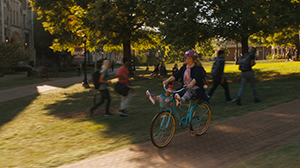 LIFE OF THE PARTY
Rated PG-13
Melissa McCarthy and husband Ben Falcone are doing their best to carve out a dual career, with her as the star and him as the director of a series of comedies that they write together. The duo are the force behind Tammy, The Boss and now Life of the Party, so if their two earlier efforts hit your funny bone, then this latest joke fest about a mom who, when dumped by her husband, returns to college will score big. The problem is, her daughter is also going to the school, so lots of silly situations result.
---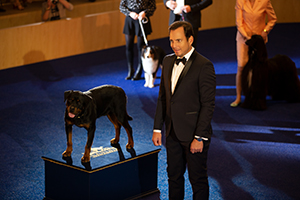 SHOW DOGS
Rated PG
Will Arnett stars in this family-friendly comedy that goes to the dogs. Listen carefully to the canines (who all talk in this fantasy, along with other supporting critters), and you'll soon discover that there's a conspiracy going on that can only be solved by a Rottweiler doggie police detective-infiltrator who takes on the rigors of a dog show to try to solve a big mystery. Listen closely to hear the vocal talents of Ludacris, Stanley Tucci, Shaquille O'Neal and Alan Cumming as some of the other dogs in the pack.
---
SERIOUS STUFF
---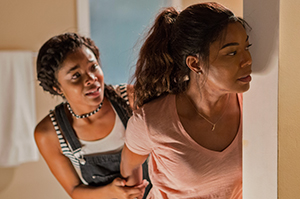 BREAKING IN
Rated PG-13
Gabrielle Union takes the lead in this disturbing thriller about a woman who does everything and anything to protect her family from a gang of thugs who want the wealth that her father left behind in his vacation home. She's got to solve the mystery of why they targeted her dad's home, then do whatever she must in order to make sure her kids are not harmed. Breaking In is a tense thriller designed to make every mother gasp with anger, then go along as this thriller builds to an incredible climax. It's an outrageous and emotional story that will leave you on the edge of your seat.
---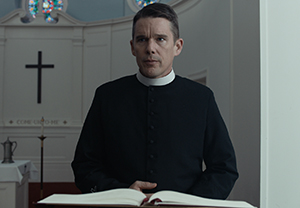 FIRST REFORMED
Rated R
Writer-director Paul Schrader has always liked dark subjects, even since the earliest days of his career back in the 1970s when he helmed films like American Gigolo and Hardcore and penned classics including Taxi Driver and Raging Bull. All those films had strong sexual themes; these days, the now 71-year-old filmmaker is more obsessed with religion than sex, as evidenced by First Reformed, his look at how a priest (Ethan Hawke) deals with an unhealthy obsession with personal guilt and a drive to take violent action. Amanda Seyfried and Cedric the Entertainer co-star in this intense drama.
---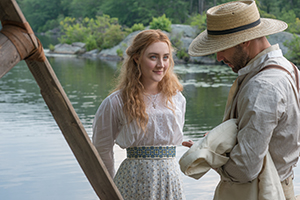 THE SEAGULL
Rated PG-13
Bringing Anton Chekhov's famous play The Seagull to the silver screen was a challenge director Michael Mayer (27 Dresses) tackled by casting a group of some of the world's most talented actors in the principal roles. Led by Annette Bening and Saoirse Ronan, with able support from Corey Stoll, Elisabeth Moss, Mare Winningham, Jon Tenney and Brian Dennehy, the film follows the exploits of aging actress Irina Arkadina (Bening), whose selfish behavior wreaks havoc in the lives of all who cross her path. As this classic drama unfolds in a gorgeous country estate summer setting, there's little doubt that many of the relationships are doomed to unhappy endings.