ON THE BIG SCREEN
By Jenny Peters
BIG SUMMER ACTION FLICKS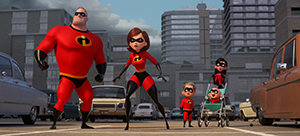 INCREDIBLES 2
PG
Kids and adults alike are quivering with anticipation at finally getting to see their favorite animated superhero family back on the big screen. Incredibles 2 took 14 years to come to life, as writer-director Brad Bird took a very long time to follow up his Oscar-winning Pixar favorite The Incredibles. That's allowed fans who were little at the time to grow up wanting more; those who were already grown in 2004 couldn't help but love that original story of the Parrs, a typical American family who all happen to have superpowers. So it's no surprise that expectations are very high for this sequel; we know we'll be the first in line!
---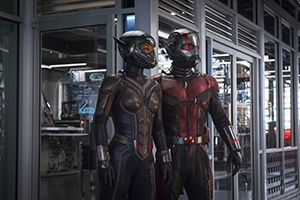 ANT-MAN AND THE WASP
Not yet rated
If it seems like Marvel Comics is putting out a new movie every month, that's because they are. Following the massive successes of Black Panther, Avengers: Infinity War and Deadpool 2 comes Ant-Man and the Wasp, the last Marvel release for the summer. That's the Paul Rudd-starring sequel to Ant-Man, with director Peyton Reed once again at the helm and co-stars Evangeline Lily, Michael Douglas and Judy Greer returning as well, along with Michelle Pfeiffer and Walton Goggins. This time, Ant-Man joins forces with the Wasp to fight the bad guys, and he's still the smallest superhero ever.
---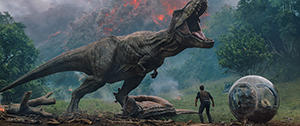 JURASSIC WORLD: FALLEN KINGDOM
PG-13
There are still lots of dinosaurs loose as Jurassic World: Fallen Kingdom begins, and this sequel returns the main players at the island-based theme park gone wrong—Chris Pratt and Bryce Dallas Howard are back, now valiantly trying to keep the prehistoric animals from being slaughtered to extinction. There's sure to be a velociraptor or two in the deadly mix, and most likely a T-Rex along for the action-packed excitement, which is all happening as the island's volcano begins erupting. Directed this time out by J. A. Bayona, whose The Impossible and A Monster Calls are both wonderful movies, so don't be surprised if Jurassic World: Fallen Kingdom turns out to be another winner in the long-running Jurassic franchise.
---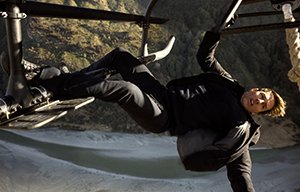 MISSION IMPOSSIBLE—FALLOUT
Not yet rated
As long as Tom Cruise's Mission Impossible films keep hauling in the dough here and overseas, they will keep making them. After all, there's always another assignment available for the IMF team to tackle. The team still has Ving Rhames, Rebecca Ferguson, and Simon Pegg on board, while Henry Cavill, Angela Bassett, and Michelle Monaghan round out the cast of Mission Impossible—Fallout, the sixth installment in this movie franchise that has been going since 1996. Expect lots of outrageous action and excitement in this one—as usual.
---
FUNNY FARCES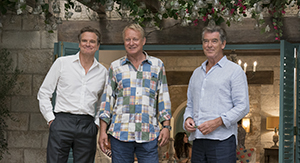 MAMMA MIA! HERE WE GO AGAIN
Rated PG-13
When Mamma Mia! burst onto the big screen in 2008, the world embraced the story of Donna, her daughter Sophie and the three men who might be her father, all set to the music of Abba. Ten years later, Mamma Mia! Here We Go Again arrives in theaters, with most of the original cast—Meryl Streep, Amanda Seyfried, Pierce Brosnan, Colin Firth, Stellan Skarsgard and Christine Baranski—back for this sequel. This time, Oscar-winner Anne Dudley (The Full Monty) composed the music, and the story explores the past, when a young Donna met the three men, as well as the present, as Sophie is about to give birth to her own child. Watch for Cher to turn up and warble out a song or two, too.
---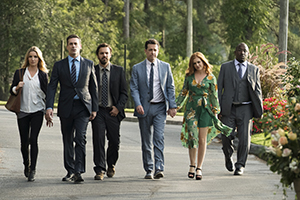 TAG
Not yet rated
Lifelong friends have been playing a game of tag for thirty years in this whacked-out comedy. Based on a real-life story, this flick brings together a talented group of actors including two-time Oscar nominee Jeremy Renner, Emmy winner Jon Hamm, The Hangover star Ed Helms along with Hannibal Buress, Isla Fisher, Jake Johnson, Rashida Jones, Annabelle Wallis, and Leslie Bibb. They'll go to crazy lengths to make someone else be "it," resulting in lots of nutty situations and serious lunacy.
---
SUSPENSEFUL STORIES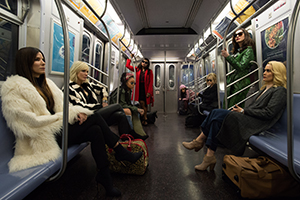 OCEAN'S 8
Rated PG-13
After three Ocean's caper flicks (Eleven, Twelve, and Thirteen) directed by Steven Soderbergh that starred an all-star group of men including George Clooney, Brad Pitt, and Matt Damon, it's time for the women to take over and pull off a daring heist. Sandra Bullock stars as Debbie Ocean, the sister of Clooney's character Danny Ocean, who gathers a group of uniquely talented females with a goal to rob the attendees of the annual Met Ball. And if the actresses included are any indication of the quality of the film, this one's a real winner, considering that Cate Blanchett, Anne Hathaway, Helena Bonham Carter, Sarah Paulson, Mindy Kaling, Awkwafina, and Rihanna make up the rest of the crew.
---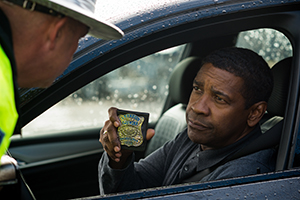 THE EQUALIZER 2
Not yet rated
Denzel Washington returns as Robert McCall, aka The Equalizer, a man with a violent past who has dedicated himself to helping people in trouble who cannot help themselves. The Equalizer 2, is the sequel to that 2014 thriller, which is once again directed by Antoine Fuqua and penned by Richard Wenk. Fans of the original film should expect more of the same kind of darkly violent action and mysterious developments. Bill Pullman and Melissa Leo return to the roles they originated in the first adventure, while Pedro Pascal (Game of Thrones/Narcos) brings his quiet intensity to this disturbing follow up.