SARATOGA SPRINGS
The Small City With A Big City Feel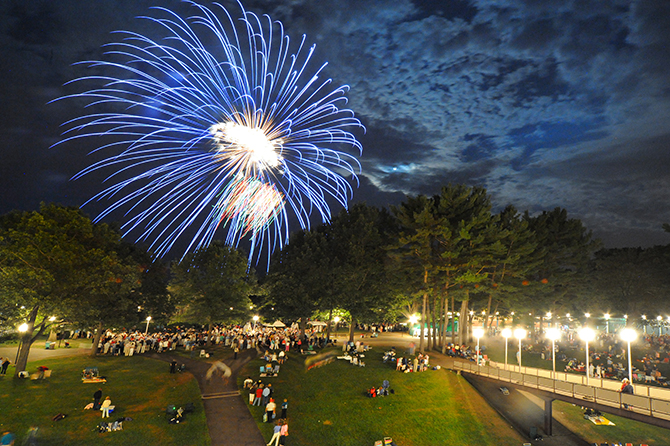 By Lyle Seltzer
Located just over a three hour drive from New York City is the historic town of Saratoga Springs. In the early days, Saratoga was a legendary site to native Americans who revered the healing powers of its mineral springs – one of the few naturally carbonated springs in the United States. For history lovers, it was the site of key battles during the Revolutionary War and is also known for it's Victorian architecture. Over the years Saratoga became a place for the well-to-do to go for an escape from New York City and enjoy the restorative waters, the fresh mountain air and gambling. While it is true that in the Summer Saratoga becomes the center of the horse racing universe, there is so much more that draws visitors to Saratoga from around the world. There are plenty of other activities to partake in, including the arts, festivals, shopping, outdoor sports, dining and family attractions.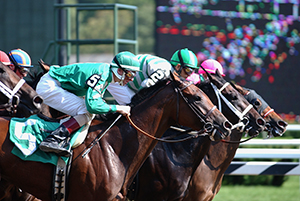 THE FINEST HORSE RACING
No stay during the summer is complete without a trip to the Saratoga Race Course, the country's oldest and most beautiful Thoroughbred race track. It is a great place to get up early and watch the horses train while enjoying breakfast at the track. You will enjoy the sights and sounds of the best the sport of horse racing has to offer. The historic Saratoga Race Course will host World-Class Thoroughbred racing with a meet beginning Friday, July 20th through Labor Day September 3rd. There will be racing six days a week featuring top horses in the country ridden by the best jockeys in the world competing for large purses. The meet will feature numerous stakes races and the highlight of the summer will be on Saturday, August 25th with the running of the Travers Stakes nicknamed "Saratoga's Midsummer Derby" the Grade 1, $1,250,000 race for 3-year olds which draws crowds upwards of 50,000 people. This year's top 3-year old, Justify will be trying to complete the Triple Crown in the upcoming Belmont Stakes and there is a good possibility Justify will race in the Travers Stakes. If he wins the Triple Crown and comes to race at Saratoga, you can expect even bigger crowds.
Saratoga doesn't just have thoroughbred racing, it is also home to live harness racing at the Saratoga Casino and Raceway which is one of the most beautiful half-mile tracks in the country. While viewing the harness racing enjoy a nice meal from amongst a number of dining options. You can also try your luck at the gaming facility with over 1700 slots or enjoy the nightlife at Vapor nightclub one of the hottest nightclubs in the Capital Region.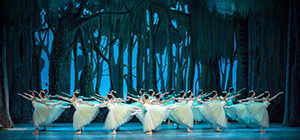 GISELLE ©Carlos Quezada
SPAC FEATURED PERFORMANCES
Opened over 50 years ago on July 9, 1966 with a presentation of A Midsummer Night's Dream by the NYC Ballet, The Saratoga Performing Arts Center(SPAC) is a large amphitheater on the grounds of Saratoga State Park presenting summer performances of classical music, jazz, pop and rock, country, comedy, dance and opera as well as a Wine and Food Festival. Highlights of the current season include:
The National Ballet of China Internationally renowned as one of the premier ballet institutions in the world making it's making the first appearance at SPAC as just one of four locations on it's tour. Known for it's exuberant flair and historically informed style that are uniquely Cuban, National Ballet of Cuba will have three performances of Alicia Alonso's Giselle on June 6th, 7th and 8th.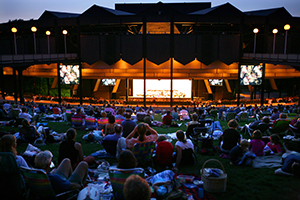 SPAC lawn seating ©Chris Lee
41st Annual Freihofer's Saratoga Jazz Festival Featuring an extraordinary roster of artists, ranging from Jazz luminaries Jon Batiste, Chris Botti, Herbie Hancock, Gregory Porter, Joey Alexander and Gospel and R&B legend Mavis Staples along with emerging artists making their Saratoga debuts such as Lekecia Benjamin and SoulSquad and Scott Sharrard & The Brickyard Band. The Jazz Festival takes place Saturday, June 23rd and Sunday, June 24th.
NYC Ballet Taking residency from July 17th through 21st and featuring four distinct programs including Shakespeare's timeless Romeo & Juliet.
Philadelphia Orchestra Three week residency from August 1st through August 18th showcasing two weeks under the baton of Yannick Nézet-Séguin who holds dual roles as Music Director of The Philadelphia Orchestra and Music Orchestra Designate of the Metropolitan Opera.
SPAC On Stage Series Showcasing acclaimed ensembles whose artistry crosses both Classical and Contemporary genres. Featuring a unique seating arrangement that transforms the SPAC amphitheater into an intimate concert experience where the audience is placed onstage with the artists looking out into the theater. Takes place four Mondays in August(6th, 13th, 20th and 27th).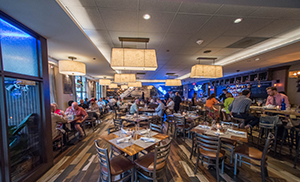 Fish at 30 Lake
CULINARY EXPERIENCES
There are plenty of restaurants in downtown Saratoga (most within walking distance) for both indoor and outdoor dining to please any taste bud desires you may have ranging from Italian to French to Japanese to Seafood. You can also find casual bar food including salads, burgers, chicken wings and pizza at a number of different venues. Some of the top establishments are noted below.
15 Church A beautifully restored historic building located in the heart of Saratoga. The restaurant is a collaboration between Thomas Burke and Paul McCullough and serves the best USDA Prime aged beef and seafood flown in daily in a comfortable yet elegant dining room.
Fish at 30 Lake Within and next to the Pavilion Grand Hotel is an ocean to table restaurant called Fish at 30 Lake, opened in June of 2016. Fish at 30 Lake prides itself on seasonality and locality. Day boat caught seafood is brought in daily to downtown, Saratoga Springs. Fish at 30 Lake offers fresh seafood, a free standing raw bar, "no gills" section for non-fish lovers, pastas, salads as well as a full bar and seasonal outside seating. Serving dinner 7 days a week, happy hour daily and live music. From the ocean to your table in downtown Saratoga Springs! Fish at 30 Lake is also available for rooftop catering for events! Info: fishat30lake.com.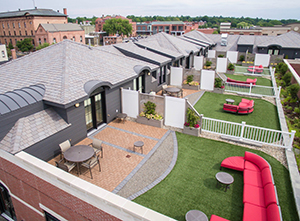 Pavilion Grand Hotel
SPECIAL HOTEL EXPERIENCES
Pavilion Grand Hotel A modern elegant hotel located in downtown Saratoga Springs just steps from Broadway offering 48 luxury suites with apartment style space including many suites with terraces, walk-in-closets and more. The suites come in all sizes to fit a wide range of tastes. The "Signature Studio" is the smallest in size at 600 square feet followed by "The Grand One Bedroom Suite" measuring 940 square feet featuring a separate bedroom. Offering 9 suite types, Pavilion Grand Hotel also offers the most unique suites in the region with their "The Penthouse Loft Suites", a high end luxury apartment style space stretched over two floors, boasting 1800-2300 square feet of indoor living space with up to 1000 sq. ft. of landscaped rooftop garden or private walkout terrace featuring outdoor furniture, plants, and sweeping views of Saratoga Springs. All of the suites have 9 foot ceilings with crown molding and feature fully-equipped gourmet style kitchens, luxury linens, bathrobes complete, in suite safes and everything you need to feel completely at home. Beautiful amenities of the hotel are coupled with the business of Pavilion Square located right on site including; Fish at 30 Lake Restaurant, Make Me fabulous Salon and Spa(with nationally recognized owner, hair stylist and make-up artist) and Blue Peacock Bistro, all independent businesses to make your stay exceptional. Meetings or receptions can be enjoyed in Pavilion Grand's rooftop and event space offering landscaped terraces and fire pit for guests to enjoy. Info: paviliongrandhotel.com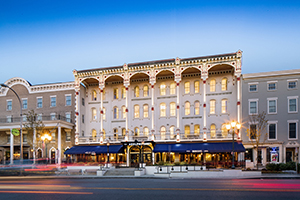 The Adelphi Hotel ©Greg Ceo
The Adelphi Hotel A historic boutique hotel with 32 rooms centrally located in the heart of downtown Saratoga right on Broadway. The hotel offers a selection of rooms ranging from a Premiere King(350 sq. ft.) to the Premiere Broadway King(450 sq. ft.) with a four-post king bed and five-fixture bathrooms. All rooms feature beautiful hardwood floors, custom designed furnishings and antiques from the Adelphi's history. The hotel is famous for "The Adelphi Perfect Night Bed" which allows for a comfortable night's sleep so you wake up raring to go the next morning. In-room amenities include custom designed throws, lush robes, slippers, complimentary mini-bar, and a Nespresso machine.
The hotel is centered around vibrant contemporary dining and The Blue Hen Restaurant is where chefs create daily dishes from fresh local ingredients and the staff is known for their impeccable service. Morrissey's Lounge is couched within The Adelphi and is known as a place where good friends come to hang out for good conversation, great drinks (local beer, craft cocktails and a top-notch wine list) while dining on small plates and shareable dishes. Morrissey's has a little bit of history, having been named after John Morrissey – a prizefighter, gangster, entrepreneur and congressman who was credited for bringing racing to Saratoga by personally organizing and financing the town's first thoroughbred contest in 1863. Info: