DESIGNING WAYS
Home Essentials With A Modern Touch
By Daniel J. Bollinger
We all know that person who eagerly awaits the debut of the latest in technology: a Smartphone, computer, any of those cutting-edge make-my-life-simpler tools. Guess what? It also applies to home décor. To make it easier for you (and them), we recently visited the Architectural Digest Design Show for the best innovations for consumers.
What did we find? Products for the entire home that included everything from artful wall coverings to accessories for the bath and appliances for the kitchen and beyond. Read on for a roundup of products and appliances that beautifully blend design and high-tech.
---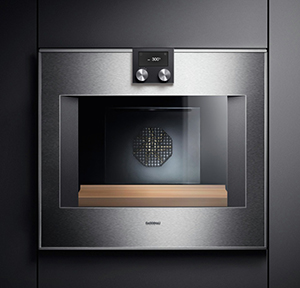 GAGGENAU
400 Series Oven
With its striking presence, this appliance's strong character is emphasized by the use of selected materials such as solid stainless steel. Oven doors can be automatically opened with a single touch, making food preparation a breeze. The series uncompromisingly brings modern professional technology into the home kitchen. As an alternative to the 24-inch, the generous 30-inch width offers even more scope for individual cooking preferences. The control module with its TFT touch display ensures clear and intuitive operation. Info: gaggenau.com/us.
---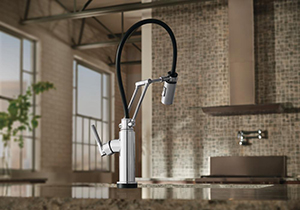 BRIZO
Litze™ Kitchen Collection
Inspired by the revival of the arts and crafts movement, the new Litze™ Kitchen Collection by Brizo® melds a clean, contemporary sensibility with an artisanal touch. A true testament to shape and form, the collection features a simplistically beautiful bent tube spout rendered in three distinct shapes—Arc, Square or Angled—that can be paired with either the Knurled Lever or Industrial Lever handle. The collection's versatility offers a range of configurations that are equally at home in modern, minimal environments or more industrial inspired spaces. Info: brizo.com.
---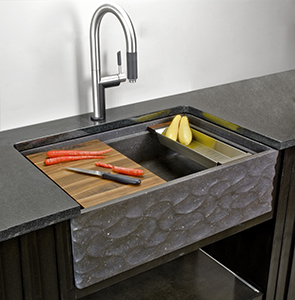 STONE FOREST
Workstation Farmhouse Sinks
Stone Forest's new collection includes the Wave Front Kitchen Sink and the Basket-Weave Pattern Farmhouse Sink. The Workstation sinks come with a range of accessory options, including a colander, cutting board, and drying rack. Both sinks are carved in Marble or Honed Basalt. The Wave Front Sink captures the dancing pattern of flowing water on its apron front carving while the delicate basket-weave on the front of Stone Forest's Basket-Weave Farmhouse Sink made of Papiro Cream Marble brings a soft three-dimensional aspect to the product. Info: stoneforest.com.
---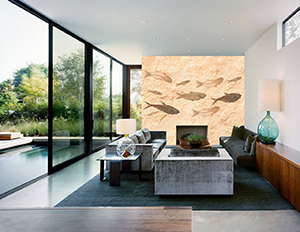 BRENDA HOUSTON
Mineral Wall Coverings
The Fossil Collections are the newest addition to the Mineral Wall Coverings from Brenda Houston Designs. The papers are designed to complement Houston's furniture collections with Bay Island Woodworks of hand-carved woods featuring inlaid fossils and minerals. Houston hand selects each fossil shown, her favorite is the piranha fossil over 165 million years old and creates designs which are then printed onto seagrass for the wall coverings. Priced by the square foot, each design is customized to the scale of the wall. Info: brendahouston.com.
---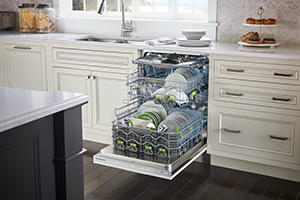 SUB-ZERO & WOLF
Cove Dishwasher
Cove dishwashers, the newest brand from Sub-Zero and Wolf, include thoughtful features that meet their owners' real needs. They are built to address the four pain points homeowners have with their dishwashers: cleanliness, drying, loading flexibility and sound. Cove ensures every dish and utensil emerges from the dishwasher spotlessly from its 43 jets, 3 spray arms, a four-stage water filtration system and 200+ cycle options. The Cove is engineered to adapt to the dishes you clean most with cycles that ensure bone-dry results and near-silent operation. Designed with adjustable interiors, customizable exterior finishes Cove cleans to a higher standard. Info: subzero-wolf.com.
---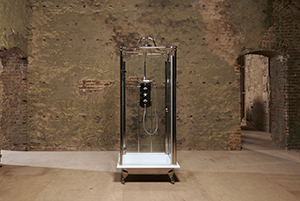 DRUMMOND
Spittal Shower
The Spittal Shower is a complete glass-enclosed shower unit, which can stand magnificently in the middle of a bathroom, or even in a bedroom. The freestanding shower has a standard 8-inch shower head and hand shower attachment that provides a blissful all-over drenching. The cast iron shower tray comes in various finishes, including primed, ready to paint on site, painted in any color or polished and lacquered. The beautifully crafted shower is entirely freestanding and comes with a soap dish holder fitted in the glass for shower products. Info: drummonds-uk.com/product/spittal-freestanding-shower.
---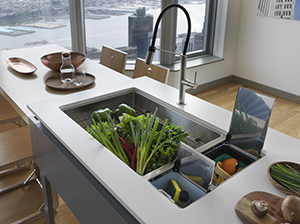 FRANKE
Chef Center
The Chef Center reinvents how homeowners think about—and use—their sinks by creating an all-in-one prep and entertaining hub with the ability to provide new workspaces or make the sink virtually disappear when not needed. Thoughtfully engineered as a sleek yet highly functional product, the Chef Center elevates the kitchen sink beyond a place to wash dishes, transforming the sink into a multi-faceted workstation with its innovative integrated ledges and custom-fit accessories. No detail—even the drain placement—was overlooked in the product design. Info: franke.com/us/en/ks/stories/new-kitchen-ideas/chef-center.html.