THE NOMAD RESTAURANT
American Cuisine With A French Accent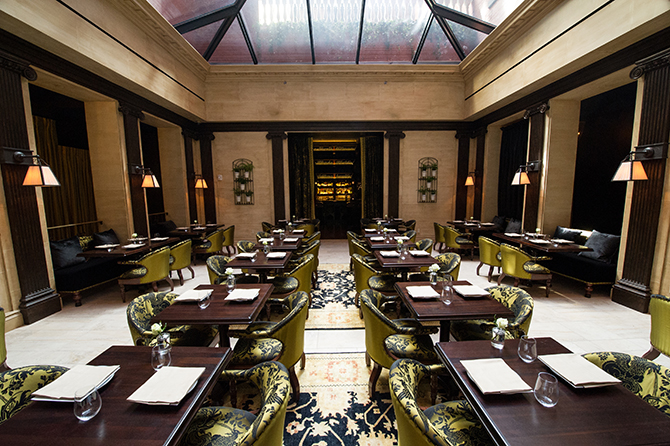 By Anne Raso
Everything chef/restaurateur Daniel Humm touches seems to turn to gold. He is famous for putting his special self-proclaimed "simple touch" on Eleven Madison Park which he purchased from Danny Meyer, but he offers foodies an even more intimate setting at NoMad (situated in the lobby of the acclaimed Flatiron hotel of the same name).
The NoMad's atmosphere is dark and clubby but romantic at the same time—especially when you sit in the semi-secret side room that is favored by couples or guests who just want some privacy. One of Manhattan's grandest fireplaces is located there and the corner banquets to either side of it allow for a great people watching view that reaches well into the main dining room.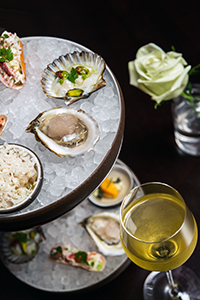 Fruits de Mer
A CELEBRATION OF FOOD
The Swiss-born Humm favors foie gras, bone marrow. and truffles in many of his preparations and the Roast Chicken for Two stuffed with Truffles, Fois Gras, and Crumbled Brioche has become the stuff of legend. If you watch online videos of Humm preparing this signature dish at NoMad, he makes it look easy. But it is really an art to loosen the skin of a whole chicken, infuse the stuffing and then tightly truss it. This dish for two is pricey ($94) but is a runaway success and is now being copied by chefs at several other fine eateries. It is often served with Smoked Grits and Succotash for a bit of American flavor or a combo of Lentils, Brussels Sprouts and Cotechino for a bit of Continental flair.
"Many people have memories of roast chicken dinner," Humm said, "and we take that sense of nostalgia and elevate it into a decadent dish. It's beautifully prepared, roasted in a wood-fired oven (which in turn fills the entire restaurant with a buttery scent), then presented tableside, still sizzling from the heat—it entices people. There was a similar popular dish at Eleven Madison Park in the early days, and people loved it so much they kept asking for it, and we wanted to give our guests what they desired."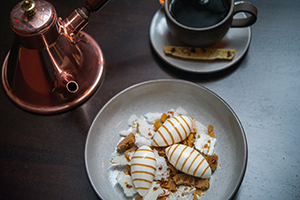 NoMad Milk and Honey
MORE SURPRISES
Another popular item on the menu is Filet Mignon with a Bone Marrow Crust as well as the Butter Poached Lobster, dubbed by Yelp! as "addictive." You can order unusual items that are hard to get elsewhere such as White Truffles with Taglietelle (or Risotto) or Suckling Pig Confit with Red Endive, Onions, and Dates. There are plenty of seafood dishes that are of note, including Tuna Tartare with Black Olives, Onions, and Tomatoes, and grand trays of cold Fruits de Mer.
Humm admits that his Swiss influences have slipped into the mix here and there. He reveals, "Most recently, on Sunday nights, NoMad Bar served a traditional fondue experience. The menu included pretzels, charcuterie, a fondue made with traditional cheeses and an Alpine drink, Schümli Pflümli. Nothing took me back to my childhood more than walking into NoMad Bar and getting hit with the scent of bubbling cheese." Being intrigued by the restaurant experience, we asked Humm what exactly he considers Nomad's restaurant theme to be. "I often refer to NoMad as seasonal American; perhaps the French influence comes from my training."
New York Lifestyles wondered if there is any overlap of diners visiting Eleven Madison Park and NoMad since they are both establishments favored by diehard foodies. Chef Humm answered, "I see every guest as someone who appreciates great food, conversation and experience—we treat every guest as if they were family. A guest at Eleven Madison Park may only visit us once a year, but at NoMad they may come see us multiple times, for different experiences."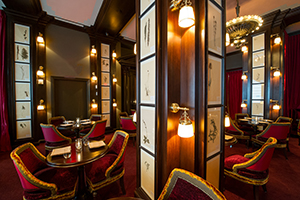 NoMad
SUMMER TOUCHES
Chef Humm promises great additions to the NoMad menu for Summer. He gave us a little preview: "We are a seasonal restaurant so Summer menus are always exciting, because that's when produce is at its finest in New York State. There is a beautiful Artichoke and Gnocchi dish debuting on the summer menu that I am very excited about."
The affable Humm has stayed modest despite a huge list of culinary accomplishments that includes being the recipient of six James Beard Awards, operating Michelin-starred kitchens and being called "the best chef in the country and possibly the world" by Esquire Magazine last year. New York Lifestyles wanted to know what this culinary superstar considered his biggest accomplishments—and we limited him to three choices. Chef Humm humbly replied, "My top three accomplishments are my children."
Unlike most fine eateries, NoMad is also a lovely place for a truly creative and innovative breakfast that includes a very popular Duck Sausage, Egg, and Cheddar Cheese Breakfast Sandwich and some of Manhattan's most popular Eggs Benedict. It is also fun to stop at NoMad just for dessert and coffee. Dessert listings often change but constants include the Coconut Cake with Toffee and Chocolate Cremeux and the Carrot Cake with Walnut Brittle and Pineapple Sorbet is divine.
For more information on The NoMad Restaurant, visit thenomadhotel.com.