CADILLAC CT6
Steering Into The Future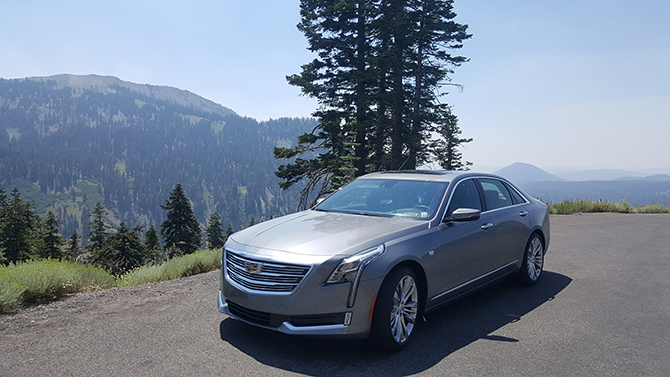 By Jenny Peters
It takes a real leap of faith the first time you let go of the steering wheel of a car and make it drive itself, even if it is a Cadillac, one of America's enduring automobile brands. That luxury marque from General Motors first produced a car in 1902; these days, they are still on the cutting edge of the future and are still assembling their cars in Detroit.
Along with Tesla and Volvo (whose self-driving vehicles have been famously involved in fatal crashes), Cadillac and other auto manufacturers are dedicated to finding ways to make your driving experience safer, less stressful and more relaxed on both your mind and your body. With Cadillac's Super Cruise technology, "the world's first true hands-free driver assistance feature for the freeway" (according to the company), which was introduced on their 2017 CTS sedan, the company leaps into the forefront of driving technology.
We tested it out on the luxurious 2018 Cadillac CT6, the 3-liter, V6 twin turbo version, which even without Super Cruise is an incredibly easy to drive and comfortable car. It helps that the soft leather seats have numerous adjustments to get them just right, add heat or ventilation if you'd like, and will then also give you an excellent back massage (with different pressure points and settings) any time you want it. Our CT6 also has a sunroof, back-seat entertainment system, and enough trunk space for a serious road trip.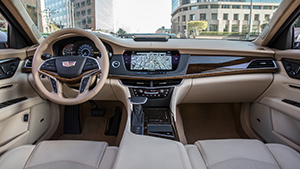 MERRILY DOWN THE ROAD
Good thing, since we drove north from Los Angeles to the spectacular Lassen Volcanic National Park, over 1,000 miles in the CT6. Rolling through the center of California on I-5 is a perfect place to try out the Super Cruise, as that self-driving feature only works on limited access, divided freeways with no cross streets, which is precisely what much of that long road is. First, we hit the cruise control, still holding the wheel but with foot off the gas pedal, and noticed that it automatically slowed down when we approached another car.
That was pretty cool, but nothing compared with adding the Super Cruise to the cruise control. Centering the CT6 in the lane, we touched the steering wheel button, and the car took over completely, as we took that big leap of faith and let go. Letting out a cheer of "Look, Ma! No hands and no feet and I'm driving!" we gawked as the car went merrily down the freeway all on its own.
It's a giddy experience—and a welcome one when you use it six hours into an eight-hour drive. The car monitors you and makes sure you are paying attention to the road at all times, but you can stretch your limbs and shake out the cobwebs while zooming down the freeway, which is a bit mind-blowing.
The system works so well (a green-lit bar on the steering wheel tells you when to let go, a red light tells you to take control) that Cadillac recently announced that Super Cruise would be available on all its models as of 2020. Which makes us wonder, is a robot-driven car that far in the future?
For more information on Cadillac CT6 and Super Cruise, visit cadillac.com.