JOHN LEGEND'S LVE WINE
Something To Sing About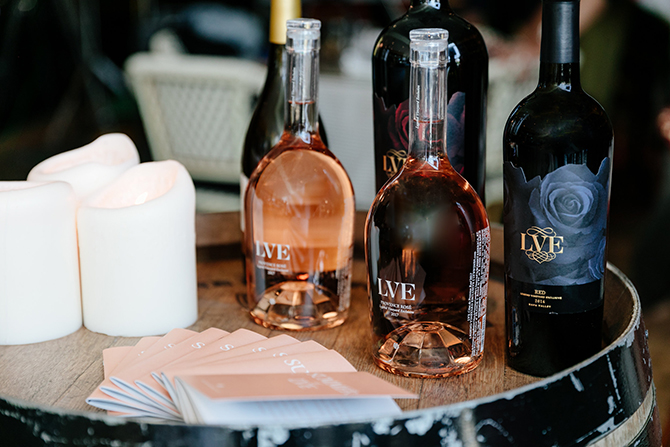 By Jenny Peters
When singer, musician, Emmy-nominated actor, film producer, and Academy Award-winning composer John Legend sets his mind to something, it usually comes to fruition.
So when he got the idea to develop his line of fine wines, he looked for the perfect partner—and found him in Jean-Charles Boisset, the French vintner whose vast wine empire spans, as Boisset tells us, "26 wineries on two continents—Napa, Sonoma and, obviously, Burgundy, where my family began making wine in 1961."
THE PERFECT FIT
The two men met through a mutual acquaintance, and their simpatico was immediate, perhaps because each saw something of themselves in the other. "Jean-Charles is charismatic, he's energetic, he's got a flair—a certain je ne sais quoi!" laughs John Legend, who is wearing a pink suit. We were chatting at the Beverly Hills launch of the duo's Legend Vineyard Exclusive (LVE) 2017 Rosé Provence, the fourth wine to release from the label and a beautifully balanced wine, bursting with strawberry notes. "Once we started talking and hanging out in Napa, it seemed a perfect fit."
As the equally sharp-dressed Boisset tells it, he waited a long time to join forces with a celebrity. "You know how it is, a lot of celebrities call us to ask for collaborations," he says. "CAA, all the talent agencies, they call and say, 'Would you be interested in making wine with XYZ?' And 99.9 percent of the time we have said, 'No.' So finally, with John Legend, we have said, 'Yes!' Because I became friends with John, I listened to his music, we blended wine at our Raymond Winery, and he was just so cool. He was so passionate about it."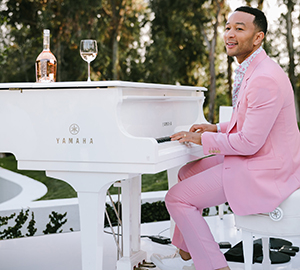 DELICATE YET POWERFUL BLENDS
The pair, along with Legend's wife, model and actress Chrissy Teigen, launched LVE in 2015, sourcing their grapes mostly from Napa's Raymond Vineyards, which Boisset owns. With each wine released in the collection, ranging from the luscious and buttery Chardonnay to the rich "Red Blend" made with Petite Sirah, Merlot, Cabernet Sauvignon and Petit Verdot and the award-winning Cabernet Sauvignon, Legend takes a very active role in creating each elegant quaff.
"I wanted all the wines to be a reflection of my own life, of the kinds of wines that I drink, serve at my house, serve to my friends and be proud of it. Everything we've done has been what I love to drink myself," Legend explains. "I'm very involved in the blending of our wines—it's so much fun! Their team is so good, they wouldn't let me make a bad wine, but I felt like it would be great for me to get involved and make it reflect my taste and sensibility."
And if the LVE wines taste a bit like the music Legend is famous for, that's all part of his plan. "I've always felt like the mood of my music goes with wines. I think they pair well together," John Legend says with a grin.
Jean-Charles Boisset agrees that the taste and quality of the LVE wines go far and beyond a simple celebrity vanity project (and so do we). "They are delicate wines, romantic, but with power," he muses. "It's a beautiful style of wine."
For more information on LVE Wines, visit lvewines.com.