ON STAGE
ROMANCE COMES TO BROADWAY TWO NEW MUSICALS PREMIERE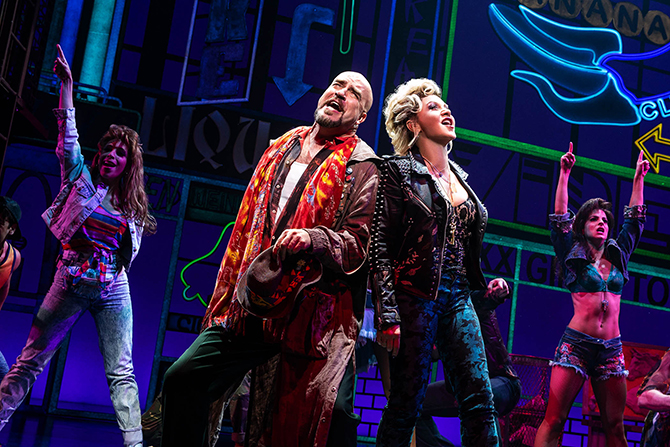 Ellyn Marie Marsh, Eric Anderson, Orfeh and Renee Marino in PRETTY WOMAN THE MUSICAL ©Matthew Murphy
By Lori Simmons Zelenko
PRETTY WOMAN: THE MUSICAL
The Nederlander Theatre
Julia Roberts and Richard Gere opened the '90s with this movie. I don't remember how many times I saw it but probably a thousand times more than once. There was and is everything to love about this modern fairy tale with a happily-ever-after ending. Now the story of a gorgeous prostitute who's just a small town girl at heart and an icy millionaire who's long lost his soul is a musical. The score is by Grammy Award winner Bryan Adams. Keeping it authentic, the show sticks closely to the film's storyline, it's written by the screenwriter for Pretty Woman, J.F. Lawton, and Garry Marshall (the film's late director).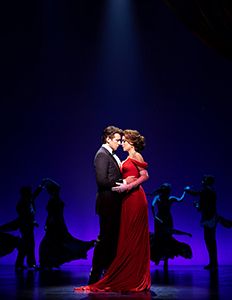 Andy Karl, Samantha Barks and Company in PRETTY WOMAN THE MUSICAL ©Matthew Murphy
The radiant Samantha Barks (Eponine in the film of Les Misérables) is Vivian Ward, the role that made Julia Roberts a superstar. The moment Barks smiles she lights up the stage with a presence that we can't help but immediately fall in love with, though it takes Edward (Andy Karl) a little while longer to realize he's smitten. In this #MeToo era the show is a throwback, but harsh realities never burden a good love story. Edward and Vivian are a perfect match actually, both determined to stay detached, sure love will never capture them, ready to escape without revealing their inner selves. But love does work in mysterious ways and the walls they've carefully built start to crumble as their emotional connection evolves. Edward is a takeover artist, ripping companies apart, mindless of the damage to the people who created them; he stays removed from himself, shielded from emotion. Vivian too has perfected the survival skill (necessary in her line of work) of standing outside of herself, keeping it all just business.
The score does have something of a '90s sound, and Samantha Barks makes power ballads her own quite beautifully, her spunky, fresh personality and bold, rich voice make Vivian easy to fall in love with—not only for Edward but for us all. The songs are all new, composed for the show (no recycled Bryan Adams hits here!) and serve as a graceful narrative revealing the unfolding romance.
Cracking wise, Tony Award nominee Orfeh (Legally Blond) entertains as Kit DeLuca; her swagger is appealing here as it creates a fun contrast to Vivian whose roots may be in the trailer park but whose future is at The Beverly Wilshire. Wry and wise, Eric Anderson is Mr. Thompson, the Hector Elizondo role in the film of the put-upon hotel manager who eventually falls under Vivian's spell. He plays a dual role in the musical bringing the hope and passion of this city of dreams, a trip down Hollywood Boulevard, home to all as Happy Man, Jason Danieley (The Full Monty) as Philip Stuckey and Kingsley Leggs (Sister Act) as James Morse round out the cast with characterizations that though very much their own do hold true to the beloved film. There is such vast emotion attached to this favorite movie that it does take gumption to create a Broadway musical adaptation but no worries, the show is as fun and upbeat as the film, so you'll leave smiling as broadly as Samantha Barks does as Vivian, discovering joy in an unexpected but exhilarating romance.
Tony Award-winner Jerry Mitchell (Kinky Boots, Hedwig and The Angry Inch, Legally Blond) directs and choreographs this Cinderella story with sets by David Rockwell (Hairspray, She Loves Me) and yes, the iconic costumes including Vivian's red dress are gorgeously brought back by Gregg Barnes (Legally Blond, Kinky Boots, Mean Girls).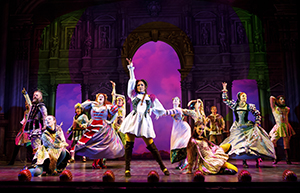 HEAD OVER HEELS ©Joan Marcus
HEAD OVER HEELS
The Hudson Theatre
An Elizabethan love story turned on its head, featuring the music of The Go-Go's that is Head Over Heels. The Broadway show is paradoxical in its contrast of pop-flavored punk-edged rock tunes with a winsome fairy tale. The story is set in the kingdom of Arcadia where the "beat" is divine. But every fairy tale has a wrinkle, in this case, an oracle's prophecy of doom is a looming threat to the "beat" driving the king and his royal family through a journey of mistaken identities, jealous lovers, secret rendezvouses and sexual awakening—where everything (and everyone) is not what it seems. Be prepared for an unpredictable ensemble shaking up the Renaissance in this comical game-changer.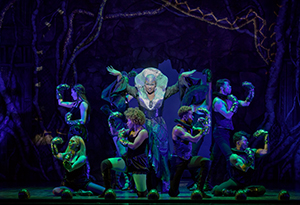 HEAD OVER HEELS ©Joan Marcus
The early '80s pop-rock sound of the Go-Go's rules in this musical comedy with favorite tunes from the day: "We Got the Beat," "Vacation" and "Our Lips Are Sealed," as well as "Mad About You" and "Heaven is a Place on Earth," two of Belinda Carlisle's solo hits. Head Over Heels is, according to the Go-Go's (the most successful female rock band ever) "a celebration of love in all its forms, joyful, fun and full of heart." The songs, once upon a time, made you want to jump up and dance and so they do again in a wacky but wonderful framework of this musical fantasy.
The show's creative team has rocked Broadway before with Hedwig and the Angry Inch, Next To Normal, American Idiot, Spring Awakening and Avenue Q, Tony Award-winning Michael Mayer directs.