MY NEW YORK STORY
Dr. Nicole Becker, Every Voice Choirs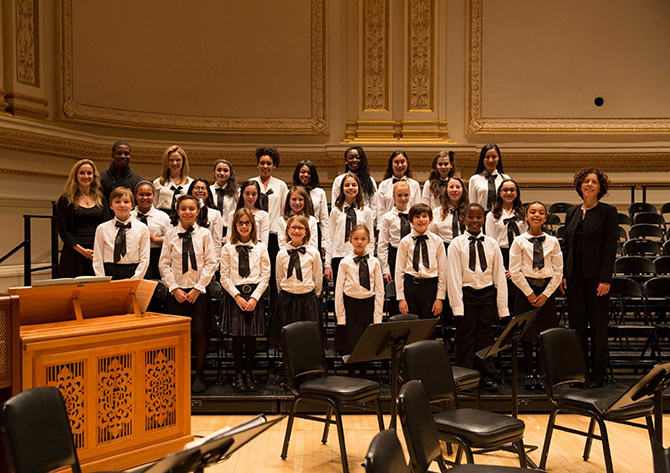 By David Porter
Every Voice Choirs was founded at Teachers College, Columbia University, in 2012 by Dr. Nicole Becker, the music director of the Teachers College Choir. She, along with voice specialist Dr. Jeanne Goffi-Fynn, promotes the musical and personal growth of New York City youth by empowering them to discover and share their voices with confidence and pride.
Every Voice Choirs (EVC) is one of the only children's choirs in New York City that doesn't require an audition. In fact, everyone who commits to attend rehearsals and practice at home is welcome to join. EVC singers are encouraged to share their ideas, choose and compose repertoire, lead sections of rehearsals and collaborate in the creation of performances. At all of the rehearsals and concerts, the choir aspires to reflect upon and educate its singers on global themes. Since 2015, the NYC Department of Cultural Affairs has recognized EVC annually for providing cultural services to New Yorkers.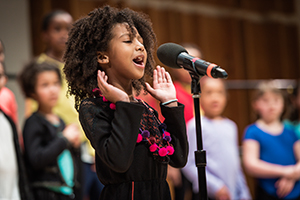 HITTING THE RIGHT NOTE
EVC was founded because there was a need for an un-auditioned choir which provided children with the highest level of vocal and musical training possible. "All kids come with a wide range of gifts, and many of those aren't picked up at traditional auditions," says Dr. Becker. "Kids need to be comfortable and to know their skills are valued when shared. We love to watch kids reveal themselves little by little over the course of our work together. We are also amazed by what they can do as they become more confident."
EVC offers three choral programs: The Every Voice Kids Choir (ages 7 to 10) and the Every Voice Youth Choir (ages 10 to 14); these core choirs, and rigorous choral experience, will lead to auditions for the Every Voice Concert Choir, EVC's professional performing ensemble.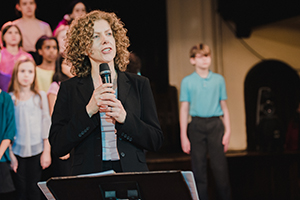 Dr. Nicole Becker
ON THE ROAD
EVC maintains an active performance schedule and 2018 has been particularly busy. On New Year's Day, the choir performed the National Anthem at the 2018 NHL Winter Classic at CitiField, which was broadcast live. This was followed with two concerts in honor of Martin Luther King at the Broadway Presbyterian Church and the EVC 2018 Winter Concert, Peace Seekers VI: Still I Rise, at Merkin Concert Hall. In April, the young choir joined the Edward Morgan Ballet at Holy Apostles Church for Ballet For The Homeless. The following month, EVC celebrated Spring and the Earth with its 2018 Spring Concert, Earth Songs. The concert repertoire included the world premiere of "Song of the Ocean" written by the EVC Youth Choir with composer Carman Moore.
"We schedule our two major themed concerts a year in advance: a program on social justice in January and one for the environment in May. I have lots of time to think about repertoire," says Dr. Becker, "but many of our collaborations and special performances come up in the middle of the programming season, and they require flexibility—when we got the call from the NHL I ended up canceling my winter vacation!"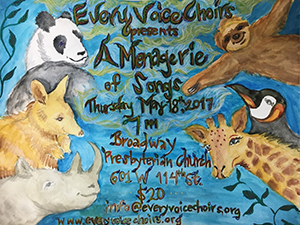 EVERY VOICE REALLY COUNTS
Because EVC is a non-profit corporation, it depends on the support of the public. If Dr. Becker isn't arranging concerts or leading rehearsals, she's probably applying for grants. "We apply for about ten grants a year. If we are consistent about collecting and archiving materials, a grant application might take about 20 hours, but if we have to collect materials and edit video, it can be more than twice that," explains Dr. Becker. Tuition fees cover about 25 percent of the operating budget, but EVC provides financial aid to families who need it, and for this past year the West Harlem Development Corporation funded scholarships. "Fundraising is not something artists learn about in school, so I've had a lot of on-the-job training," says Dr. Becker.
Dr. Becker received her Master's Degree from Indiana University and her Doctorate of Education from Teachers College. "It takes a village!" she says, "but this is what I love most about EVC, the partnerships, and the collaborations with the kids and their families, and all those who support us so generously. For us, both onstage and behind the scenes, every voice truly counts."
For more information on Dr. Nicole Becker and Every Voice Choirs, visit everyvoicechoirs.org.