MARILYN HOFFMAN
HOW SHE DEFINES LUXURY REAL ESTATE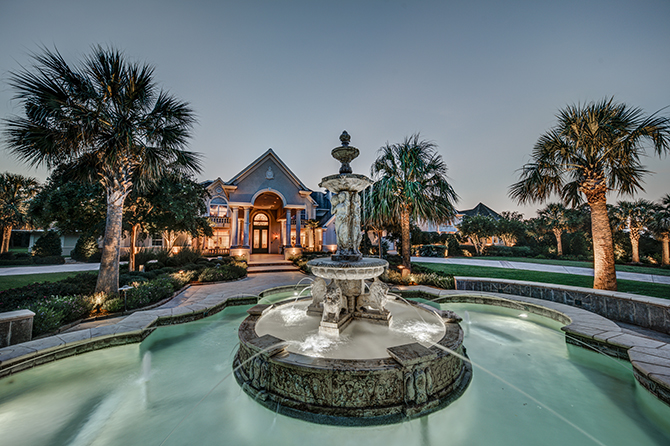 By Patricia Canole
If you say it enough times, a word will start to lose its luster. And in real estate, where the words draw buyers to a particular property, using it correctly is very crucial.
So when the majority of homes are marketed as luxury, the definition of the word starts to melt away. Today, the term luxury has been used to describe everything from the ultra-luxury homes of the world's wealthiest one percent to a modest kitchen with new appliances. So how do you define luxury in real estate?
WHERE DOES LUXURY BEGIN?
In many large U.S. cities, the typical luxury asking price will be much less than say a vast metropolitan region. In a city like New York, which attracts investors seeking property in a global trading hub, $10 million or more is typical. And while there's no standard checklist for labeling a property as a luxury one, there are features which are standard across major U.S. cities. Prime location, high-end interior finishes—like marble countertops, professional-quality kitchen appliances—and customized amenities are often staples of a luxury residence.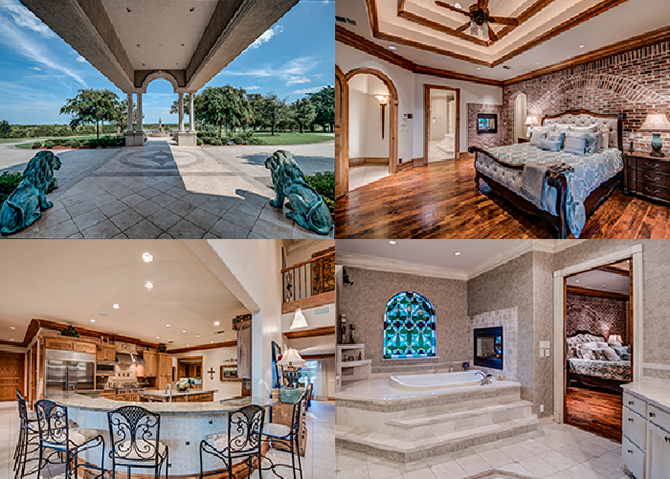 Top left Porte Cochere to Fountain, Top right Master Bedroom,
Bottom left Kitchen Bar, Bottom right Master bath
Another factor to consider is the unique features that separate luxury real estate from the rest. In most major cities owning a condo or a custom-built home designed by a renowned architect can set it apart from the rest. Exclusivity and prestige are some of the top priorities most buyers are looking for. The other is an individual's preferences. Translating these ideals into a suburban or rural setting, luxury may be defined by living in a gated community with high-tech security features or as part of an association that permits access to a nearby country club.
Of course, a luxury home today must go above and beyond what's typical for the market. In other words, it's no longer just installing a Sub-Zero refrigerator. Instead, it's offering a full-room design from flooring to the cabinets, appliances, and lighting.
New York Lifestyles wanted to know more about luxury in real estate, so we decided to go to the top. We recently met with Marilyn Hoffman of Hoffman International Properties, Inc., in her Dallas, Texas headquarters who shed some light on what exactly is luxury real estate.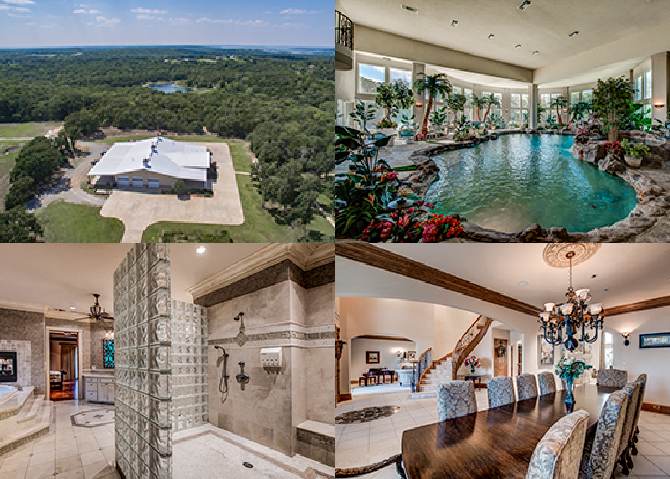 Top left Aerial of the Barn Workshop, Top right Indoor Pool,
Bottom left Master Shower to Bathroom, Bottom right Dining room
Marilyn Hoffman needs no introduction in the real estate world; nearly every entrepreneur has either had a business dealing with her—or is looking forward to engaging her expertise one day. The daughter of a renowned Texas developer, who also specialized in breeding racehorses, Marilyn became involved with horses at a young age and spent years as a champion rider on the national show circuit. The experience gave her the knowledge she needed to specialize in selling in the luxury market and some famous real estate properties.
Through the years, Marilyn Hoffman has positioned her company as one of the top influential real estate companies. She attributes her success to the client-first ideology, which entails her putting herself in the shoes of the client; it ensures what she would expect if she were hiring a realtor. The ideology has proved to be a success for Hoffman and has garnered her a stellar reputation in the business.


A $20 million waterfront estate Marilyn sold for full price in only 24 days.
Tell us more about those equestrian years?
I began showing homes with my father at the tender age of 15. The combined experience growing up on a 5,000-acre ranch and showing horses along with the exposure to my father's business eventually led to marketing and selling luxury estates, equestrian properties and ranches. To this day, I attend many events both here in the U.S. and internationally where I promote my listings. A good example are places that include the Hamptons, Monte Carlo, Scottsdale, Beverly Hills, and Fisher Island.
What is your definition of luxury real estate?
The market has changed so much. When I first started in real estate, a luxury home was $100,000, and now even $1,000,000 is sometimes not considered a luxury home. Luxury Real Estate is a lifestyle. Trends have changed so much that buyers are looking for new things. My last sale to the CEO of the largest Japanese corporation was $10.8 million, and he had to have a panic room adjoining his bedroom even though there was already one in the home but more than 50 feet away.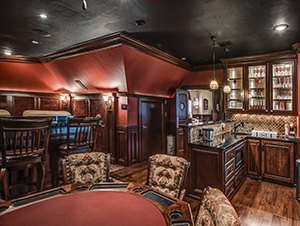 Media Room Bar
How do you see today's luxury real estate market?
I see many of today's luxury real estate sales to foreign buyers who are buying sight unseen. For example, I recently sold a $20 million waterfront estate for the full price in only 24 days. It was previously listed with Christies Great Estates as well as Baird and Warner at $13 million and did not sell. What is remarkable is that I sold for full price, sight unseen. I asked the buyers when they wanted to see the property, and their answer was "When we move in!" Buyers today are more aggressive about what they want, and they don't want to wait. I have sold many homes that were previously listed at a lower price, and I raised the price and generated a quick buyer with my international marketing.
What makes a property attractive to a potential buyer?
A property must have existing and unique qualities which draw the buyer to it or be an excellent canvas for what they may create.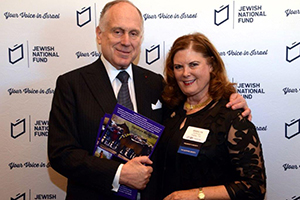 Marilyn Hoffman was a sponsor of the Major Donor Weekend held at the Biltmore in Scottsdale honoring Ronald Lauder
One such property that fits that description is Tanglewood which is now listed. Can you tell us more about this luxurious estate?
Nothing is as wonderful as having an estate compound that is so ideal that there is little more to want but to enjoy it completely. Located one mile from Lake Texoma with its own stocked and professionally designed and maintained seven-acre lake and 17,865-square-foot home—a perfect setting for serenity.
Here we find the ultimate park-like setting with 117 beautifully landscaped acres which create a compound having more to offer than can be imagined by anyone. It is lifestyle and high-end enjoyment rolled into one package. The current owners have invested over $3 million dollars of improvements which are magnificent; wholly automated with technology above standard for all structures adds a sense of security with C4 controls operated locally or from remote locations via iPhone or Android systems and much more state-of-the-art technology features appear throughout the compound. A Category 5 Safe Room was also added in the upgrades.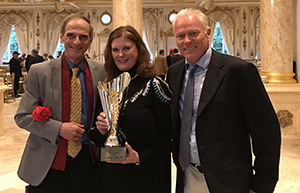 Marilyn congratulates the 2018 winners of the Cavallino Classic at Mar a Lago.
A Pro-Bass fishing expert was called upon to design the underwater topography for the creation of the seven acre lake, as well as the addition of pressure pond aerators and automatic fish food dispensers to keep the black bass, tiger perch, tilapia, and shad content. A 24 x 20-foot floating dock with a covered patio enhances the usage for fishing/boating.
His and Her Workshops with three heated pull through bays and a 5,250 square foot covered area for heavy equipment set the stage for any usage, including conversion to a luxury Equine Stable with quarters for caretakers. In total, there are more than 15,000 square feet of enclosed workshop/barn space, heated and partially air-conditioned.
The three-level, nearly 18,000-square-foot home is a state of the art masterpiece. The Great Room with vaulted ceiling is a masterpiece, while the formal Living Room, Dining Room, and Gourmet Kitchen become the centerpiece for parties and family gatherings. A second floor In-Law Suite is complete with laundry and its own kitchen. The spacious third floor Office has views of Lake Texoma and the surrounding countryside.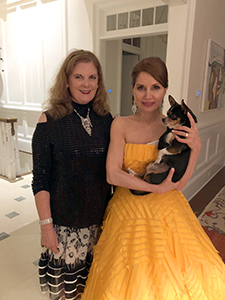 Marilyn at the Southampton Hospital Gala with Jean Shafiroff
Privacy, lifestyle, and a million options for recreation are available to the high-end buyer who wishes to enjoy the good life in a superlative area of the great State of Texas.
Offered furnished at $9.7 million. For more information, visit UltimateTexomaEstate.com.
IS IT LUXURY?
If you are questioning whether your home would be a candidate for the luxury market, speak with an agent who specializes in high end real estate. A seasoned agent is able to determine what a property offers. Also, you might want to list your home's features which set it apart from the rest of the neighborhood. This also goes for buyers. A good real estate agent will typically ask about the "must haves" in a home you need and prefer.
For more information on Marilyn Hoffman and Hoffman International Properties, visit MarilynHoffmanRealtor.com.