RED BANK, NJ
A Riverside Town With Spirit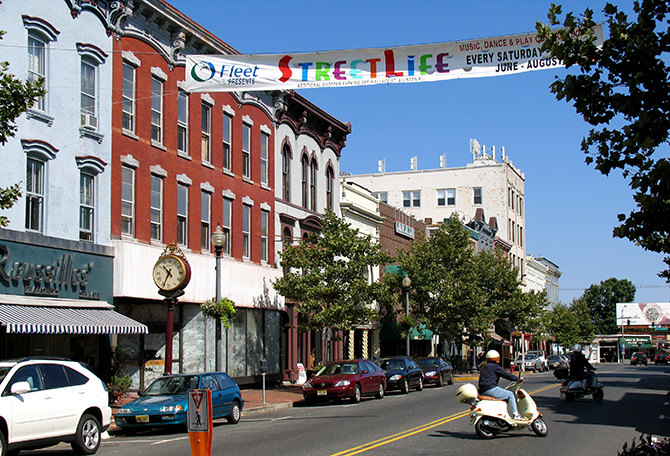 By Jeff & Stephanie Sylva
Red Bank is often referred to as The Gateway to the Jersey Shore. But when most shore towns lose the summer crowds and excitement, retreating into their sleepy winter modes, Red Bank keeps its buzz. The town's spirit and charm beckon visitors throughout the year.
Don't let the tranquil Navesink River setting fool you. Red Bank is a bustling town with a lively arts & culture scene, plenty of great shopping, and a wealth of upscale restaurants and casual eateries. A three-time winner of the People's Choice Awards for Best Downtown Arts District by Discover Jersey Arts, Red Bank offers visitors a variety of galleries, antique shops, and two award-winning performing arts theaters.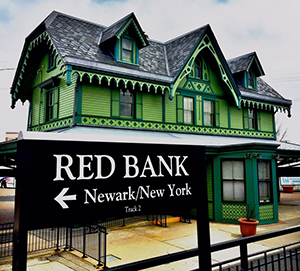 Red Bank Train Station
SEE & DO
Two River Theater, celebrating its 25th Anniversary this season, develops and produces excellent American theater created by today's most adventurous artists. The Count Basie Center for the Arts is a world-class venue for arts education, culture, and the performing arts. Some famed artists, including locals such as Bruce Springsteen and Count Basie himself, have graced the stage of Basie Center. (Did you know Count Basie was born in Red Bank?)
Galleries abound in Red Bank, both traditional and contemporary. Check out Beacon Fine Arts Gallery, Chetkin Gallery, Art Alliance of Monmouth County, and Detour Gallery. Antique hunters will find plenty of chances to browse at Red Bank Antique Center, Stillwell House Fine Art & Antiques, and Riverbank Antiques and Interiors. The walkable central downtown district has a wide variety of shopping venues with a mixture of national brands and local mom and pop shops. A favorite shop for comic book fans is Jay and Silent Bob's Secret Stash, which serves as a shooting location for AMC's Comic Book Men.
Red Bank has a variety of special events throughout the year, such as its Food & Wine Walk, Guinness Oyster Festival, and International Beer Wine & Food Fest. The summer months are especially busy with Jazz in the Park, Movies in the Park, Street Life, and Red Bank Rocks events.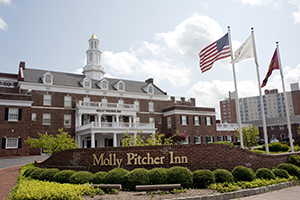 BEST STAYS
One is charming and historical; the other is hip and contemporary—both offer outstanding panoramic views of the Navesink River. Whichever hotel you choose for your visit to the popular town of Red Bank, NJ—the Molly Pitcher Inn or its sister property, The Oyster Point Hotel—you're sure to enjoy your stay in comfort and style. Both properties are located near the abundance of cultural, shopping, and dining options that led to Smithsonian Magazine's recognition of Red Bank as one of the top three of the publication's Best Small Towns in America.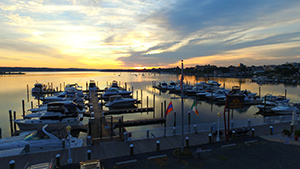 Marina - Molly Pitcher Inn
Molly Pitcher Inn Designed in the Federalist style, this gem was built in 1928 by a group of Red Bank residents to resemble Philadelphia's Independence Hall. Starting with the luxurious white marble lobby, the hotel, together with its classic Navesink Dining Room and 106 first-class guest rooms appointed with a touch of Old World grandeur, exudes a feel of history and elegance. The Inn affords guests a well-equipped fitness center, a first-class marina with overnight slips or Dock & Dine facilities, complimentary parking, and complimentary coffee and muffins each morning.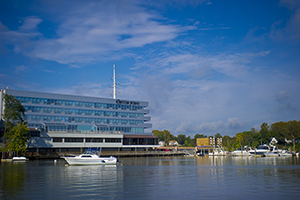 Oyster Popint Hotel
The Oyster Point Hotel Here's a contemporary boutique hotel built directly on the banks of the Navesink River. The hotel's 56 guest rooms have a hip, chic style and offer fabulous panoramic views of the river. The Oyster Point offers the same complimentary amenities as the Molly Pitcher but does not have a pool. Mornings might be an excellent time to enjoy your complimentary coffee while strolling the lobby and other common areas of the hotel to view the gallery of artwork produced by local artists.
ON THE MENU
There are many great dining choices in Red Bank, but we loved the idea of dining with views of the Navesink River. Both hotel's in-house restaurants have not only picturesque waterfront dining, but also offer outstanding cuisine with tantalizing menus.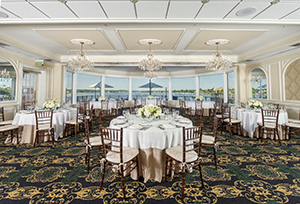 Molly Pitcher - Dining
We decided to have dinner at Pearl, the Oyster Point's main restaurant (just a two-minute walk from the Molly Pitcher) where the menu features contemporary American cuisine. We recommend the Sweet & Spicy Gazpacho, an unusual combination of sweet yellow tomato and a spicy red tomato chilled soup. Follow with the favorite Oyster Point Baked Oysters, Pearl's scrumptious version of Oysters Rockefeller with spinach, bacon, garlic, leek, and Havarti cheese. For the main course, try the Cast Iron Seared New Jersey Sea Scallops with tuxedo orzo, asparagus & onion bacon jam, or Faroe Island Citrus-Glazed Grilled Salmon with jasmine rice and baby spinach. Both were perfectly prepared and presented. Pearl presents an inviting blend of upscale elegance and relaxing casualness. A jazz trio entertains on Saturdays from September through May. Pearl is open all day and offers a Happy Hour menu as well as Saturday and Sunday Brunch.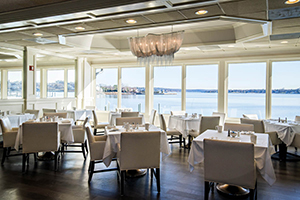 Oyster Point - Pearl Restaurant dining
The following day we set our appetites to a delicious breakfast at The Dining Room at Molly Pitcher Inn. Here we indulged in Crab Benedict (one of three Eggs Benedict choices) and Stuffed Brioche French Toast while enjoying panoramic views of the river. From October to mid-June the Inn offers its award-winning Sunday Brunch. Since 1996, it's been named the Best Brunch by The Asbury Park Press. The Inn's International Bar with its rich mahogany bar also presents an elegant setting while offering a sophisticated yet lighter fare. The Dining Room also offers lunch and dinner featuring fresh seafood and prime meat choices. Some menu options include Grilled Berkshire Pork Chop, Roasted New Zealand Rack of Lamb, a Honey & Ginger Glazed Salmon, and Seared Diver Sea Scallops. A guest favorite is the Seafood Pie, a combination of shrimp, scallops, and lobster in a light creamy bisque.
GETTING THERE
Traveling to Red Bank is easy. The town is just one mile off Exit 109 on the Garden State Parkway. NJ Transit's North Jersey Coast Line trains and the Academy Bus Line also serve Red Bank, while the town is an easy ride from the terminals of the Seastreak or New York Waterways ferries.
For more information on Red Bank, visit redbank.org.
For more information on the Molly Pitcher Inn visit themollypitcher.com; The Oyster Point Hotel, visit theoysterpointhotel.com.