WASHINGTON, D.C.
A Weekend Family Getaway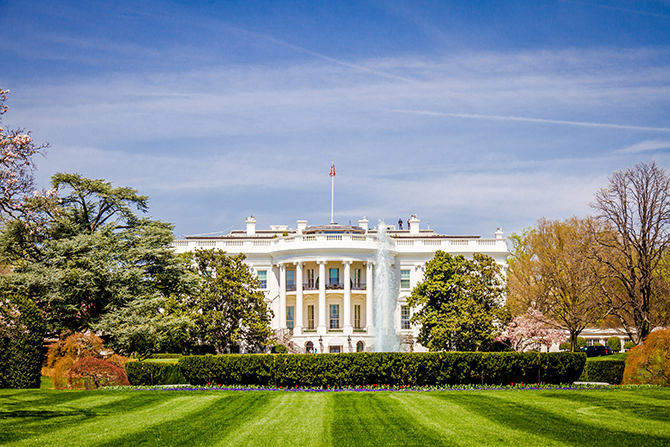 By Stacey Zable
For families with children just starting to understand our history to teens who are more vested in the democratic process, Washington, D.C. offers attractions that keep any age interested. These two hotels set the stage as ideal spots to come home to after a day of exploring.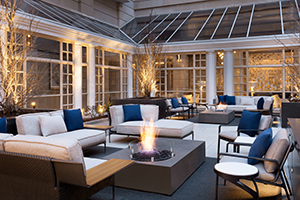 Courtyard
FAIRMONT
Washington, D.C. Georgetown
A $27 million Fairmont Washington, D.C. Georgetown renovation completed last year included the lobby, lounge and courtyard, and all guest rooms and suites. Designer Amanda Jackson, of Dallas-based Forrest Perkins, used the design and color scheme from the geometry of an aerial view of Washington. The result is felt immediately upon entering the large lobby, with its multiple seating areas. The geometric pendants hanging from the ceiling in the center of the lobby are an instant conversation starter. Throughout the hotel, from the lobby to guest rooms, artwork reflects a real sense of place and the city's history in subtle and interesting ways. There is also plenty of natural light and an abundance of plants seemingly bringing the outdoors in.
The lobby looks out onto the hotel's urban courtyard garden, a beautiful outdoor space in the midst of the city. Seating in clusters adds to the cozy feel here as well, as do fire pits and a new water feature. The urban courtyard is the site for numerous events, from Oktoberfest to a holiday outdoor ice skating rink, so ask the hotel about what might be happening during the time you are there. Dining is available during most of the year in the courtyard and cocktails year-round thanks to the fire pits in the winter months. The hotel's Juniper Restaurant off the lobby offers three meals a day, including a substantial breakfast buffet to start.
Double Queen beds for families are among the choices of the property's 413 spacious guest rooms. Guests get free use of the Balance Gym and includes an indoor pool that the kids will love, cardio-and-strength training equipment, and a choice of fitness classes morning to night.
Located in the West End area of Washington, D.C., the luxury property is a 15-minute walk to the Georgetown for a choice of shopping and dining options. You can also visit Georgetown University for those who might have the college on their wish list. The area—which is upscale residential in feel—also has its own restaurants if looking for a meal closer to the hotel. It is a short walk to Foggy Bottom and Dupont Circle, the two nearest metro stations. Info: fairmont.com/washington.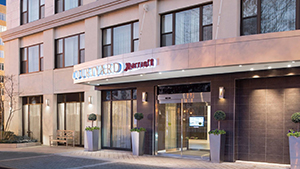 COURTYARD BY MARRIOTT
Washington Embassy Row
Another option for families is the Courtyard Washington Embassy Row. Located near Dupont Circle and close to many family-friendly restaurants, the 149-room Courtyard offers comfortable guest rooms with double Queen beds that will fit a family of four nicely. There are also guest rooms with two Queens and a sofa bed for larger families. An indoor pool is a hit with young travelers visiting the city any time of year. There is also a whirlpool and 24-hour fitness center located on site. The newly renovated lobby makes a good family meeting spot.
Nage Washington is Courtyard's casual restaurant serving American cuisine. The reasonably-priced a la carte menu allows everyone to fuel up on breakfast before hitting Washington, D.C.'s streets for sightseeing. Though Dupont Circle is a major metro stop, the hotel is within a two-mile walk of many of the city's top sites, including The White House only half-mile from the property. Info: marriott.com/hotels/travel/wasem-courtyard-washington-embassy-row.
For more information on Washington, D.C., visit washington.org.
5 FREE FAMILY ATTRACTIONS
5 FREE FAMILY ATTRACTIONS
The White House Plan in advance to request a free, self-guided tour of the White House through your local Congressman's office. Even if you don't get to tour the inside of the White House, you can still see the exterior. Info: whitehouse.gov/about-the-white-house/tours-events.
Bureau of Engraving and Printing The tour explains how our nation's money is printed and offers a glimpse into the presses. During non-peak season (September to March), you don't need tickets and can show up when you want to go. Sorry, no free samples! Info: moneyfactory.gov/washingtondctours.html.
U.S. Holocaust Memorial Museum The self-guided tour of the Permanent Exhibit spans three floors. Reserve timed passes in advance for the permanent exhibit online if visiting from March 1 to Aug. 31; otherwise no reservations required. The museum is best for older children. Info: ushmm.org.
Lincoln Memorial The Lincoln Memorial is 190 feet long and 119 feet wide and reaches a height of almost 100 feet. Looking at the massive monument as well as the view from it out over the Lincoln Memorial Reflecting Pool is especially impressive all lit up at night. Info: nps.gov/linc/index.htm.
U.S. Botanic Garden Catch the colorful new exhibit "Wall Flowers: Botanical Murals" that just may change how you view plant life. Large-scale murals from local artists will showcase plants through vibrant colors and detail, highlighting the vital role that plants play in urban environments, not just rural ones. Located in Bartholdi Park, this is a wonderful chance to admire botanical art in one of the country's most amazing gardens which runs thru October 15th. Info: USBG.gov.
The Smithsonian Museums Collectively called the Smithsonian Institution, this world-renowned museum and research complex consists of 17 museums, galleries and a zoo. Each one is free to enter, and across the spectrum, you can learn about the origins of man, the wonders of art, the history and future of flight and so much more. Here, some favorites: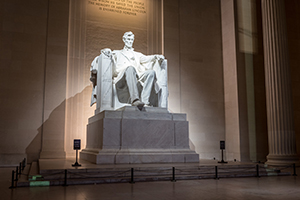 Lincoln Memorial
The National Museum of African American History & Culture
National Museums of American History
National Zoo
National Museum of Natural History
National Portrait Gallery
Hirshhorn Museum & Sculpture Garden
National Museum of The American Indian
National Postal Museum
National Museum of African Art
The Castle: Smithsonian Institution Building