MUSIC CITY U.S.A.
Fun Times In Nashville

By Jenny Peters
They call Nashville "Music City" for good reason, as this vibrant Southern town jumps all day and night. And while visitors to this Tennessee capital city might think that it's all about country music here, one trip will both cement that notion on the one hand, and explode it on the other.
That's because Nashville truly is the heart of American country music, which it proves every day with attractions like the beautifully realized Country Music Hall of Fame and Museum. That's a massive structure right in the heart of town that celebrates all that the genre has to offer, from historical exhibits and fascinating current installations like "Outlaws and Armadillos: Country's Roaring '70s," which runs through 2021, to Elvis Presley's "Solid Gold" 1960 Cadillac that's been on display here since 1977.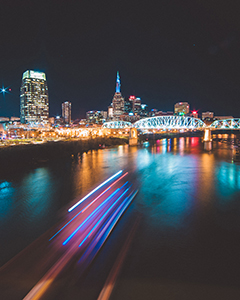 Nashville Skyline Night River
COUNTRY'S ICONS
That's a must-do stop in Nashville, as are three more world-class museums, all within an easy walk of one another. Hit The Johnny Cash Museum on Third Avenue, a place that overflows with memorabilia and the music of the Man in Black, then head right upstairs to immerse yourself in the short yet beautiful life of Patsy Cline at her own museum. There you can see her handmade costumes, gold records and even get a glimpse of her house's rec room, exactly as it was in the 1960s.
Wander over to Second Avenue to find the George Jones Museum, where that towering figure in country music is celebrated, right down to the tractor/lawn mower he so famously drove drunk for miles to get more booze in the 1960s. His often raucous, always interesting life is on display here—warts, top awards, four wives and all.
To make some slightly raucous memories of your own while in Nashville, finish up your museum tour on Honky Tonk Highway—the strip of live-music clubs all along Broadway, for some always free live music that goes from 10 am to the wee hours every day. Hit famous clubs like Nudie's, Legends Corner and Nashville Crossroads, where country, blues, and even some rock 'n' roll tunes turn every day into a party.
MUSIC & MORE
To experience the iconic Grand Ole Opry, however, that bastion of county music that's been broadcasting a live radio show since 1925, you'll have to travel over 10 miles out of downtown Nashville. Since 1974, the Opry has been out in the suburbs (near the outlet mall), putting on shows every Tuesday, Friday, and Saturday that feature country legends.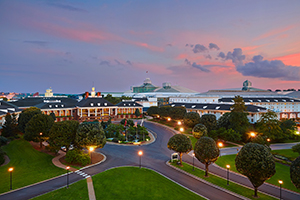 Gaylord Opryland
The lesser-known side of Nashville's music scene runs the gamut of genres, as the city has long been the Mecca for songwriters. And not just those in the world of country, like Brad Paisley, Garth Brooks, and Keith Urban, but all across the board. Taylor Swift started here, and talents ranging from blues master Keb'Mo' to heavy metal songwriter Desmond Child, rock-anthem writer Brett James and top pop-song composers Claude Kelly and Busbee all call Nashville home.
Nashville is also considered the birthplace of Bluegrass. Check out the small clubs for alternatives to country; and look to the venerable Ryman Auditorium, the Ascend Amphitheater, and the Bridgestone Arena to see big music acts from every genre while visiting Music City. Be sure to take a ride a few miles out to the Bluebird Café, too. That little 90-seat venue has been showcasing the city's most famous tunesmiths for the past 50 years and is now owned by the Nashville Songwriters Association International. Make a reservation to guarantee your seat for this must-do Music City experience; you never know who might turn up at the Bluebird.
Put the Musicians Hall of Fame and Museum on your Nashville to-do list, too, which encompasses all genres. See the many fascinating recording studio exhibits (think Muscle Shoals, Stax and more) and even have a try to make music of your own very cool interactive area where visitors can create music and learn how to produce sound as well.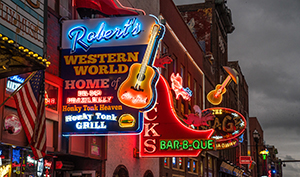 Music City's Broadway
EAT, DRINK, STAY
There's plenty to do in Nashville beyond the music, starting with gobbling up some of the city's famed hot chicken with a distinctly spicy bent. Find it at Prince's Hot Chicken Shack in East Nashville, where "mild" means hot and "extra hot" will blow your head off, or at Hattie B's Hot Chicken in Midtown, where you can try it at the no heat level all the way to "burn notice."
Bite into some classic Southern BBQ at Jack's Bar-B-Que right in the heart of Broadway's Honky Tonk Highway; it's just a cafeteria-style place, but that Pulled Pork Sammy is to die for! Or check out the Q at the Wildhorse Saloon, where you can have a cocktail and music with your ribs. Fine dining is also found all around the city, from the Capital Grille at the Hermitage Hotel downtown to the Little Octopus found in The Gulch district and Rolf and Daughters in Germantown.
For a luxurious place to rest your music-filled brain, stay at the brand-new JW Marriott Nashville, a skyscraper filled with comfortable rooms-with-views that also boasts Chef Michael Mina's organic Bourbon Steak up on the 34th floor, where you can drink and dine high above the city streets. Old school fans will like the Hermitage Hotel, downtown since 1910; for a hipper vibe, try the Thompson Hotel Nashville or the SoBro Guest House. But remember, a music-filled nightlife is what Nashville is all about, so don't plan to see much of your bed while visiting.
For more information about Nashville, go to visitmusiccity.com.