HAIL TO THE QUEEN
Crossing The Pond In Style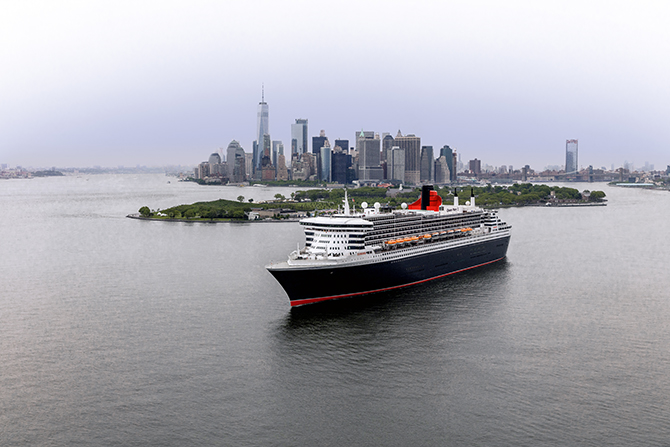 By Ruth J. Katz
A trip to your local supermarket might include a gallon of milk and a five-pound bag of flour. However, if you're the executive chef of the Cunard Line's regal Queen Mary 2 ocean liner, then your shopping list (for a seven-day transatlantic crossing) might include: two tons each of sugar and rice, some 32,000 eggs, 50 tons of produce, 13 tons of seafood, and 50,000 gallons of milk (which includes soy, almond, skim, cream, and half and half). Imagine the logistics of getting these provisions on board in a timely, seamless fashion, then inventoried and stored in the more than 20 refrigeration and freezer rooms (yes, rooms).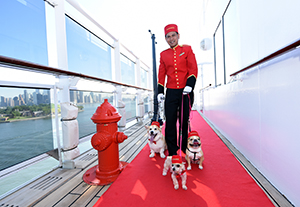 With a passenger manifest of over 2,500, and a crew population of 1,300 (from nearly 60 nations), the more than 150 chefs on board whip up almost 16,000 meals a day! And did we mention that the cooks prepare fresh homemade dog biscuits for the canines on board in what is arguably the world's only transatlantic kennel? On my crossing, there were 21 dogs in tow, and from the kennel manager, I learned that one pampered pooch has sailed well over 30 times with Cunard, giving fresh meaning to the phrase "lucky dog."
A FLOATING PALACE
How fortunate was I, that I didn't have to think about those logistics of the galley—all I had to do was eat! And with a dozen restaurants offering tempting and delicious fare, that decision was easy to bear. Regrettably, for me, on day one I discovered where the three, self-service, soft-serve ice cream machines were located! That meant, of course, I had to find and use the well-equipped gym. I also "had" to submit to muscle-pampering at the finely appointed, 20,000-square-foot Canyon Ranch Spa onboard.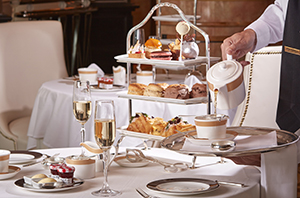 Veranda 22
Your only other job is to enjoy yourself, and that is way too easy on this floating palace of play. The most natural thing to do is read, of course, and the QM2's generously stocked library has over eight thousand books (and a charming shop) in case you left your e-reader at home. On a balmy morn, I staked out a cozy aft nook and languidly read (appropriately enough) The Boys in the Boat. One afternoon, I visited the planetarium (yes, planetarium) for the show Wildest Weather in the Solar System, and it was truly stellar and enlightening (emphasis on the lightening)! And, to my delight, there were two other planetarium shows I could view later in the week.
NON-STOP ENTERTAINMENT
There is a continually revolving menu of lectures with outstanding onboard experts, whose topics range from submarine espionage to a talk by a World War II Polish Freedom Fighter. I even took a few computer courses in the ship's digital epicenter, ConneXions. Nights are lively with polished Broadway reviews with Royal Cunard's Singers and Dancers, or concerts, or intriguing entertainers, like the aerial acrobats, Massimo & Alesia, and of course, the casino. Days flew by, and I never even got to participate in the trivia contest or take advantage of the driving range, putting green, and clichéd shuffleboard. Two musts: An audio tour of the exhibit Maritime Quest, highlighting fascinating bits of Cunard history, punctuated by captivating photos; and afternoon tea, with heaps of delicacies and delices. (On a typical sailing, QM2 blasts through 26,000 tea bags!)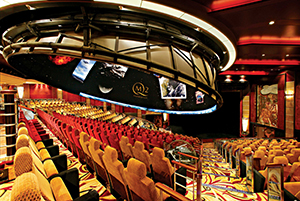 Public rooms entertainment - Illuminations Planetarium
While most crossings are between New York and Southampton, I chose a longer one originating in Red Hook, Brooklyn terminating in Hamburg, Germany. It afforded me the opportunity to take the ship's excursion during a day stop in Le Havre, to the moving and hallowed grounds of our serene American cemetery in Colleville-Sur-Mer and to see Omaha and Utah beaches, a truly extraordinary experience.
All in all, I cannot wax poetic enough about the Cunard experience—the delightful dinners, the serenity at sea, and Cunard's signature White Star service. I will let the QM2 toot her own horn: Her red-and-black whistle funnel is a vestige of the original Queen Mary (retired in 1967), and her basso profundo can be heard for ten miles!
For more information on the Queen Mary 2, visit cunard.com.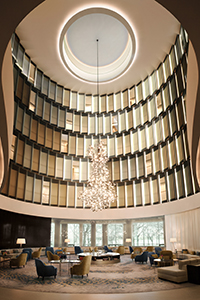 Atrium Lounge gesamt
HAMBURG'S FONTENAY
Gliding blissfully across the ocean on the Queen Mary 2 is an indulgence, for sure, but how comforting to know that upon arrival in Hamburg, yet another equally gratifying treat was awaiting me: The much anticipated, five-star Fontenay Hotel. The property, designed by Hamburg-born Jan Störmer, is a bold and visionary structure, with an exterior shell covered in thousands of white porcelain tiles, reflecting adjacent Lake Alster. Constructed in the form of undulating, intertwining circles, there are scarcely two parallel walls in the organic-shaped structure.
Every detail—from the custom-made furnishings (extra-long beds from German maker Schramm Werkstätten) down to the earthy, felt covers for the obligatory notepad—has been carefully curated and edited. The rooftop, wraparound bar is a true destination for locals and guests and the Lakeside restaurant, presided over by executive chef Cornelius Speinle (whose own restaurant, Dreizehn Sinne, in Schlattingen, earned a Michelin star in a year), is second to none in town. My favorite dining spot though was the Parkside outdoor terrace. Why? Yes, of course, the food, but moreover, because my server, Dennis Boller, remembered daily every quirky thing I wanted with my breakfast. The spa is another delight, with nearly 11,000 square feet for cosseted pampering. Next time in Hamburg, this magnificent hotel should be where you hang your (Miesbacher) hat.