107 EAST 61st STREET
Modern Influences Meet European Flair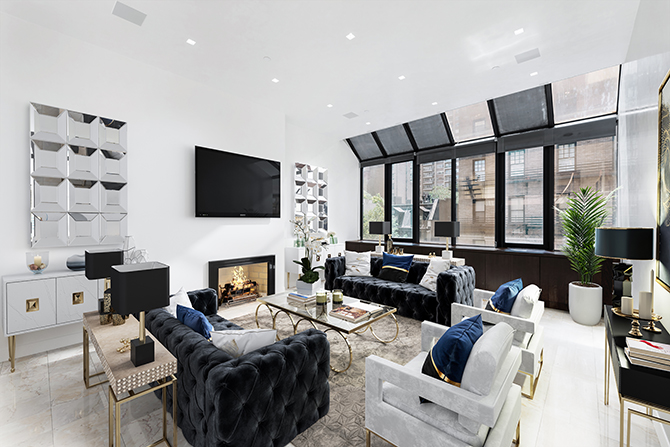 By Patricia Canole
Townhouses occupy a unique place in the New York City psyche, as one of the city's most prototypical signposts—like yellow cabs and fast walkers—and undoubtedly stir an aching desire to own. Thousands of these structures can be found in the five boroughs, row after row, painting historical patterns on the face of this city. You might say it's a living artwork. And like any beautiful piece of art, it delights and captivates.
One such work of art can be found at 107 East 61st Street, where sophisticated European influences combine with modern architectural flair. Located just off Park Avenue, the six floor home makes complete privacy possible with over 8,500 square feet of living space. The 19th-century meticulously designed home provides beautiful areas for formal and informal entertaining, with spaciously proportioned rooms, high ceilings, and incredible light. Another added feature: A private garage (equipped with a lift to accommodate two cars). This added convenience can only be described as priceless.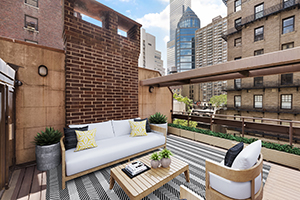 COMFORTABLE ELEGANCE
The ground floor has a brand new kitchen and state-of-the-art entertainment room, including a window wall overlooking the approximately 40-foot sky-lit saltwater swimming pool on the floor below. Additionally, the lower spa level boasts a spacious gym, sauna, full bath and Jacuzzi at poolside.
The upper floors feature 7 spacious bedrooms and 10 baths—all impeccably designed. For large scale entertaining, this extraordinary property has a duplex penthouse with a loft-like living room, sky-lit dining room, a new top of the line chef's kitchen, and a south-facing terrace with impressive views of Park Avenue and the iconic Manhattan skyline. The penthouse is accessed by a modern sculptural staircase running through the center of the building, as well as an elevator serving all six floors. With excellent security, best-in-class entertainment systems, and exquisite contemporary design, this remarkable townhouse is one of the hottest properties available uptown, downtown, or anywhere in between.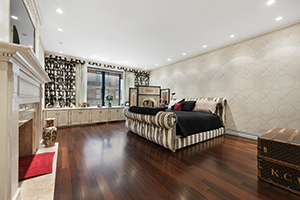 IT'S ALL HERE
The residence, situated on the north side of 61st Street is in one of the most desirable neighborhoods in Manhattan. The Upper East Side is home to Museum Mile, Central Park, the East River Esplanade and the city's largest concentration of public and private schools. Galleries, boutiques, renowned restaurants, and specialty food shops are the hallmark of this prestigious community.
Townhouses in New York City are certainly the most extraordinary real estate in the city. And at $19.5 million this address is definitely an investment into a lifestyle and above all privacy.
For more information on 107 East 61st Street, contact Thomas Wexler at Leslie Garfield (212-448-7474) or tw@lesliegarfield.com.