SPOTLIGHT
Don Peebles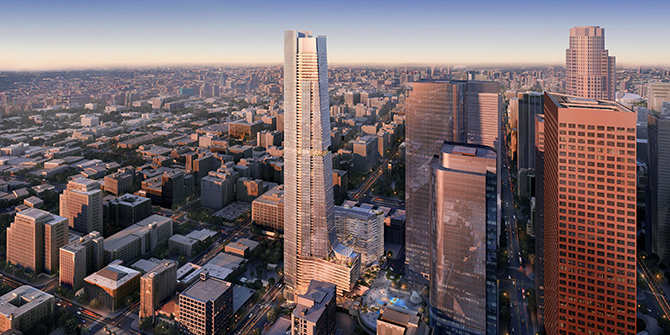 By J.P. Elston
He's a self-made real estate mogul who has built an empire. Yes, for Don Peebles, it's been a long and winding road to success.
He grew up in Washington, D.C. the son of a car mechanic. His mother worked in real estate and is no doubt where he took notice of the industry. As a teenager, he began volunteering for political campaigns, and served as a page on Capitol Hill in high school. He left college after a year to work as a real-estate agent and, later, a property appraiser. His Washington connections both in politics and the close-knit world of real estate certainly helped fuel his ascent.
Then, in 1987, he broke ground on his first building. Today, his company, Peebles Corp., with offices in Washington D.C., Miami and New York now spans a multi-billion-dollar portfolio of condo projects, hotels and office buildings. Add to this he's the author of top-selling books, The Peebles Principles and The Peebles Path to Real Estate Wealth, a regular guest host on CNN, CNBC and FOX in addition to a highly sought-after speaker who has addressed educational, business and professional audiences across the United States.
New York Lifestyles wanted to understand more about Don's own path to real estate development success and some lessons for others who might follow in his footsteps.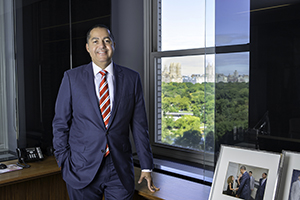 Don Peebles Office
Did you always know you wanted to be a real estate developer?
No. As a senior in high school, my plan was to become an orthopedic surgeon, invest in real estate to build wealth and potentially enter into politics. I attended Rutgers University as a pre-med student. I dropped out after my freshman year and moved back to Washington D.C. to work as a real estate agent and appraiser. By the age of 23, I sat on the district's tax appeal board, a group of individuals who review the city's property assessments. The following year I became its chairman. The chairmanship made me an instant serious player in the Washington, D.C. commercial and political arenas.
What sets The Peebles Corporation apart from other real estate developers?
We are a national developer who seeks to use the business not only as a neighborhood and city transformer but an economic opportunity transformer. Our focus is on large scale public-private developments. Our projects currently under development range in cost from $100 million to $1.3 billion and combine for a total approximately $3.6 billion. We use our business to provide economic and career opportunities for minority- and women-owned businesses and professionals. This focus, along with our national foot print and entrepreneurial structure, makes us a very unique business.
What has been your recipe for success in real estate?
Think big, make your money on the buy side, build strong business and financial relationships and never quit. Number one: each setback is an opportunity in disguise. In business and life we will all experience setbacks; when they happen don't be a victim rather see the opportunity.
You have moved around with your family quite a bit. You have lived in Washington, D.C. and Miami, and you currently reside in New York City. Have you found relocation challenging?
While moving comes with its challenges, it also comes with great opportunity. The relocations have allowed my family and me to make life more of an adventure. We have all made and maintain lasting relationships in each of those cities as well as the Hamptons where we have had a vacation home for over a decade. Real estate tends to be a local business. These relocations have provided the foundation for us to become the large scale national development concern we are today.
We hear you were recently awarded a site in Los Angeles. Is this your first project on the West Coast?
Angels Landing is our first development project in Los Angeles. Although we previously conducted business in San Francisco, we're very excited about Angels Landing. It's also given me the opportunity to partner with my friend, Victor MacFarlane, who is someone I admire for all he has accomplished in the real estate and private equity space. We have the opportunity to build a totally transforming project consistent with our values. The project which will contain approximately 2 million square feet, is our largest project to date, and once completed, it will boast the tallest residential building in the Western U.S. standing at slightly over 1,000 feet tall and 88 stories high.
The site will include two luxury lifestyle hotels, 425 luxury rental apartments (including affordable housing units), approximately 125 ultra-luxury condominium units, an elementary charter school serving K through grade 5, nearly 45,000 square feet of restaurant and retail space, and more than 50,000 square feet of publicly accessible open space. Los Angeles, particularly Downtown Los Angeles where our project is located, is experiencing tremendous transformation. Similar to other cities in the U.S., Los Angeles is becoming a more walkable and transit-oriented community where people can live, work and play in the same community.
Any other exciting projects breaking ground soon?
We will be breaking ground this fall on the SLS in Washington, D.C., our luxury hotel and condominium project consisting of 176 rooms and suites and 34 luxury condominium apartments. We are excited to bring a fresh concept to my hometown and I'm working with my son who is leading the development and was also born in DC.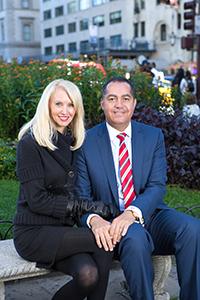 Katrina, Don Peebles
How do you find a balance between your work and your personal life?
My wife, Katrina, and children Donahue III and Chloe, are always my priority. I make it a point to be as involved as possible in my family life by spending as much time with them as possible at our New York City townhouse. During the winter months, we love to spend weekends at our Miami home, and during the summer, we retreat to our estate at the East End of Long Island. For over thirteen years my daughter has been a very active equestrian and my wife and I have tried to attend most of her shows.
Now that you have achieved success, what drives you to continue?
My family is my driving force. I also want to continue being an agent of change. I am passionate in the continued struggle for gender and racial equality. Equality in educational and economic opportunities is the very foundation of real equality and the resulting self-reliance. This goal has led me to strongly consider seeking political office such as mayor of NYC or Washington, D.C. My business success has provided me with the great opportunity and freedom to challenge and change our systems to dramatically improve the lives of underserved youth. My developments have provided me the platform to promote equal access to economic opportunities to minorities and women by choosing how I build and what I build. My company calls this affirmative development. I see these areas as the responsibility of all businesses.
For more information on Don Peebles and The Peebles Corporation, visit peeblescorp.com.