THE GADGET GUY
Smart Security For Your Home
By Mark Pelligren
Making sure your home is safe—and smart—is usually at the top of the list for both new renters and long-term dwellers. And while crime statistics may be down, it's good to know you can always keep an eye on your apartment, pets, and possessions—even if you're away.
That's where today's powerful smart security devices come in. These devices are the perfect fit for a city home and can easily fit within the average budget. Check out our top solutions and learn more.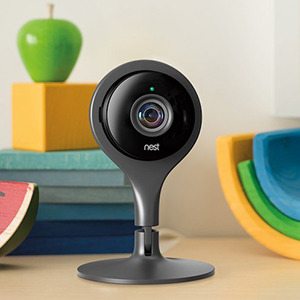 Nest
NestCam
There is a plethora of different smart security cams on the market, and most will do a good job of keeping an eye on your door or living space and letting you know if there's any suspicious activity. Today's cams typically use a motion sensor (programmed to ignore pets, etc.) that will automatically turn on the camera and send an alert to your phone so you can look at the livestream and make sure everything is okay. Most versions can save a certain amount of footage for later evidence if necessary. Our favorite option is the NEST Cam, with its high-definition feed and excellent night vision, along with compatibility with all the other Nest products. Info: nest.com.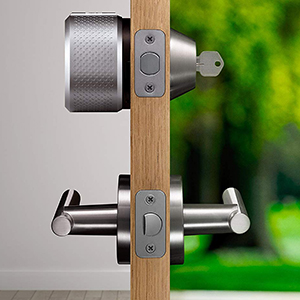 AUGUST
2nd Generation Smart Lock
Smart locks are becoming particular popular for city dwellings. In fact, many NYC landlords have already made the switch to smart locks that you can control with an app, unlock from afar, and monitor to see when the lock is being used. It's worth checking to see if you can have one installed. They are an excellent security device, can be sturdier than most traditional key locks, and let you make sure that your door is always locked, even if you forget about it on your way out.
Most of these locks also come with proximity sensors or key fobs that will automatically unlock for you to save a little time. If you are installing your own, the August 2nd Generation Smart Lock is well reviewed and fits on most doors. Info: august.com.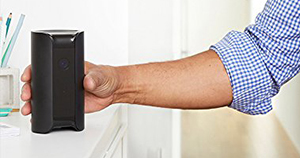 CANARY
All-In-One Devise
Have a small apartment but still want good smart security? Take a look at Canary's All-In-One Devise that does a little bit of everything. You can run smart video, use a two-way speaker for communication, monitor air quality, and detect people all at the same time – with the ability to turn on a siren even when you aren't at home. It's a great compact security solution for those in temporary apartments and tiny spaces! Info: canary.is.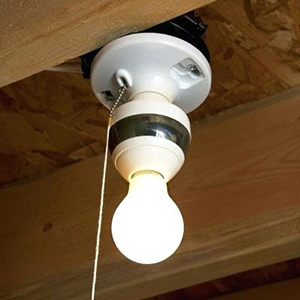 FIRST ALERT
Motion Sensor Light Socket
Worried about the thought of someone in your apartment unnoticed? This indoor motion sensor light could be exactly what you're looking for. First Alert's Motion Sensor Light Socket screws into a traditional incandescent light socket (so you don't have to worry about compatibility). You then screw in a compatible incandescent bulb or fluorescent bulb, and the socket will automatically flip on that light when it senses movement. It's the ideal solution for keeping a casual watch on your apartment for unexplained happenings—or just making that one dark closet feel a little safer than it does right now. Info: firstalert.com.
Mark Pelligren has been fascinated with gadgets for his entire adult life, with a passion for keeping up with the latest in robotics, gadgets, games and more. He eats, breaths and lives technology, then reports to you.