FIGHTING FAT & FADS
The Truth & Tools For Eating Healthier
By Bailey Beckett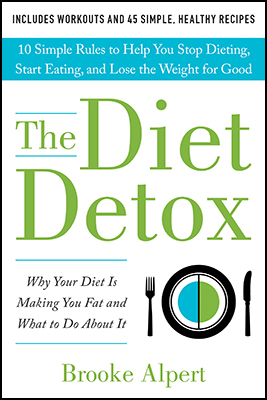 She calls frozen yogurt the "devil's work." She hates the word "moderation." And she has no patience for trolls who body shame people online.
It's quite stern for a bubbly, gregarious nutritionist, but Brooke Alpert is dead serious about the mistakes, fads, and misnomers she sees in everyday eating. A graduate from NYU, where she received her master's degree, Alpert later studied at the prestigious Mt. Sinai Hospital and is a prominent member of organizations and boards as varied as the Academy of Nutrition and Dietetics, New York Dietetic Association and the Sports, Cardiovascular and Wellness Nutrition Group. She's also the author of three bestsellers: Healthy Eating During Pregnancy, The Sugar Detox: Lose Weight, Feel Great and Look Years Younger, and her recent tome The Diet Detox: Why Your Diet is Making You Fat and What to Do About It. In other words: she knows her stuff, so listen carefully. Your body will thank you.
THE QUICK FIX
"Everyone wants that quick fix," says the mother of two, a triathlete and former equestrian who lives with her husband and children in New York. "Except you're setting yourself up for failure." Alpert lists "eating plans" like the Master Cleanse (the liquid-only program favored by celebrities like Beyoncé); the Cabbage Soup routine (the name says everything); and the "Keto" diet, which throws your body in ketosis (no carbs!) as good examples of the "lose weight instantly" club. "There are a lot of social media experts giving testimonials online like 'I lost seven pounds in a week,' but they do not see the full picture," she says. "The person very likely gained it back."
Instead, Alpert defines a successful diet as "something you can stick to for the rest of your life. It's what you eat every day. A diet needs longevity and allow occasions to indulge." Following an eating plan that is reasonable and responsible can lead to 20- to 30-pound weight loss over time, as well as habits that will follow you through your life. At a minimum, Alpert says every plate should include a protein and fiber, as well as a fruit or vegetable. Also, avoid fat-free products ("a red flag for high in sugar," the nutritionist warns) and be wary of salad dressings. "Take an honest look at your plate," she advises. "What's totally necessary?"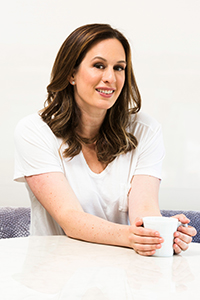 Brooke Alpert
ON THE MENU
Take note, New Yorkers: Surviving the urban jungle while eating-on-the-go and late-night dinners (reservation for 9 pm, please?) does not disqualify you from the rules. "I call clients on this it all the time," laughs Alpert. A common New York problem, Alpert acknowledges, is the eating-late phenomenon, which affects your body cycle: if you're spending time digesting, you're not allowing time for your body to go into a deeper, more productive level of sleep. She advises leaving a 12-14-hour window between dinner and breakfast. Alpert is founder of B Nutritious Counseling Services, a platform that helps clients and visitors with nutritional goals that fit their lifestyles. As she explains, "There's no reason you can't eat healthy when dining out. If you make the right decisions you are setting yourself up for success with every meal."
Her latest project is a program called DailyHabit, a powdered cannabidiol (CBD) supplement that benefits the body and the mind (it lacks the hallucinogenic attributes found in marijuana). Alpert, a registered cannabis practitioner, reasons that someone who feels less anxious and less stressed is prone to be happier and avoid emotional eating (OMG, it's been a day. It's a Bloomin' Onion for you). It's an entirely reasonable hypothesis that will get its try out this January.
In the meantime, "plan ahead this holiday season," Alpert advises. Don't stock your home with sugary Halloween treats you're likely to eat yourself. But if you like that pecan pie, then have a slice.
Just avoid the pumpkin... you know what happens after midnight.
For more information on Brooke Alpert and B Nutritious Counseling Service, visit b-nutritious.com.