PHILIP MARIE RESTAURANT
The Secret To Success Is Pleasing People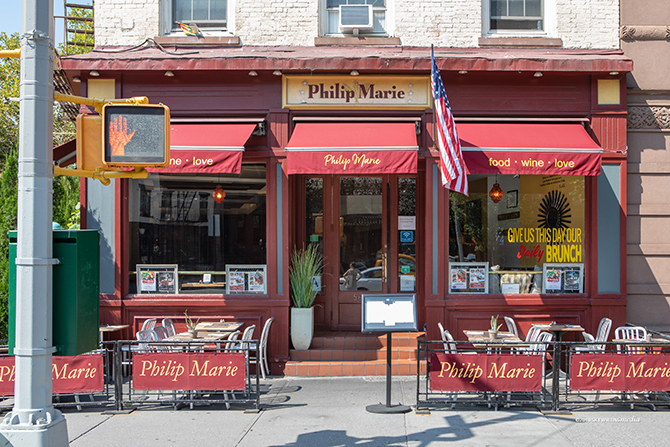 By Ellis Nassour
John and Suzanne Greco found the best path to success is pleasing customers. Their popular Greenwich Village restaurant Philip Marie is celebrating 20 years at Hudson and West 11th Street, a location where many others failed.
Master chef John's dream to have his restaurant came mid-life, but his love of cooking began in grammar school in his family's backyard in New Jersey where he became grilling chef. "We were typically Italian," says Greco, "eating at home every night. I'd watched my mother and grandmother create traditional Italian dishes. I could do that, but what I relished was grilling." Through high school, he was the family chef. "However, it never once dawned on me that it could be a career. It was fun."
Upon graduation, he left grilling behind for jobs that included being a hotel bellman and an expert twirler in a pizzeria where he loved assembling the pies in front of this glass window, impressing all the girls who passed by.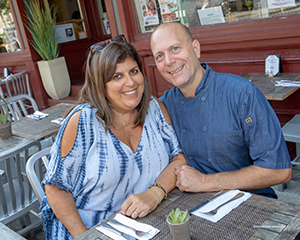 John and Suzanne
AN INTENSE EDUCATION
Greco heard the siren call of the grill again. At 17, he applied to the Culinary Institute of America (CIA). Told he needed hands-on kitchen experience, CIA graduate Ron Ross (former executive chef, Atlantic City Borgata), mentored him at the Meadowlands Hilton. At the CIA, "it was intense, nose to the grindstone, very old school, and I dug in."
If he was to become a chef, nothing could top working at Le Cirque. Executive chef Alain Sailhac interviewed him. "He was very French. I was very Jersey. My first day, he said, 'Who are you?' I took the bus in six days a week, worked 11 am until late into the night, making barely enough to cover my bus fare. But it was an excellent education." When Greco asked for a raise, Sailhac questioned how much more could he pay for wiping the counter? The young Greco quickly reminded him of all that he did there.
He didn't get a raise. However, at Christmas, with no cash to purchase gifts for his family, he discovered Sailhac had a heart. He said, 'I'll show you how to make gifts no one will forget.' He melted ultra-expensive blocks of Belgian chocolate in cream. We whipped the ganache, refrigerated it, then scooped, rolled, and coated the truffles. As he handed them off, he said, 'I give you a little raise.'"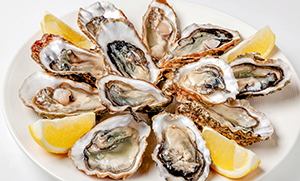 NOW COMES EXPERIENCE
The day after CIA graduation, Greco boarded a plane for France. "I wanted to be a chef because I loved cooking, traveling, and pleasing people, but something was missing. I wanted to understand why people eat what they eat." He maneuvered his way into five-star and Michelin-rated restaurants where he was the only American. Dropping the fact he worked at Le Cirque opened a lot of doors. He learned French and German. Several months later, he made his way to Italy and into Michelin-starred San Domenico in Imola, near Bologna. Returning to the U.S., he helped open San Domenico on Central Park South under Tony May. "I learned from a gentleman who was 100 percent dedicated to the hospitality business."
In 1992, Greco interviewed at Piccolo Mondo, a restaurant under construction on East 50th Street. The mention of Le Cirque and San Domenico didn't hurt. "But I was rebellious, gutsy, and big-headed," admits Greco. "I told owner John Lonzar he should open with someone else as executive chef and then give me a call." Six months later, he was back and met with the manager, Suzanne, the boss' daughter. He was hired. "It wasn't love at first sight," laughs Suzanne. "For a couple of years, we simply worked together. Then I left for a job in broadcasting. I'd see John when I visited the restaurant."
"Suzanne was shocked when I asked her out," says John. "I just wondered what took you so long," she admonishes. John became a private chef for a wealthy client in Cody, Wyoming, with a 75,000-acre ranch, who invited the Who's Who of industry out for the chef's dinners on the range. Suzanne flew out over holidays. "Those nights alongside the chuck wagon and campfire were quite romantic."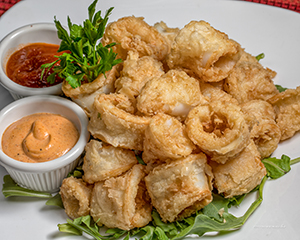 DETERMINED TO MAKE IT
They wed in 1997. Upon returning from their honeymoon, it was decided, "Let's do it." It was time to open their own restaurant. "John searched the city," recalls Suzanne. "He told me he found a spot we could afford. When I checked it out, I asked, 'Where am I?' I was an Upper East Side gal. Greenwich Village was a foreign land. It wasn't the Village of today." Everyone warned it was a mistake because every business there failed. "I didn't listen," states Greco. "I was still a rebel, but determined we could make it."
The restaurant needed a name. They pondered John Suzanne and Suzanne John. "Neither rolled off the tongue," laughs Suzanne. "I asked, 'What about our middle names?' And Philip Marie was born. "We put our hearts, souls, and everything we could muster into Philip Marie—rebuilding it ourselves. We were there from the crack of dawn until the wee hours."
Early morning John was in the meatpacking district selecting slabs of meat, then to the old Fulton Fish Market for the catch of the day. Suzanne would arrive with herbs and vegetables from their Jersey garden—a tradition they continue.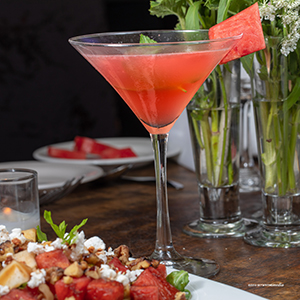 "Running a restaurant is all about making people happy," explains Suzanne. "John was innovative in the kitchen. Each customer we met, we approached as a friend. We had people coming in with their youngsters, and now the youngsters are coming in with their youngsters." He notes, "From day one, it was everything made to order. Nothing frozen, nothing nuked. We satisfy vegetarian, vegan, and special diets." A loyal following developed, especially for Greco's Tuesday Clambakes and Wednesday Prime Ribs, a tradition he's carried forward.
Greco's inventive New American cuisine has been praised by critics, winning awards of excellence. "We love feeding and pleasing people," Greco says. "If we can put a smile on their faces when they pay the check, we feel we've accomplished a great thing."
For more information on Philip Marie, visit philipmarie.com.