GYRO WORLD
A New Spin On Greek Cuisine
By Peter Kalellis
Step into any one of three Gyro World restaurants in Queens and it's as if you boarded a plane at JFK and arrived in Greece. The warm welcome, authentic menu, and ambiance will transport you to the islands.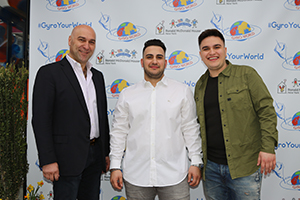 Dimitri and Sons
It's the brainchild of Dimitris Petridis who along with his two sons, Kosta and Thanasi, makes this a favorite eatery for many New Yorkers. "It's not just gyros," Kosta explains, "it's a whole atmosphere of music, bonding with friends and family, enjoying your surroundings, which is what we try to bring to the neighborhood, We abide by our slogan, A Modern Greek Eatery."
A YOUNG MAN AND A DREAM
Born in a small village in Northern Greece, a 20-year-old Dimitris was invited to join his uncle to come to America. It was 1987, and this young man was eager to work at any job that paid well. His intention was to make enough money and return to Greece and establish himself there. However, as he gained knowledge and became familiar with a new environment, he began to think seriously about having his own business here.
One day, he and his uncle took the subway into Manhattan and was thrilled with the sights and sounds. "The flow of straight streets and avenues, majestic buildings reaching for the sky—what a fantastic sight! In a letter to one of his best friends in Greece, he wrote. "I am dumbfounded by the size of the buildings and the hundreds of people, talking and laughing." It was a far cry from the narrow streets and whitewashed houses he left behind.
Gyro World
Dimitris was so impressed when he noticed food carts at some busy street corners where people stood in line to buy snacks and lunch. Seeing this gave him the idea to design his own food cart. Before long, the young entrepreneur was on busy corners of the streets of New York offering everything from Greek to American favorites in his food cart. He did this for ten years.
HELPING THOSE IN NEED
He saved enough money by 2005 to open his first restaurant in Flushing. As his family grew, so did the business, and in 2011 the incredible success of his original location motivated him to double its size. By 2018 Dimitris had two additional locations (Ridgewood and Astoria) also in Queens. Something most dining guests don't know is that Dimitris is always available to offer advice and help people in need. He never talks about his philanthropic efforts. Wherever help is needed, he is there. The most recent example was at the opening of his Gyro World in Astoria earlier this year where all proceeds were donated to the Ronald McDonald House. Invited guests were informed rather than bring gifts or flowers to donate money for the fundraising.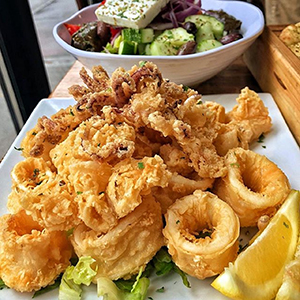 ON THE MENU
Dining here is a quick lesson in Greek. All dishes use fresh ingredients, beautifully presented for an enjoyable experience. Start with some warm pita bread with house-made tzatziki sauce and spicy tirokafteri cheese dip. Next is an enormous salad called horiatiki, loaded with cucumbers and tomatoes, topped with stuffed grape leaves, and finished off with creamy feta cheese and Greek oregano. Other starters include crispy rings of fried calamari, spinach pie, and a thick cut, Greek-style bacon called pancetta, grilled to a sizzling finish. Gyro World offers beer and wine—domestic as well as Greek brands. For the main course, try the GW Plate which is a massive platter of their famous grilled meats: Greek Gyro (pork), chicken bifteki, pork souvlaki, chicken souvlaki, and country sausage called loukaniko. Don't worry: There's plenty of warm pita bread to soak up the savory juices.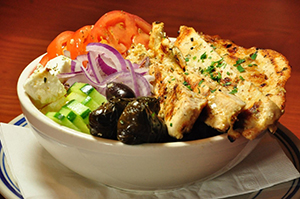 No matter what your selection, though, one thing is for sure: Everything on the menu is delicious. So dive in!
Yasou!
For more information on Gyro World, visit gyroworldnyc.com.