AN INSIDER'S GUIDE
Where To Stay, Dine & Play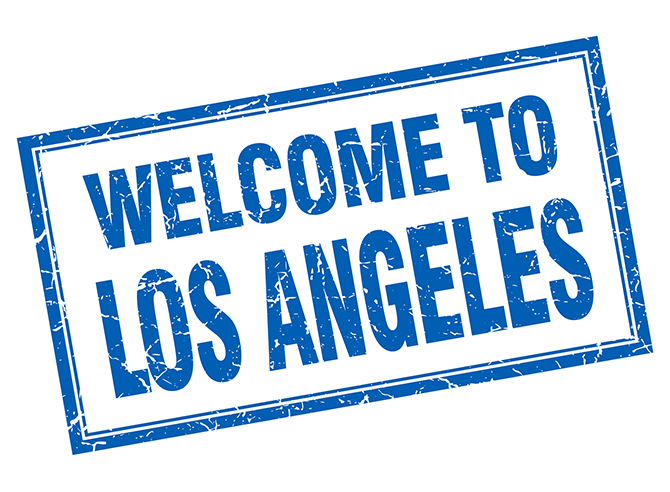 By Anne Raso
Part movie and entertainment capital, Los Angeles is a vast area where all types of lifestyles and cultures converge in a kaleidoscope of head-spinning contrasts. From cutting-edge architecture to fantastic food to warm sandy beaches, LA delivers.
Beverly Hills and West Hollywood continue to be the happening places where dreams are made—even if it is just a dream getaway! Hotel rooms are much more spacious than in the Big Apple and driving is so scenic between the remarkable array of architecture that ranges from classic Spanish stucco cottages to grand Hollywood Regency-style mansions. And swaying palm trees makes it even more pleasant.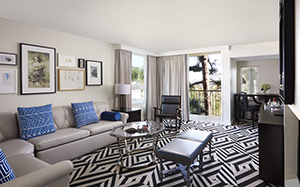 Chamberlain Hotel
WHERE TO STAYThe Chamberlain Take an everyday 1970 apartment building and turn it into an all-suite hotel where each of the 115 rooms boasts chic black-and-white décor, gas fireplaces, iHome docking stations, CD/DVD players, 42-inch HD televisions. plush bathrobes, Antica Farmacista toiletries, and rainfall showerheads. You'll love the solitude of being on a West Hollywood side street that is only a few blocks from the ever-popular Sunset Strip. Be sure to have a Mexican-American fusion breakfast down at Fitz on the garden level (which has some of the best omelets in town) and enjoy the rooftop pool with 360-degree views that has a bar scene that is chic but not overcrowded after dark. The four-star hotel lives up to its reputation of being an intimate hideaway in the heart of West Hollywood. Info: chamberlainwesthollywood.com.
Hotel Sofitel Los Angeles At Beverly Hills This modern four star 295-room hotel sits directly across from Beverly Hills' best shopping—the Beverly Center (featuring Macy's) and The Beverly Connection (featuring Off Fifth and Nordstrom Rack). It's hard not to fall in love with a centrally located hotel with legendary French white glove treatment, extra-large standard rooms with high ceilings (despite the hotel being a new construction), Lanvin toiletries, free WiFi, and hand-held spray showers. The quiet pool on the ground level is a relaxing place to enjoy a fine drink (or two). A big plus for families is children (ages 11 and under) can stay free. Be sure to visit one of Beverly Hills' best-kept secrets: Cattle & Claw restaurant offers diners a salad, half-pound lobster, five-ounce burger (loaded or plain), fries for $45. Their extra-large mojito served in a mason jar is one of freshest tasting you will ever have. Book a table in the outdoor garden with its hanging ferns and flowering plants for some great views of Beverly Boulevard and La Cienega—and some of the best people watching in LA. Info: sofitel-los-angeles.com.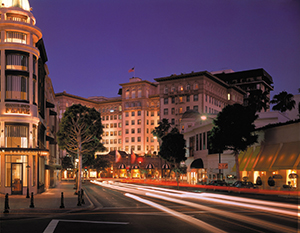 Beverly Wilshire Hotel Exterior
Beverly Wilshire, Beverly Hills (A Four Seasons Hotel) This legendary hotel—in part thanks to being featured in Pretty Woman and host to numerous Hollywood galas through the years—is the doyenne of luxury hotels. Built in 1928, it has remained true to its glamorous old-school roots even after becoming a member of the Four Seasons family in the 90s. It's "classic Beverly Hills" and contemporary at the same time. Guests are afforded such luxuries as a pool modeled after the one in Sophia Loren's villa in Italy featuring private cabanas, valet parking, complimentary rides in the hotel's Rolls Royce/Mercedes within a 2.5-mile radius of the hotel, complimentary shoe shines, free Wi-Fi, a concierge who can probably work miracles in no time. Rodeo Drive shopping is directly across the street. Within the hotel is the Michelin-starred CUT, Wolfgang Puck's light and airy steakhouse as well as the chandeliered The Blvd with it world-class modern American fare. Some of the staff at The Blvd have been "fixtures" for more than 40 years, which is indeed impressive. Needless to say the service is excellent. Info: beverlywilshire.com.
THE DINING SCENE
Crustacean This legendary Vietnamese Seafood-fusion restaurant has been pleasing palates since 1997. An awesome aquarium, built into the floor, winds its way from the entrance and is filled with koi. Crustacean has dishes that you won't find anywhere: Vegan Crab Cakes made entirely out of hearts of palm as well as Tuna Cigars topped with Caviar are served in an actual cigar box. Executive Chef Tony Nguyen and owner Helene An (simply known as "Mama")—both escaped South Vietnam in 1975 can be seen greeting their guests. It's not unusual to see celebrities including Will Smith dining on the signature Garlic Noodles (he has his topped with Tiger Prawns). Another must is the Himalayan Salt Block made with A-5 Wagyu Matsusaka cooked on a salt block. Also ask about the "secret menu" which consists of six unadvertised dishes. Any restaurant that offers star (and koi) watching, elegantly served fare in large portions and a family vibe is a real gem! Info: crustaceanbh.com.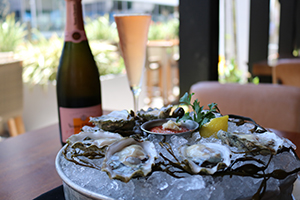 Ocean Prime Restaurant
Ocean Prime Don't let the name fool you! The Cameron Mitchell-owned Ocean Prime is as well known for its vast selection of prime steaks as it is for its excellent seafood. There is a tremendous, airy, clubby atmosphere and there are booths that give you the opportunity to look out on Wilshire Boulevard for some glamorous BH people watching. There is a "wow factor" for every dish served here—portions are large, and both presentation and quality are top-notch. The staff seems to know each dish and can make recommendations based up your personal preferences. The most popular entrees are the bone-in filet and Chilean Sea Bass, and the butter and ten layer carrot cakes are perfect for three or more to share. The Beverly Hills location has a celeb or two in residence at any given time (which comes as no surprise). Chef Geoff Baumberger was transplanted to Ocean Prime BH from the New York location, and has noted that he has seen some of the same customers on both coasts—a testament to the excellent cuisine. Saturday brunch is available and includes Blood Orange Mimosas, Crab and Eggs, and Short Rib Surf & Turf made with Crispy Gouda Potato Cake, Lobster Claw, Poached Egg, and finished off with Hollandaise sauce. Info: oceanprimebh.com.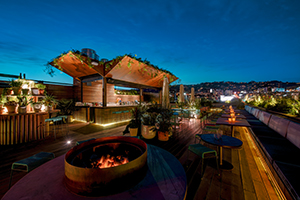 Frankie's Rooftop Bar at E.P. & L.P.
©Alen Lin
Gracias Madre This is a remarkable medium-priced plant-based Mexican restaurant right in the heart of West Hollywood with the feeling of a large modern barn (there is a gorgeous outside patio area to boot). Chef Chandra Gilbert not only comes up with remarkable Mexican fusion dishes (all made with locally sourced organic produce) but also gets authentic recipes from real Mexican moms. Her three decades of experience shows in the deep and unique flavors of her food! The Butternut Squash Soft Tacos, Quinoa and Black-Eyed Pea Salad, and the Street (coated with lemon, chipotle aioli, and pumpkin seed parmesan) are signature dishes among the regulars. The lunchtime bowls are incredible lentil and quinoa-based often topped with various veggies, and healthy homemade sauces. Non-dairy desserts include a remarkable tart Key Lime Pie topped with a rich ground cashew cream that deliciously replaces classic whipped cream. There are an amazing 180 agave spirits at the bar and cute hipster mixologists who come up with some colorful drinks that include a lot of the aforementioned organic produce. Info: graciamadreweho.com.
E.P. & L.P. This minimalist, copper table-topped hipster foodie "hang" is actually two restaurants on the corner of North La Cienega and Melrose in the heart of West Hollywood. E.P is more about formal dining while L.P. is more about bar snacks. Both restaurants serve excellent Chinese/Thai/Vietnamese/Fijian fare meshed with American classics. EP dinner favorites include Duck Salad and Thai Lime Curry and their runaway brunch "classic" is Thai Chicken & Waffles with spicy maple syrup. L.P.'s spicy soft shell crab bun is considered one of the best soft shell crab items in all of LA and has gotten massive media coverage. The rooftop bar Frankie's has breathtaking views of the elegant houses dotting the Hollywood Hills along with fire lanterns/pits to give it a bit of a Tiki vibe. Drinks are unique and infused with Southeast Asian flavors. Info: eplosangeles.com.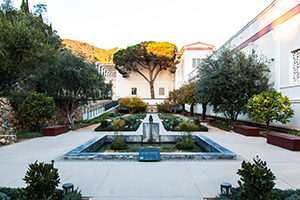 Getty Villa
WHERE TO PLAY
Enjoy a romp around the Getty Villa in Pacific Palisades, which is free to the public (tickets need to be booked in advance). Both art and architecture tours are offered in this 1970s recreation of an ancient Roman villa spearheaded by J. Paul Getty himself (sadly, he did not live to see its completion in 1976). It has an incredible showcase of art. Splurge and take the Tea by the Sea Tour ($42), which not only has authentic English tea sandwiches and desserts, but gives you an elevated view of the Getty Villa and an exclusive 20-minute guided garden visit. You'll discover herbs and fruits that were used by the ancient Romans for both culinary and medicinal purposes. Info: getty.edu.
Santa Monica Downtown & 3rd Street Promenade Definitely off the beaten track is the 3rd Street Promenade with its multitude of stores and sushi eateries. However, every Wednesday and Sunday is the farmer's market with its stalls of produce and other homemade goodies. Nearby is the very authentic English pub Ye Olde King's Head where you can take part in a Classic Tea—and one of the best bargains in town ($25). Be sure to visit their quaint gift shop directly across the street for a unique collection of teas, teapots and British groceries. Info: yeoldekingshead.com.
TRIP PLANNING
Here are some websites to check out for planning your West Coast getaway:
Los Angeles discoverlosangeles.com
West Hollywood visitwesthollywood.com
Santa Monica santamonica.com
Beverly Hills lovebeverlyhills.com
Jet Blue offers non-stop flights from JFK to LAX with low round-trip airfare. This favorite airline includes numerous cable channels at your seat, not to mention unlimited free snacks and in-flight Wi-Fi. Jet Blue credit card holders receive individual snack boxes, sandwiches, and alcoholic drinks at half price and anyone with a Jet Blue account is eligible for LYFT discount. Info: jetblue.com.