SKI EAST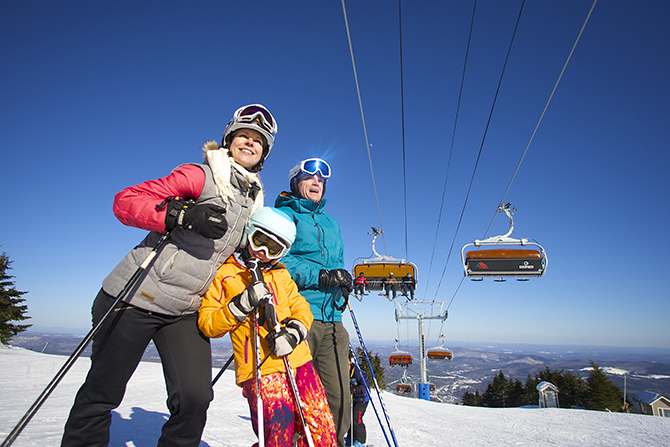 By Patricia Canole
Once the first flakes fall, it's time to start thinking of a winter getaway—one where you can engage in outdoor activities ranging from skiing and snowboarding to sledding and ice skating. Naturally, there has to be some down time for spa-going and warming up by a crackling fire with a mug of hot chocolate. The Northeast has plenty of ski resorts at all price points—so there's absolutely no reason not to go!
VERMONT
It's the king of New England skiing, with more major ski resorts than any other Eastern state. There are a few ways to make the most of a ski getaway here. For starters, with so many resorts in such a small state, it's very easy to ski more than one in a single trip. And nearby resorts offer interchangeable lift tickets. Also, to get the most bang for your buck, go where the skiing best suits your ability. Southern Vermont areas (Okemo) lean toward intermediate cruising terrain, while northern resorts (Stowe) tend to offer more to advanced and expert skiers. In the middle is Killington, the biggest of all, with plenty to interest skiers of every ability.
For more information on Ski Vermont, visit skivermont.com.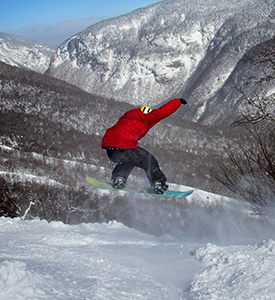 KILLINGTON
This sprawling property offers snow-packed trails that weave around the Green Mountains and promise the most thrilling downhill skiing this side of the Mississippi. Dubbed the "Beast of the East" it lives up to its name: It's the biggest resort covering seven mountains and an excellent variety of terrain. Probably a good reason Killington attracts large numbers of devoted skiers who keep it as lively after hours as they do during the day. It also demonstrates that the beast is still a real beauty of a mountain. Beginners can trail off on Pico Peak and Rams Head Mountain, while speed demons rip down Killington Peak.
STAY & DINE
The Summit Lodge & Resort just a few minutes' drive from Killington (free shuttles provided), is one of the East Coast's largest ski resorts. The 44 rooms are basic but comfy (family rooms sleep up to six) and amenities include a full buffet breakfast and heated pools. For late-night fun at the resort, head to O'Dwyer's Public House for some excellent grub.
After a morning of skiing, hit Peak Lodge at Killington Base Lodge, a casual eatery where you can refuel on soup and sandwiches. Après ski, join locals and visitors alike at nearby Lookout Tavern for reasonably priced fare—the chicken wings are a must!
For more information on Killington, visit killington.com.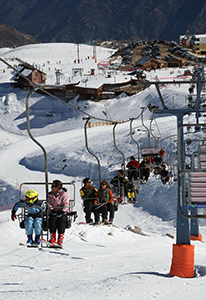 NEW YORK
New York has its distinctive style. Rather than sleepy New England towns, you'll find a lively crowd on—and off—the slopes. Reigning supreme here is Whiteface Mountain set in Adirondack State Park. The park is big and steep (if not more significant and more precipitous) as many mountains in Vermont or the rest of New England. Few East Coast resorts can match Whiteface's big-mountain challenge, and none can match its tradition: After all, Lake Placid hosted the Winter Olympics twice—in 1932 and 1980.
For more information on Ski New York State, visit iskiny.com.
LAKE PLACID
In the town of Lake Placid, you'll find the towering Whiteface Mountain which happens to have the highest vertical drop in the East. The terrain is weighted toward experts, however less experienced skiers have access to Runner Up and Silver, closer to the base. Families can also try out their skills at bobsledding in the town of Lake Placid. However, Whiteface will please all skiers looking for long trails and gorgeous views of the Adirondacks. After a run, head to where downhill champs were crowned!
STAY & DINE
One of the most luxurious places to stay in the charming village of Lake Placid is Whiteface Lodge. The all-suite timber-and stone property feature outdoor heated pools and hot tubs, a pampering spa, a 56-seat movie theater and an ice skating rink. Whiteface Lodge's Kanu is one of the finest restaurants in the Adirondacks. Here, Executive Sous Chef Matthew DeCicco serves modern American cuisine amid stone fireplaces and timbered beams.
For more information on Lake Placid, visit lakeplacid.com.
---
PENNSYLVANIA
It's time to shift your thoughts of winter into high gear and plan your incredible Pennsylvania ski vacation to where else but the Poconos. With a history dating back to 1946 when the mountains welcomed the first commercial ski area in Pennsylvania and perfected the art of snowmaking, the Poconos have become a bona fide ski destination. Today, the Poconos have it all—beginner slopes to the double black diamonds and terrain parks to test your skills. Get out and experience the exhilaration when your skis start sliding down a Pocono slope.
For more information on the Pocono Mountains, visit poconomountains.com.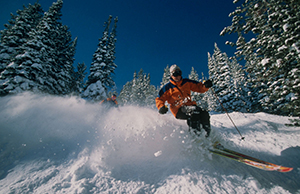 CAMELBACK
If you ski just one place in Pennsylvania, Camelback Mountain must be it. Most resorts along this gentle mountain range in Northeastern Pennsylvania describe runs as "great for beginners" or "family friendly." Camelback is indeed that, but it also has trails that appeal to expert skiers. It can even make a high volume of snow and has two terrain parks and two half-pipes. For non-skiers, the sizeable snow-tubing park is a pleasing alternative.
STAY & DINE
Of course, as we all know there are two types of people in this world: those who ski, and those who don't. If you fall into the later camp and have never vacationed at a ski lodge, then you've been missing out. Camelback Mountain Resort affords non-ski activities including zip lining over snow-covered mountains and treetops. For kids, there's always Aquatopia Indoor Water Park with fun rides and slides. And for those who just want to kick back and relax, there's Serenity Spa. Then get your weekend après ski started: Friday through Sunday live bands play crowd-pleasing covers for the happy masses downing the macro-brews on tap.
Dining options at the resort are blessed with a winning combination of great and varied cuisine, majestic views, al fresco dining, and authentic mountain side charm. From the recreated aqua-theme of Neptunes, the worldly inspirations of Hemisphere's buffet, to the tucked away slope-side Trails End Pub & Grille, there's a menu to please all palates.
For more information on Camelback Mountain Resort, visit skicamelback.com.