AROUND TOWN
The West Village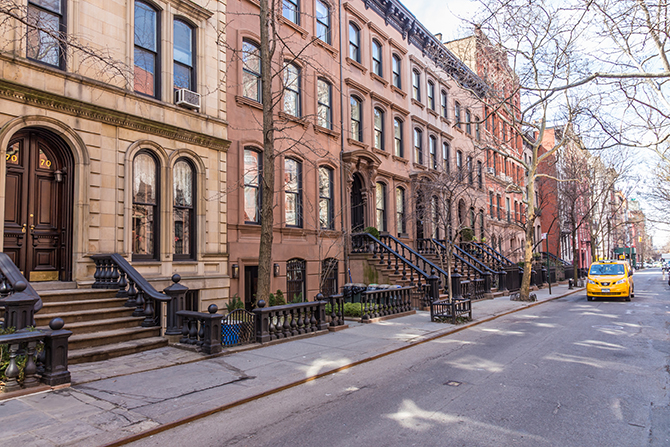 By Marie-Claire Gladstone
It's a step back in time when you visit the West Village; its charm rests in its 19th-century townhousesand cobblestone streets. In fact, not much has changed since this tiny enclave was the center of some of history's social and countercultural movements. Located within Greenwich Village, the West Village is bordered on the west by Hudson River, Seventh Avenue to the east, West 14th Street on the north and Christopher Street to the south.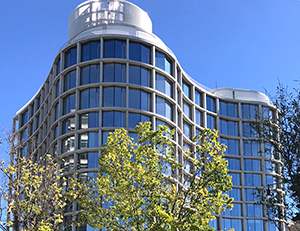 160 Leroy West Village ©Corcoran
History is everywhere you turn. And it's fun to get lost on its streets, which are outside Manhattan's grid system. Historically it's known as an important landmark on the map of American culture. Known as "Little Bohemia" in 1916, the West Village welcomed the avant-garde and alternative culture. It thrived into the 20th century when small presses, art galleries, and experimental theater flourished.
It was also here that the first racially integrated nightclub prospered. Café Society opened in 1938 at 1 Sheridan Square where such icons as Pearl Bailey, Count Basie, Nat King Cole, John Coltrane, Miles Davis, and Ella Fitzgerald were headline acts.
Today, the West Village is a quiet residential, with a multitude of small restaurants, shops. The West Village draws fashionable crowds to its designer boutiques and trendy restaurants. Strolling the streets or dining at one of the neighbor eateries you might see other locals including Matthew Broderick and wife Sarah Jessica Parker, Hugh Jackman and family, Karlie Kloss, and Daniel Radcliff to name a few.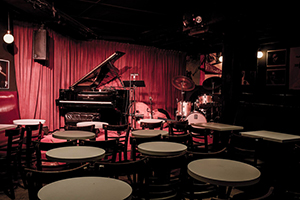 Village Vanguard jazz club
WHAT TO SEE & DO
Enjoy jazz at Village Vanguard, or have drink at the Stonewall Inn Bar, site of the 1969 riots that launched the gay rights movement. The historically arty area also has piano bars, cabarets and theaters. Despite its wealthy demographic and a profusion of restaurants and boutiques, the West Village continues to preserve a low-key feel and picturesque charm. The area's bohemian population may have dwindled years ago, but a few old landmarks remain, like the White Horse Tavern, a favorite of writers past like Norman Mailer and Dylan Thomas.
The annual Halloween Parade (which just celebrated its 44th year) was created by puppeteer and mask maker Ralph Lee. It's the world's largest Halloween parade and America's only major nighttime parade, attracting more than sixty thousand participants and two million spectators.
The West Village one of the most charming New York neighborhoods, with gorgeous tree-lined streets where you'll find cozy bistros and upscale restaurants and iconic gastropubs. Here, some of our favorites.
Buvette for its charm and small plates and thoughtful wine list. Info: ilovebuvette.com.
Sushi Nakazawa The biggest draw is, of course, the sushi—each piece stands out in its own unique way. Info: sushinakazawa.com.
Sant Ambroeus Located on the quiet West 4th and Perry. Sant Ambroeus is an intimate place where guest experience the perfect Milanese cuisine. A fine selection of wines also tops the menu. Info: santambroeus.com.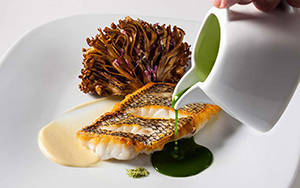 Perry Street
Perry Street This Jean-George outpost offers diners sophisticated dishes like the popular Poached Lobster and Rice Cake Crusted Tuna. Snag a table that overlooks the Hudson River. Info: perrystreetrestaurant.com.
Mary's Fish Camp It's a fish lover's heaven where diners enjoy favorites like Fried Oysters and Clams with Fish Camp Tartar Sauce and Canadian Steamers with Drawn Butter and Lemon. Info: marysfishcamp.com
Left Bank Expect to find homey dishes with a nod to French, Italian, and New American cuisines. Butternut Squash Gnocchi with Pulled Chicken, Swiss Chard and Onion is an autumn favorite. Info: leftbanknewyork.com.
A PLACE TO STAY
Residential property sale prices in the West Village neighborhood are some of the most expensive in the United States, typically exceeding $2,300 per square foot. But it doesn't seem to deter: The luxury market is booming with sleek residential towers designed by American architect Richard Meier on the Hudson River at Perry and Charles Street, and 150 Charles Street.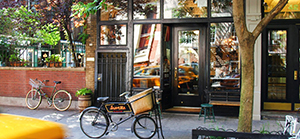 Buvette
One of my favorite new developments is the very attractive 12-story, 49-unit apartment building at 160 Leroy Street—directly across from Pier 40. Designed by Herzog & de Meuron, (the Olympic "Bird's Nest" Stadium in Beijing, 40 Bond Street and 56 Leonard) the team included Ian Schrager (co-founder of Studio 54). All residences feature floor-to-ceiling windows, soaring ceilings, open floor plans, chef's kitchens, and prewiring for smart home technology. Building amenities include doorman, concierge, fitness center, pool and spa, lounge, garden, courtyard, bike room, and on-site parking.
For more information on the West Village and other parts of Manhattan, contact Marie-Claire Gladstone at the Corcoran Group; mgladstone@corcoran.com; 917-664-8157.