THE MERCEDES-BENZ CLS 450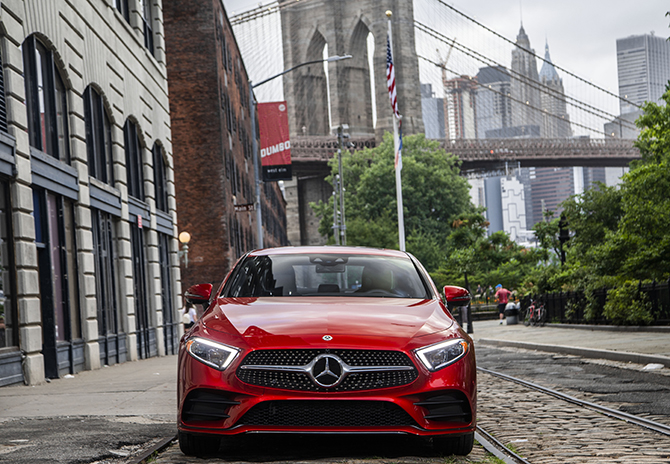 By Jenny Peters
There's a bit of a futuristic feel to the all-new 2019 Mercedes-Benz CLS 450 coupe, and that's just what the famed German car manufacturer was going for with this sexy redesign.
From its upgraded sporty exterior to the raring-to-go 3.0-liter 6 cylinder turbocharged engine with EQ Boost under the hood, there's much to love about this four-door, five-seater coupe. That EQ Boost is the company's proprietary 48-volt electric starter-generator system that gives the engine fuel-saving acceleration and adds 21 hp to the engine's already powerful 362 hp.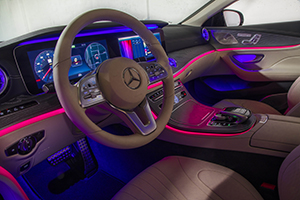 The CLS 450 is also packed with ways to help with the driving, ranging from the incredibly useful blind-spot indicator on the side mirrors to a variety of automatic EPassists for those that aren't quite sure how to actually drive a car. Happily, if you are adept at driving and love to control your destiny, you can turn off the various assists: Active Steering Assist, which takes over and keeps the CLS within the lanes; Active Emergency Stop Assist, which is just what it sounds like; and Active Speed Limit Assist, which keeps the car driving at the speed limit and changes speeds as the limits change.
We're much more hands-on drivers than that—and consider controlling the car most of the fun of hitting the road—so most of those went into the "off" mode while testing the CLS 450 coupe. But there's a lot to be said for some of the other "Pre-Safe" safety systems, including Plus, a sensor that activates safety measures when a rear collision is detected and Impulse Side, which activates the front seats' side bolsters to protect people from side crash impact.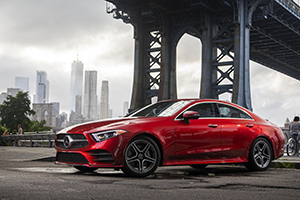 AN INCREDIBLE COUPE
Once everything is adjusted to your particular tastes, the coupe is a delight to drive, starting with sliding into the gorgeously appointed interior, complete with fine leather seats and trim, a large infotainment screen that's easy to manipulate, a terrific sound system and ultra conveniences across the dashboard. Choose your favorite color (there are 64) and then see if you can figure out when and why that light show kicks in.
Once out on the road, be it in crowded city traffic or on a remote mountain road, the 2019 Mercedes CLS 450 coupe handles with ease, is fast off the mark, quick to stop, astonishingly quiet in the cabin and boasts incredible LED headlamps that illuminate even the darkest twists and turns. It's a big animal, with plenty of power, technical advancements, trunk space and interior room for everything from ski equipment to beach chairs and much more.
The vehicle is expected to begin with a base price of about $80,000 when the first ones release to dealers by the end of 2018.
For more information on Mercedes-Benz, visit mbusa.com or your local dealership.