CHEF SÉBASTIEN GIANNINI
A Dash Of Cote d'Azur In The Nation's Capital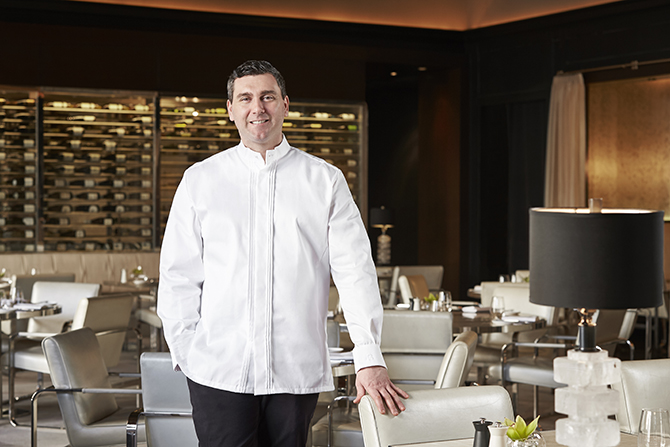 By Bailey Beckett
The French are passionate, no more so than in haute cuisine. There's no laissez-faire in this regard, and no one exemplifies it more than Sébastien Giannini, the relatively-new Executive Chef at The St. Regis Washington, D.C. Just shy of a year in the nation's capital (he started in January), Giannini has upended the city's deeply-traditional dining scene with exacting standards, a Michelin-star temperament, and a mischievous streak, garnished with a twinkle in the eye.
As nation's capital awakes out of its culinary coma with the invasion of Daniel Boulud and the like, Giannini has made The St. Regis Washington, D.C. competitive for the first time, which even Alain Ducasse couldn't do. His Mediterranean-influenced French cuisine is the soul of the hotel's newly christened restaurant Alhambra, and he's opening up his kitchen to New York Lifestyles to show how the voila is done.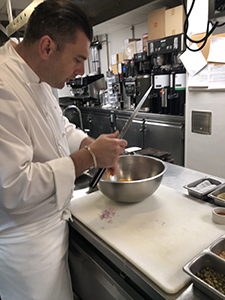 WORKING WITH THE GREATS
But first, a few bites more about the chef. A culinary bon vivant since he was a kid, Giannini learned his craft early at the knife of the world's most renowned chefs, including Ducasse, Frank Cerutti, Philippe Joannès and Guy Gedda. Working beside Michelin-star maestros, Giannini, a native of the South of France, earned his first starring role as Executive Chef at Le Méridien Nice, during which he was a finalist of the prestigious Bocuse d'Or Culinary Competition. He then went aboard, first to the Fairmont Queen Elizabeth in Montreal before joining the W Hotel, during which he served as Official Coach of Team Canada in the 2015 International Final of the Bocuse d'Or in Lyon, France.
It was the ultimate preparation for his biggest stage, err kitchen, yet: the venerated St. Regis, which has given him carte blanche over the menu, restaurant, and staff. In doing so, Giannini has raised not only the quality of its cuisine, but curated the finest ingredients locally, a completely counter-intuitive notion for a chef of his prestige. The reason, he explains, is the weather. Washington D.C. shares the same climate as the South of France, giving him access to the fresh and finest tomatoes, capers, olives and other delicacies that dot his cuisine.
It's allowed him to be adventurous yet contemporary, delivering Washington denizens favorite dishes but with a little more surprise and delight than they're used to. Seeing Giannini prepare even the simplest of ingredients is akin to watching a kid open presents Christmas morning. His eyes dance with possibility as he dices tomatoes and peppers fresh basil. He shared some of his favorite recipes with New York Lifestyles for preparing yourself.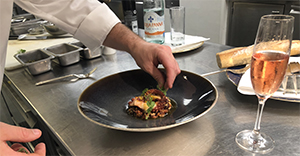 PIERRETTE'S CAPONATA

8 Tentacles of octopus (frozen)
Cold water
1/2 tbsp. black pepper
1 Thyme twig
1 Clove garlic (chopped)
1 Cork (optional)
1 Cup Italian pine nuts (toasted)
2 Tbsp. fresh basil (thinly chopped)
1/4 Cup of extra virgin olive oil
1 Cup Taggiascha olives (pits removed and diced)
3 Tbsp. of capers (diced)
1 Heirloom tomato cut into 4 pieces
1 Tbsp. Fleur de Sel
1 Orange for zest
Preparation: In a large pan enough to hold  the tentacles of octopus, add enough cold water to cover them. Then, combine black pepper, thyme, garlic, and cork (if you have an bottle of wine open during cooking preparation add the cork to the mixture). Cook slowly and bring to a boil. Cook for a total of two hours on medium heat. After cooking remove cork (if used) and discard. Take each octopus tentacle and cut into medallions.
Prepare the Caponata: In an inox bowel mix together pine nuts, fresh basil, olive oil, black olives (diced), and capers. Make a brunoise with tomato, a few splashes of olive oil, and a pinch of salt. Mix together and be sure to keep at room temperature. Plate the caponata in a circular and top with octopus medallions. Finish with olive oil, fleur de sel. Garnish with orange zest.
BABA WITH SYRUP
Dry baba (savarin base), found in specialty markets. Prepare according to directions.
2 Cups water
1 Cup sugar
1/3 Cup dark rum (or alcohol of your choice)
1 Orange for zest
1 Cinnamon stick
Whipped cream
Syrup preparation: In a pan with medium heat, stir together water and sugar and orange zest to boil for five minutes into a syrup consistency. Remove the syrup from the heat and mix in the rum (or another alcohol choice). Place the baba into the syrup mixture. Be sure each baba absorbs the liquid mixture. Plate each baba and top with whipped cream.
For more information on Chef Sébastien Giannini and the Alhambra Restaurant, visit alhambradc.com.