ON STAGE
Broadway Turns Back Time
By Lori Zelenko
Spinning the 1970s as an era when women came into their own, and moral upheaval was rampant, two new Broadway shows take on the era and stay remarkably relevant.
The Cher Show, more than simply a jukebox musical (sadly not starring Cher) shows us what it took for the woman Variety calls "the ultimate celebrity survivor" to become the Goddess of Pop (FYI: her latest album Dancing Queen outsold Taylor Swift's 2017 album Reputation and came in second to Justin Timberlake).
The savage drama, NETWORK, a play based on the iconic 1976 film of a TV network cannibalizing itself. Bryan Cranston (Breaking Bad) is "the mad prophet of the airwaves," shouting "I'm as mad as hell and I'm not going to take anymore!" (The movie starred Peter Finch as the demented anchor and Faye Dunaway as the ruthless, ratings-hungry VP driving the insanity.) Both shows promise edge-of-your-seat entertainment, what will these two dynamite characters so different yet so driven do next?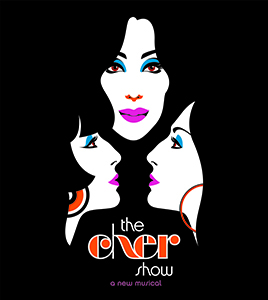 THE CHER SHOW
Neil Simon Theatre
Nothing could upstage Cher. And the new musical makes sure we know that. Not that we'd ever believe there could be anybody more spectacularly sequined, remarkably voiced and absolutely, fabulously talented than this renegade Superstar who has held the spotlight for going on six decades now. It's not merely her music that's kept her in the public eye and made her an icon worshipped by so many; it's the way she's crashed through boundaries. She's defied tradition, and broken records surprised even the tabloids with her rock star-strewn love life and against all odds, earned a fan base because she encouraged one and all to be themselves. Yes, it's pretty much a given you'll walk out of the theater humming at least one of her greatest hits: "If I Could Turn Back Time," "I Got You Babe" "Half Breed," "Gypsies, Tramps and Thieves" "The Beat Goes On," and "Believe (in Life After Love)" and more.
It takes three actresses to play Cher: as a kid (Micaela Diamond), the glam pop star (Teal Wicks) and the ever-youthful Cher (Broadway pro Stephanie J. Block, the lead performer). And though they don't appear in chronological order, they do connect, sharing, chatting, questioning, reasoning, asking why expectations of women change with age, alternating lead and backup and always watching out for one another. This triangle of talent plays the sarcastic, deadpan, subversive, over the top and under radar Cher. Though there are detractors who may wish to dismiss Cher in a haze of sequins, you could say it's like questioning Serena Williams' skill based on her fashion choices recently. Cher's not only won an Oscar but taken home a Grammy, an Emmy and three Golden Globes too.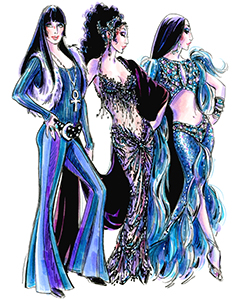 Cher has out-glammed, out-lasted, out-spoken anyone who ever could have challenged her reign over the world of dance-pop. How? Certainly perseverance and without a doubt extraordinary talent, but in the show, it's her mom (Emily Skinner) who is her support system. Cher survives her marriage to Sonny (the marvelous Jarrod Spector) who's charming but controlling as together they weather the storm of fame and fortune. And the other loves, Greg Allman and Rob Camilletti, well, she outlasts them too. But the star that shines brightest though is Bob Mackie's costumes; they've got the same razzle-dazzle they had when he created them for her decades ago or maybe more because they're "designed" right before our eyes.
Written by Rick Elice (Jersey Boys) and directed by Jason Moore (Avenue Q, Pitch Perfect) and produced by Flody Suarez (Rise) and Jeffrey Seller (Rent, Hamilton) and Cher herself, the show is something more substantial than a string of hits with a break for cocktails. "Believe," as Cher's hit encourages us, that the power to keep forging ahead as Cher has done for so many decades is within us all.
---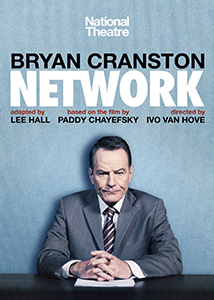 NETWORK
Cort Theatre
Fake News. That's today's mantra when it comes to announcements that don't align with a dictated point of view. NETWORK now a Broadway show based on the 1976 Academy Award-winning film, essentially pioneered the concept of extreme, manipulated "news" (aka fake) with Paddy Chayefsky as screenwriter. Directed by Ivo Van Hove (Tony and Olivier Award winner), the National Theatre Production was a hit in London starring Bryan Cranston (Emmy winner, Breaking Bad). Lee Hall (Tony Award winner, Billy Elliott) updates the original scathing spin on the media, unhesitatingly showing us the world of broadcast news as phenomenally unscrupulous.
As relevant now as it was forty years ago, NETWORK is prophetic. Avant-garde staging by Tony and Olivier nominee Jan Versweyveld (A View From the Bridge, The Damned) and Tal Yarden, the video designer, turns the play into a reality show that would surely kill Survivor or Real Housewives in the ratings. Mesmerizing in its appalling disregard for anything but audience share and futuristic as a multi-media maelstrom, NETWORK on Broadway expresses the frenetic madness engulfing us all as technology augments reality in every facet of our lives.
The dramatic tale of failing news anchor Howard Beale (Peter Finch in the film, Bryan Cranston on Broadway) becoming a modern-day messiah is not without laughs; since Shakespeare, writers have capitalized on the value of comic relief. Beale rages like a modern day Hamlet in what Cranston personally calls a "post-truth era." Facing tragedy with rage and pathos, Beale's rants, are to quote Shakespeare, "a tale told by an idiot, full of sound and fury, signifying nothing."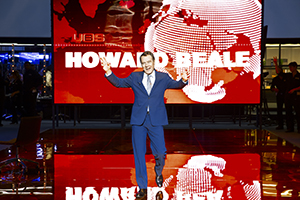 The American public becomes fixated on Beale's madness as does the network watching Howard Beale's star rise until his revelations become too candid for comfort. Gloriously admitting that he is "mad as hell," Beale belligerently struts and frets his last hours on the TV screen. Tony Goldwyn (Scandal) is Max Schumacher, the network executive who watches Beale wander through a landscape where opinion trumps fact.
William Holden played Schumacher in the movie, a once honorable, ethical newscaster who becomes entangled with ratings-wolf Diana Christiansen (Oscar-winning role for Faye Dunaway in the film) played on Broadway by Tatiana Maslany (Orphan Black). Sacrificing his integrity for sex, Schumacher loses more than his values as he realizes there's only emptiness in the cold pursuit of numerical gain. Broadway's NETWORK is disruptive however though we may be chagrined to admit it, the tumult that sends one's moral compass spinning is apocalyptically entertaining.